Faculty and students at the Kansas University School of Engineering don't have to look very hard to see the school's two biggest signs of change these days.
They see one every day when they enter the school's front door, and they likely see the other roaming the halls.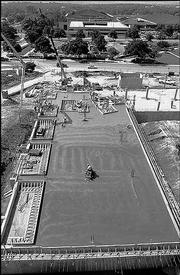 Work is well under way on a new $15 million building that will give the nearly 2,300-student engineering school an extra 82,000 square feet of classroom and research space.
The project, which is expected to be completed by June 2003, is directly south of Learned Hall, which will continue to be used by the engineering school.
The building, which KU officials have yet to name, is one of the last major projects of Dean Carl Locke, who is retiring as the school's dean after 16 years in the position.
But what a final project it will be. School officials said the building was badly needed to better consolidate the school's faculty and students, which currently work out of three different buildings on campus.
"As spread out as the school was, we needed to get people a little more centralized to work on more interdisciplinary research and study," said Jill Hummels, director of public relations for the school. "Engineers have to keep current with what's available because they are setting the curve for everyone else.
"So having a new facility with all the latest technology will be a great benefit."
Technology emphasis
The building will have a heavy emphasis on technology. Hummels said it would contain numerous computer classrooms, a student commons area with computer capability, and a 230-seat auditorium and lecture hall with state-of-the-art audio and video capability.
The electrical engineering and computer science departments will occupy a large part of the building, allowing the school's two largest departments to work more closely together, Hummels said.
The project also is cutting-edge in one other regard its funding. The $15 million building is funded strictly through private donations that Locke began soliciting seven years ago.
"We think the funding is real significant because it may be the way it has to be done in the future," Hummels said. "We really can't rely on the state to provide 100 percent of our building needs anymore. There has to be a partnership with private donors."
New dean takes over
But the biggest change at the school may be the new man roaming the halls. Stuart Bell, a former director of research and head of the mechanical engineering department at the University of Alabama, was chosen to replace Locke as the school's dean.
Bell said he clearly had his sights set on a couple of potential growth area's for KU's engineering school.
"The undergraduate programs are very strong," Bell said. "A lot has been invested in those on both the administration and faculty. Where I see the growth areas are the research and graduate areas."
Bell has experience growing both those areas at Alabama. After becoming chair of Alabama's mechanical engineering department in 1995, he led a successful effort to increase the department's research funding by eight times its previous levels. In 1998, he also founded and served as director of the school's Center for Advanced Vehicle Technologies, which attracted more than $7 million in research support to the university.
During his seven years as chairman of the mechanical engineering department, the department saw its graduate program become the largest in Alabama's engineering college, which is approximately the same size as KU's school.
"With my background here (Alabama) in terms of building a program in the department, I want to use that to build programs at the school level," Bell said. "This is sort of the natural progression for me to be moving into that type of position."
Research projects under way
Bell, who holds bachelor's, master's and doctoral degrees from Texas A&M; University, has inherited several substantial research projects that are under way.
A team of researchers at the school last fall won an $8.7 million National Science Foundation/NASA grant to study the polar ice caps. Hummels said the part of the project KU researchers are working on involves developing new radar that will measure the thickness of the polar ice caps and determine what is beneath the ice sheets.
Another set of researchers is trying to land a $17 million National Science Foundation grant to study the creation of more environmentally friendly chemicals.
"The whole idea is that the chemical industry in the U.S. is huge," Hummels said. "It's about a $350 billion a year industry and a huge portion of that is spent in environmental clean-up. If engineers and chemists can develop a way to produce more environmentally benign chemicals, they will save the industry billions of dollars."
The program already has received private support from such chemical heavyweights as Dow, Dupont, ExxonMobil, Monsanto and others. Hummels said the school should learn in about a year whether it will receive the grant, but said plans to create a center to conduct research on the center will move ahead even if the university does not win the funding.
"We know there is a market and a need for this type of research and certainly no one else in the Midwest is conducting research of this kind," Hummels said.
Copyright 2018 The Lawrence Journal-World. All rights reserved. This material may not be published, broadcast, rewritten or redistributed. We strive to uphold our values for every story published.