If you didn't know otherwise, you might think the magazines, programs, brochures, posters and flyers created by the students of The Arts Group at Kansas University were the products of a top-flight design studio in New York City.
The publications often visually stunning, inventive and fresh feature a seemingly endless diversity of styles underscored by deft choices of materials and printing techniques.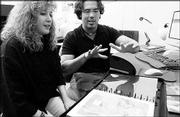 It's difficult to comprehend that a single group of undergraduate students is the source of all this creativity. But that's the case.
Carey Treanor, director of The Arts Group, bills it as every inch the equivalent of a full-service, professional design studio. And she takes great pride in the results of its efforts.
"I think this is the best design work being created by young professionals in this area," said Treanor.
Selective internship
The Arts Group is a junior- and senior-level class made up of 10 selected KU students each semester. They provide design, illustration and print production services for KU's performing arts organizations and other campus schools and departments.
Students are selected by portfolio review, academic history and recommendations from visual communications faculty in the department of design.
"We get a lot of applications, and we're very selective," Treanor said. "This is an internship on campus in which students can work on real projects with real clients."
The top clients of The Arts Group, according to Treanor, are University Theatre, the Lied Center, the department of music and dance and the schools of law and engineering.
Students create a wide variety of printed materials that promote individual artistic performances as well as programs that describe an entire season of events. They also conceive and create magazines, such as KU Laws, which are received by university alumni coast to coast.
The Arts Group typically takes on 35 to 40 projects from within the university community each semester. Each student in the group is usually assigned three to four projects. A single project might take from 10 to 40 hours to complete.
Students in The Arts Group receive academic credit for the internship. Those who have been accepted can later re-apply to continue working there for additional semesters.
Satisfied clients
Students who have been accepted into The Arts Group are enthusiastic about the opportunity.
"I really think it's beneficial. I actually think it should be a requirement for graphics students. You learn about the printing processes and work with clients, which you don't do at all in classes. It prepares you for the real world," said Jackie Berra, 22, a student from St. Louis who is majoring in graphic design.
"I think we do some pretty neat stuff. Our posters for the Lied Center or University Theatre are everywhere on campus. I love collaborating on something that other people see."
Brian Burke, 24, is a designer in The Arts Group as well as its project coordinator, helping Treanor oversee scheduling and final printing.
Burke, a Leawood senior who has been in The Arts Group for three semesters, appreciates the opportunity he's had to work there.
"You really have to make the client happy, and that's good preparation for a job later. You have to make sure that the final output is exactly as it should be," he said.
"And you have a portfolio of professional-quality, printed pieces good offset printing jobs to show (prospective) employers."
The students who are selected to work in The Arts Group, Treanor said, are serious about wanting to go into the design profession.
"Design classes in the School of Fine Arts prepare the students for this. This is their first step into the real world. They're not just working on an assignment for a professor," Treanor said.
"Our clients are so excited about the work we're producing right now. The talent the clients are seeing (from students) exceeds their expectations almost every time."
Copyright 2018 The Lawrence Journal-World. All rights reserved. This material may not be published, broadcast, rewritten or redistributed. We strive to uphold our values for every story published.