Mechanical banks were made to encourage children to save their pennies. Today, it would seem they should have saved the banks instead.
These moving banks have been popular since they were first made in Victorian times. One of the most expensive and entertaining is called "Girl Skipping Rope." The bank was designed by James Bowen and was patented in May 1890. It was manufactured by J.&E.; Stevens Co. of Cromwell, Conn. Put in the money, and the rope goes around while the girl "skips."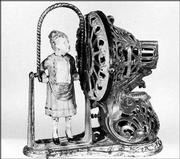 Because the mechanism was so complicated, these banks broke easily. Few still remain in good condition. Examples of banks in good condition with much of the original paint have sold in the past 10 years for more than $50,000.
In the early 1940s, my husband's grandfather ran a gas station in upstate New York. One day he was admiring a set of horn furniture in the back of a truck that had stopped for gas. The driver offered the furniture in exchange for a full tank of gas. For that one tank of gas, the driver gave him two chairs, a side table, a picture frame and an oval wall mirror. Can you tell us anything about horn furniture?
Horn furniture was made from animal horns that were discarded at slaughterhouses. It became popular near the turn of the 20th century. We have recently seen more of it at shows, and it sells very well. You can imagine how difficult it was to find horns of the same size and shape to build a symmetrical chair. A single chair sells for between $500 and $1,500 today.
I have an unusual canister set. It has a round, wooden base with a wooden lid and four pie-shaped containers. Each container is hand-decorated with a picture of a piece of fruit. The containers are labeled "Sugar," "Flour," "Tea" and "Coffee." The bottom has the incised mark "Esmond 32 USA." What can you tell me about it?
You have a set made by Watt Pottery Co. of Crooksville, Ohio. The company made many types of pottery, dinnerware, kitchen bowls, cookie jars and advertising pieces. The pieces were marked "Watt." Watt also made pieces for other companies. Those pieces were marked "R-F Spaghetti," "Heirloom," "Orchard Ware," "Peedeeco," "Kathy Kale" or "Esmond." The Esmond pieces, like yours, were made before 1965. They are popular with Watt collectors. The canister set is worth $225.
I paid a dollar for a pretty glass wine decanter at a garage sale. Now I would like to know where it came from and if it's worth more than I paid. It is 10 inches tall and 14 inches in diameter at the wide midsection. The narrow top ends with a stopper shaped like a woman. The shape reminds me of a drugstore candy jar. Around the wide center are the words "Marie Brizard & Roger France."
Marie Brizard & Roger is a French liquor company that traces its history back to 1775. Today the firm sells products in more than 130 countries. Your decanter probably dates from the 1960s, when modern "collector" bottles were at the height of their popularity. Marie Brizard collector bottles sell for about $15 to $20, so you can be proud of your purchase.
I bought two old copper saucepans at an auction a few years ago. I enjoyed using them until a dealer told me the pans were probably lined with lead and shouldn't be used. Should I have them relined?
Old copper saucepans are lined with tin, not lead. You can use your pans without fear of lead poisoning. Unlined copper pans should not be used to cook acidic foods, like tomatoes.
Can you tell me the value of a Diamond brand gasoline-powered clothes iron made by the Akron Lamp Co.? Neither the instruction sheets nor the label on the iron has a date. The iron has a small attached gas tank. I have the iron, its original wooden box, original hand pump, funnel and list of parts. How can I contact people interested in buying the iron?
Several manufacturers of early pressing irons made irons heated by liquid fuels, including natural gas, denatured alcohol, kerosene or gasoline. These irons were easily lit, and the heat could be controlled. They were a big improvement over charcoal irons, but they could be dangerous under some conditions, they could explode.
The Akron Lamp Co. made gasoline-powered self-heating Diamond irons from the early 1900s into the 1930s. Liquid-fuel irons are not rare. An early Diamond iron sells today for about $70. Because you have the original box and directions, yours is worth more, especially to a serious collector of irons. There are clubs for collectors of pressing irons. You can find them by doing an Internet search. If you want to sell your iron, contact one of these clubs. You could also offer the iron on an Internet auction or place an ad in an antiques publication.
Tip
If you live near a body of water, be sure to keep silica gel near your stored coins and other metals. The gel absorbs excess moisture. Check once or twice a year to be sure the silica gel does not need to be replaced.
The Kovels answer as many questions as possible through the column. By sending a letter with a question, you give full permission for its use in the column or any other Kovel forum. Names and addresses will not be published. We cannot guarantee the return of any photograph, but if a stamped envelope is included, we will try. The volume of mail makes personal answers or appraisals impossible. Write to Kovels, Lawrence Journal-World, King Features Syndicate, 888 Seventh Ave., New York, N.Y. 10019.
Current prices are recorded from antiques shows, flea markets, sales and auctions throughout the United States. Prices vary in different locations because of local economic conditions.Advertising playing cards, Jersey Whiskey bottle, yellow-and-red box, circa 1900, $45.Knute Rockne figural bookends, cast iron, 1930s, 6 1/2 inches, $295.Kayo toothbrush holder, wall mount, Japan mark, 1930s, 5 inches, $325.Queen of Hearts typewriter, tin, black ground, green-and-red design, Queen of Hearts in center, $445.Wedgwood Majolica pitcher, hexagonal, sunflower and lily motifs, impressed, 8 1/4 inches by 5 1/2 inches, $475.Vogue "Crib Crowd" baby doll, plastic head, blue sleep eyes, closed mouth, curly lambskin wig, pink polka-dot dress, marked, 7 inches, $525.Buddy "L" U.S. Mail Truck, olive-green with decals, 1940, 21 inches, $950.Cambridge souvenir mug, crystal, Nearcut, gold band and white enamel dots, signed, 4 ounces, $1,585.
Copyright 2018 The Lawrence Journal-World. All rights reserved. This material may not be published, broadcast, rewritten or redistributed. We strive to uphold our values for every story published.