Oskaloosa — It took a Jefferson County jury less than 90 minutes Friday to find Noah J. Gleason, 43, guilty of first-degree murder.
He faces a life sentence with no chance for parole until he has served 20 years for killing Clarence Rinke.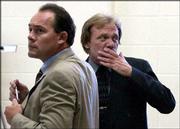 "I'm glad it's over, but (parole eligibility in) 20 years is too soon," said Rinke's sister, Bea Brien, Lawrence.
In a trial that lasted 2 1/2 days, Assistant County Atty. Vic Braden convinced the eight-woman, four-man jury that Gleason had planned to rob Rinke, 55, of cash and marijuana. Gleason had previously purchased marijuana from Rinke, witnesses said. He had also talked about killing Rinke, they said.
Gleason recruited Collin E. Cady, 33, McLouth, and Charolette M. Bennett, 29, Lawrence, to assist him in the robbery, Braden said.
According to Braden, while Cady and Gleason hid in the woods near Rinke's house, Bennett lured Rinke to a locked, electronic gate at the entrance to his property a quarter-mile down a lane from the house. She told Rinke over an intercom she was lost and her car was stuck.
Rinke drove his tractor to the gate and, finding no one there, returned to his house. Inside his garage near a mud room he confronted Cady, who was armed with a sawed-off shotgun. Rinke fought with Cady for control of the shotgun and it went off, the blast hitting him in the chest.
Cady and Gleason then fled the area through woods and fields until they met up with Bennett more than a mile away.
Kansas law allows suspects to be charged with first-degree murder if they are participating in a felony crime that results in a death, even if they don't directly cause it.
Cady and Bennett, also facing charges in the case, testified against Gleason. They will enter into plea bargains during hearings starting at 9:30 a.m. Thursday before Judge Gary Nafziger, who also presided over Gleason's trial.
Gleason's main defense was his physical condition at the time of the robbery. His attorney, John Kurth, presented witnesses who said that because of a May 1999 motorcycle accident, Gleason could barely walk and was in no condition to run through wooded areas.
Braden, however, presented medical reports that showed doctors were about to release Gleason as a patient in October 1999. One medical report stated Gleason had spent two hours picking up brush on a day near the time of the murder.
Jefferson County Sheriff's officers and the Kansas Bureau of Investigation worked on the case for more than two years, finally obtaining information that led them to arrest the three suspects on April 2.
Cady also is charged with first-degree murder, along with conspiracy to commit burglary. It is expected he will enter into a plea agreement. Bennett is charged with conspiracy to commit aggravated robbery but also is expected to enter into a plea bargain later.
"I'm thankful that it's over," said Emmeline Dahlem, Eudora, also a sister of Rinke. "I just wish Mother were alive to be here."
Clarence Rinke's mother, Rose Rinke, 87, died of natural causes about a year after her son.
"Mother and Clarence are rejoicing in heaven," said Brien.
Rinke's brother, Dick Rinke, Lawrence, commended the KBI and sheriff's officers for their dogged efforts at solving the case.
"I had a very strong confidence in them," he said.
Law enforcement officers knew Clarence Rinke was a suspected dealer in large amounts of marijuana. But that didn't affect their determination to find the culprits, Sheriff Roy Dunnaway said.
"The way I look at it, there's nothing worse than killing someone, no matter what the victim might have done," Dunnaway said.
Gleason will be sentenced at 1 p.m. Sept. 5 by Nafziger.
Copyright 2018 The Lawrence Journal-World. All rights reserved. This material may not be published, broadcast, rewritten or redistributed. We strive to uphold our values for every story published.