The $140 increase in the cost of educating two boys at Pinckney School hit home Wednesday in the Crawford-Parker household.
Doug Crawford-Parker enrolled one son in sixth grade and the other in fifth grade at the red-brick school on Sixth Street. He wrote a $224 check for general enrollment fees that shot up 167 percent from a year ago.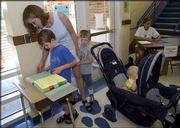 "When you have two (children), you pay twice as much," he said. "It's a pinch."
Hundreds of other parents flooding the district's 18 elementary schools were hit with the same sticker shock. Later this month, it will hit parents of junior high and high school students.
In addition to adopting higher textbook fees and new instructional materials, technology and activity-trip fees, the Lawrence school board boosted the price of a basic school lunch. It approved a pay-to-ride bus system, which is $240 annually per student. And there's a new $50 sport and activity fee for junior high and high school students.
Parents interviewed about the board's $850,000 increase in student fees generally appeared willing to swallow the medicine as long as the money was invested wisely in children's education.
Candace Koch will have children at Hillcrest School, West Junior High School and Free State High School. She's not certain how much Andrea's fees will be at West, but Jordan's totaled $112 at Hillcrest, and Rachel's were $309 at Free State. Fifty dollars of Rachel's tally reflected her participation on the tennis team.
"For the quality of education in the public school system, I think it's a bargain," Koch said while visiting Hillcrest.
Fee schedulesRequired fees:
Textbook rental: $72.
Instructional materials: $15.
Technology material: $10.
Field trip transportation: $15.Total: $112Special fees:
Participation fee for sports, cheerleading: $50 each.
Cocurricular fee for orchestra, debate: $25.
Activity ticket: $25.
Parking permit: $10.
Yearbook: $37
Pay-to-ride bus transportation: $240 annually to eligible students. Late fee of $10 now applies.
Koch directed her displeasure at the 2002 Legislature for not adequately funding public school districts. The Lawrence school board responded by increasing fees and cutting jobs to balance the budget and give teachers a 5 percent raise in salary and benefits.
"The Legislature did not go to bat for kids," Koch said.
Laura Bellinger enrolled her sons, fifth-grader Ricky and first-grader Ryan, at Broken Arrow School. Last year, she spent about $65 on enrollment fees. Her costs climbed by $180 this year.
"It hurts," she said. "Seriously, I think about the fees, school supplies and the lunch money. It's my first month's salary as a part-time preschool teacher."
She's willing to pay more as long as the district doesn't do anything to compromise student access to after-school enrichment programs.
Paying the fees for brothers McKean Parker and Henry Raak, Crawford-Parker said his worry was for families that don't have money in their budgets for new fees.
"For me, I don't mind paying a little more," he said. "But what concerns me more is those who can't."
Copyright 2017 The Lawrence Journal-World. All rights reserved. This material may not be published, broadcast, rewritten or redistributed. We strive to uphold our values for every story published.