Perry — John Hackman had scrimped and saved long enough that he finally had enough money stashed away to buy that car he wanted.
But he didn't.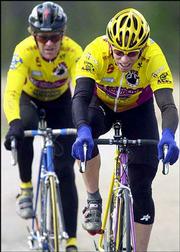 The 16-year-old bought a bike instead. This wasn't your mother's 10-speed, though. It was one of those fancy-schmantzy, aerodynamic kind of road bikes.
"He wanted a car," his mom, Catherine, said. "But he liked cycling so much that he bought the bike."
Hackman, who lives in Lawrence and attends Rockhurst High in Kansas City, Mo., rode his flashy LeMond cycle around the 2-mile course twenty times at Perry Lake State Park on Sunday along with about 110 other cyclists who competed in the Star Signs Stage Race.
Sunday's race was the final stage of a two-day event that had previous races on Saturday at Clinton Lake State Park and Worden.
Don't think that this race was a gathering of a bunch of people out for a leisurely Sunday bike ride. It was for serious cyclists. With a steep hill nicknamed "Dragon's Back" and hay bales lining some turns, Whittaker said "there won't be any posers in the top-three."
Hackman won the Men's 4-5 competition Sunday with a total time of 2 hours, 21 minutes. He won the time trials Saturday at Clinton Lake with a time of 22:09, which would have earned him 11th place in the Men's 1-2-3 division.
Hackman got into cycling a year and a half ago, he said, after his neighbor, and race organizer, Jim Whittaker got him to enter a few triathlons. Hackman didn't mind the swimming and running portions of the three-sport event, but fell in love with the cycling, he said.
"A lot of guys get their thrills racing cars," he said. "But cycling to me is so much more fun and a lot harder. I don't know how to explain it."
Hackman is a member of the Museum Cycling team and has competed in about 70 races around the country since he began riding, he said.
Last year he attended USA Cycling's developmental camp at Flagstaff, Ariz., and was invited to the national camp but couldn't go because of a conflict. This summer, Hackman said he wants to ride in a race in Quebec, Canada, that has the best European junior riders.
"I told him that he can be as good as he wants to be," said Whittaker, who is Hackman's coach. "When a person starts a sport like cycling with as much ability as he has, they can go far. In six or seven years he might be good enough to be a professional."
Cycling is divided into six ability levels with professional being the best and fifth being for beginners. Hackman competes at the fourth level.
Hackman said he trains about two hours a day during the week and when spring comes he and his mom usually are on the road driving to a race in Iowa, Illinois, Indiana or any other nearby state during weekends.
All that traveling has taken a toll on the family budget, Catherine said.
"I'm a single mom and we don't have the most money in the world," she said. "We've had some help. LeMond gave him a good deal on his bike and Museum has helped him with jerseys and entry fees."
Hackman, who is a junior, is in the work-study program at Rockhurst and wants to start a cycling club at the school, he said. But between the 45-minute drives to and from school with his mom Catherine works at St. Joseph's Hospital in Kansas City homework and training, Hackman doesn't have a lot of free time.
"He's up at 5 a.m. and we're on the road by six usually," Catherine said. "Then he comes home and after studying and training, he's lucky if he gets to bed by 11 p.m."
Copyright 2018 The Lawrence Journal-World. All rights reserved. This material may not be published, broadcast, rewritten or redistributed. We strive to uphold our values for every story published.