Chicago — Manager Jim Tracy is elated at what he sees from the Los Angeles Dodgers.
Kazuhisa Ishii became the first Los Angeles rookie to win his first five decisions since Fernando Valenzuela in 1981, beating the Chicago Cubs 5-4 Sunday in the first game of a doubleheader sweep.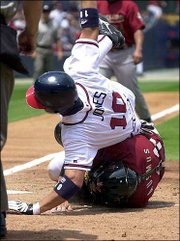 Andy Ashby and Paul Quantrill followed Ishii by combining on a three-hitter in a 4-1 win. Ashby retired his first nine batters before Corey Patterson's fourth-inning bloop single to right, the lone hit off Ashby in eight shutout innings.
"Our entire team won this doubleheader," Tracy said. "We're building a neat thing here."
And when the Dodgers return home Tuesday night to open a three-game series against the Reds, Kevin Brown will be on the mound.
Brown has been out since April 14 because of swelling in his right shoulder. But the Dodgers have gone 10-3 since then.
"We don't make excuses here," said Tracy, whose club battled injuries in an 86-win season last year. "We're aggressive and we make mistakes, but we don't back down or make apologies. We build on what's coming. On Tuesday, we get our ace back."
The Cubs fell to 8-15, including 4-10 at home. Chicago, which had one hit off Odalis Perez in Friday's opener, had just five runs and 10 hits in the series.
"It all looks a lot worse when you're not hitting," Cubs manager Don Baylor said. "We're trying to give the pitcher some kind of run early to help him relax."
In the opener, Ishii (5-0) allowed one run and three hits in seven innings, striking out eight. The Japanese left-hander is off to the best start for a Dodgers rookie starter since Valenzuela began 8-0 in 1981.
"I don't recall having won five in a row before," said Ishii, who made 244 appearances in a 10-season Japanese league career. "But my personal records are not what's important."
Ishii allowed six baserunners in the first three innings, but he moved exclusively to the stretch in the fourth and started getting outs.
"It was my idea," Ishii said. "I have better command in that position. The No. 1 reason was to catch my rhythm."
In the second game, Ashby (2-2) won for the first time in four starts since April 5, striking out eight and walking none. He went 2-0 for the Dodgers last year before elbow surgery ended his season.
"It's like a new thing every time I start muscle memory, what feels right," Ashby said. "I don't want to get overconfident, but things feel good."
Dave Hansen doubled and drove in a run as Los Angeles swept a doubleheader from the Cubs for the first time since August 2000.
Pirates 3-2, Padres 2-7
Pittsburgh Brian Giles hit a go-ahead triple off Alan Embree (2-1) in the seventh as Pittsburgh rallied from a 2-0 deficit in the opener. San Diego's Ben Howard the lone survivor of the Feb. 15 highway accident that killed Padres outfielder Mike Darr and minor leaguer Duane Johnson made his major league debut and allowed one run and four hits in five innings. Scott Sauerbeck (1-0) pitched 12*3 innings, and Mike Williams got his 10th save, stranding the potential tying run on third.
Brian Tollberg (1-3), in danger of being demoted to the minors, held Pittsburgh to two runs in six-plus innings of the second game and San Diego scored five runs in the third against Jimmy Anderson (2-3). Astros 7, Braves 1
Atlanta Carlos Hernandez (2-0) allowed four hits in seven shutout innings and struck out six, and Houston took a 6-1 lead with a four-run eighth off reliever Mike Remlinger. Atlanta's Chipper Jones left after the seventh with a sprained right thumb.
Diamondbacks 5, Marlins 4
Miami Curt Schilling (5-1) struck out 13 in seven innings, allowing four runs and six hits. Steve Finley, Damian Miller and Mark Grace hit consecutive two-out solo home runs against rookie Josh Beckett (0-2) in the sixth.
Mets 9, Brewers 6
New York Mo Vaughn hit an RBI double that highlighted a six-run rally in the sixth inning and Jeromy Burnitz homered against his former team as New York won its fourth straight. Milwaukee completed an 0-6 road trip. Jay Payton had three of New York's season-high 15 hits.
Giants 5, Reds 4
Cincinnati Reggie Sanders and Benito Santiago homered through a gusting wind and J.T. Snow drove in two runs, ending Cincinnati's seven-game winning streak. Kirk Rueter (3-1) remained unbeaten at Cinergy Field and got his third win on the Giants' 5-7 trip.
Expos 5,
Cardinals 2
Montreal Vladimir Guerrero had his second multihomer game of the season and 15th of his career. Guerrero and Lee Stevens hit consecutive homers off Matt Morris (4-2) in a four-run fourth inning.
Rockies 4, Phillies 2
Denver Jason Jennings (2-2) allowed four hits in even shutout innings and Todd Helton hit a two-run homer off Randy Wolf (1-1).
Copyright 2018 The Associated Press. All rights reserved. This material may not be published, broadcast, rewritten or redistributed. We strive to uphold our values for every story published.