When my wife and I learned that we were to have our first baby, we started fretting over many questions: Where will the baby sleep? What will we do about day care?
Much farther down the list, but still important: How will we record our baby's big moments? How will we chronicle his birth, his first word, his initial steps?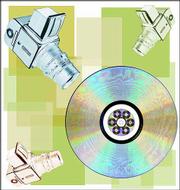 In hopes of receiving lots of videos of our new arrival, my father and stepmother gave us a digital camcorder. We realized it was possible to transfer and edit our baby video on a computer.
Admittedly, I am no computer expert. Although I record and edit music on my home PC, I am no better than average on a computer. That seemed to make me the perfect guinea pig for burning and editing my own movie.
Here's a look at what I learned about video editing software options.
VideoStudio 6
System: Windows
Company: Ulead
Price: $100
Level: Experienced
| | | |
| --- | --- | --- |
| | | |
| | Some digital video file formats, along with common uses:MPEG-1: Lets you record video onto a CD (CD burner required)MPEG-2: Lets you record video to a DVD (DVD burner required)DV: Lets you record back to the digital camcorder's tapeAVI: Common PC video formatWMV, MOV, RM: Streaming video format that lets you post your video on the Internet | |
| | | |
VideoStudio 6 is a solid, full-featured program. Documentation was adequate, but the first time I tried to capture video, it asked me to pick a format a tough question unless you really study the book beforehand. Video images were clear, but editing was not as intuitive as it could be.
The software claimed to detect scene changes in raw video and divide them automatically, but that was not reliable. Other features are included, such as custom scene transitions, title pages and overlays. The software includes a DVD burning wizard that makes it easy to create a DVD.
Pinnacle Studio 7.0
System: Windows
Company: Pinnacle Systems
Price: $100
Level: Experienced
The first thing you notice is the thick, detailed documentation, titled "Guide to Movie Making." Its 284 pages are the clearest documentation among the tested software. Capturing video was straightforward, and I quickly found the scene-detection tool, which was quite accurate.
The scene editing is intense you could spend hours editing video and enjoyable. Creating an MPEG 2 file, which is necessary to burn a DVD, took a long time and was unusual in that the computer seized control of the video camera, advancing and rewinding on its own. The otherwise excellent software is missing a DVD creation feature.
VideoWave 5.0
System: Windows
Company: MGI
Price: $130
Level: Intermediate
This software offers the slickest user interface along with good, clearly written documentation. But if you follow the book, you have to wade through lots of tutorials before capturing and editing your own video.
Editing features include some cool shadow effects and transitions. But editing is not as precise as in some other products reviewed, as frame-by-frame editing is not offered. Audio editing is quite good, and DVD creation is included.
Cinematic 1.0
System: Windows
Company: MGI
Price: $70
Level: Beginner
This is perhaps the easiest software to use to create a basic digital video. The software's CineMagic button takes your choices of video clips, music and style, creating a movie without further input. This is best for the simplest projects.
The storybuilder wizard automates much of the editing process but allows for more of your input, such as choosing among several templates.
There also is an option to create your own video, but the editing is basic with less control than other programs. Also missing is a DVD burning option.
DVD MovieFactory
System: Windows
Company: Ulead
Price: $44.95
Level: Beginner
This has the skimpiest documentation among the tested products. The user interface is simple but a bit obtuse at first. Editing is very basic, and no frame-by-frame editing is offered. Still, this software allows quick editing, and DVD burning is included and simple.
This may be the best choice for someone who is more interested in transferring videotape to a digital format such as DVD than in performing complex editing.
Copyright 2018 The Lawrence Journal-World. All rights reserved. This material may not be published, broadcast, rewritten or redistributed. We strive to uphold our values for every story published.