Eudora — Unlike Kevin Miller, most adults don't have their set of wheels from 14 years ago. Then again, most people's high school-era cars can't travel a quarter mile in a little more than 11 seconds, going 113 miles per hour.
That's because Miller has no average 1975 Chevy Nova, a point he proved recently when he took first at a Heartland Park drag race in Topeka. After 15 years of racing, this marks Miller's first win.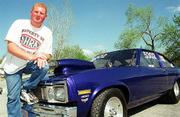 "I've made it to quarter finals and semi-finals," he said.
When he got the car as a teenager in 1989, Miller said he had no doubts he wanted to use the automobile for racing.
"It slowly gets faster and faster," he said.
Miller said he tried to run eight or nine races a year. Because practices are limited to a few trial runs before competitions, gaining an edge by improving his time has a lot to do with changes to the automobile, on which Miller said he worked about 20 to 30 hours a week.
"You can do it a lot of ways," he said, adding he worked on increasing the engine's horsepower and adjusting the weight transfer. "The way the car is set up is a lot of it. There's a lot of trial and error in it."
Gaining an edge means taking weight out of the car, which explains why the automobile, gleaming and purple on the outside, is virtually stripped on the inside with exposed roll bars and little in the way of amenities.
Miller said he gathered inspiration from his family, including his wife, Amy, his mother, and his father, a racer himself.
"He kind of got me into it," Miller said. "Probably without his help I wouldn't have gotten this far drag racing."
Family plays an important part during the race, too. Miller's "pit crew" consists of help from Amy, while their children, Blaine, 3, and Ashley, 1, provide moral support.
"The two kids are the good luck charms," he said.
Hanging upside down in the garage is the frame for a hot rod, which Miller said he would probably build as a project for him and his children.
Miller said he planned to race again in June, and his most recent efforts earned him a first-place plaque and a little more than $1,000 in cash, which he said would go into the "racing fund."
"It will get re-invested somehow," Miller said.
Copyright 2018 The Lawrence Journal-World. All rights reserved. This material may not be published, broadcast, rewritten or redistributed. We strive to uphold our values for every story published.