Vicki Vormehr is on the move this spring.
That's what happens when you have twin daughters playing different sports.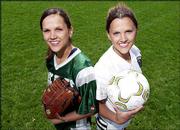 Amy Vormehr is a four-year starter for Free State High's softball team and Katy Vormehr is a four-year starter for the Firebird soccer team.
By the end of the season, FSHS soccer and softball will have played on the same date seven times. On Thursday at Free State's sports complex, Vicki squeezed part of Katy's soccer game between Amy's softball doubleheader.
Vicki doesn't mind the hectic schedule.
"It's fun, especially when we win," said Vicki, following Free State's thrilling 3-2, eight-inning victory over Shawnee Mission South while she was in transit to the FSHS soccer field. "It usually works out because softball is an hour before soccer. One good thing, they're both at home today."
After Free State's 3-0 soccer loss to Olathe North, Vormehr returned to the softball field to watch the second game of the FSHS-SM South doubleheader.
Sometimes it's not so easy. Already twice this spring on the same date, one squad played at home and the other on the road. And twice, FSHS plays soccer and softball on the road the same date.
"Last week, Amy had a 3:30 game in Leavenworth and Katy had a 7 p.m. game by Oak Park (Mall in Overland Park)," said Vicki, who pins a button to her jacket with her daughters' smiling faces. "I was able to get to one of Amy's games and went as fast as I could to get to Katy's game."
Born on Dec. 14, 1983, in Lawrence, the Vormehrs grew up like most twins, wearing the same clothes. The twins no longer dress alike, although they both wear No. 2 for their respective sports.
"My mom dressed us alike for a while and we kind of fought her for it," Katy said.
Said Amy, "We usually wore the same thing but different colors."
As for wearing identical numbers this spring, Amy said, "We did not plan that."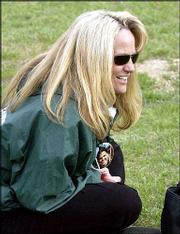 The Vormehrs play the same sport in the fall. They both started for Free State's Sunflower League championship volleyball team, which qualified for state.
Katy, a second-team all-Sunflower League and second-team all-state performer last season in soccer, has 26 career goals, including nine this season with four assists. She had four goals in a 10-0 victory over Junction City on Monday.
"Katy is the most dynamic player Free State has ever had with the ball at her feet," FSHS soccer coach Jason Pendleton said. "She is capable of making a big play at any time and especially adept at winning balls in the air and scoring off of corner kicks. Her 'leave it on the field' attitude every time she steps on the field is a shining example of how the game is suppose to be played."
Amy, a versatile infielder for the Firebirds, plays second base.
"The girls really respect her and enjoy being around her," FSHS softball coach Pam Pine said. "I don't think softball is her favorite sport, but she's such a perfectionist, and she gets frustrated and wants to be perfect all the time."
Outside of sports, the Vormehrs also have artistic interests. Their mother is part owner of an art gallery.
"We were both in ceramics class last semester," Katy said. "My brother (Nate a sophomore at Johnson County CC) is the artistic one. He's a photographer and into abstract paintings."
This is the first full sports season the Vormehrs have played without their father, Steve, in the bleachers. Steve died of a sudden illness in September on his way home from a Free State volleyball match.
"A couple of weeks ago it was pretty hard because it dawned on me he wasn't going to be there," Katy said. "Anytime he missed a game, he'd be upset."
Amy, too, has felt a void.
"It's just weird because he was at all the games," she said.
This fall, Katy and Amy will attend different schools. Katy will play soccer at Moorhead State in Minnesota, and Amy will attend Kansas University.
"The longest I've been away from her has been a month," Katy said. "I went to Europe for a month to play soccer the summer before eighth grade."
Amy will miss having her sister around.
"We've gotten closer and (became) pretty good friends in the last year," Amy said.
Copyright 2018 The Lawrence Journal-World. All rights reserved. This material may not be published, broadcast, rewritten or redistributed. We strive to uphold our values for every story published.