Cincinnati — On a rainy afternoon, Jose Rijo's comeback was more of a throwback.
Starting at Cinergy Field for the first time in seven years, Rijo put on another nostalgic show Saturday for enthralled fans and muttering San Francisco Giants hitters.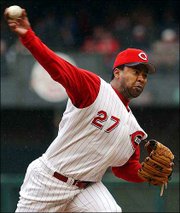 Rijo pitched six remarkable innings in a steady rain, drawing one ovation after another, as the Cincinnati Reds beat the Giants, 8-4, in a game called in the middle of the eighth.
The heaviest rains held off just long enough for Rijo (2-2) to amaze them more time.
"I feel like a hurricane today," Rijo said. "I'm bigger than the rain."
The Reds' seventh straight win kept them in first place in the NL Central, a major surprise that pales alongside Rijo's renaissance.
Rijo, who turns 37 next month, has come full-circle in his comeback from five elbow operations. The right-hander made his second start in a week and got his second win, giving 22,616 fans a few glimpses of the Rijo of old.
Rijo gave up five hits and two runs in six innings, his longest Cinergy Field appearance since May 22, 1995.
Rijo (2-0) has beaten the Cubs and the Giants in his two starts, giving up only two earned runs.
"It's an amazing story," said Reggie Sanders, a former teammate who got the Giants' first hit.
In the day's most intriguing matchup, Rijo faced Barry Bonds three times. Bonds flied out, walked and doubled before leaving as a precaution because of the wet field and the lopsided score.
Rijo thought he had Bonds struck out once or twice on close two-strike pitches, but didn't get the umpire's call.
"With him being Barry Bonds and me being Jose Rijo, broken-down old man, he gets the benefit of the doubt," Rijo said.
"I've been out of baseball for six years, he's in his prime. I still got him out. Give me credit, at least. I might be the only pitcher in the league that has pitched to him as much as I did today."
Bonds is 8-for-37 career against Rijo with one homer and 11 strikeouts. Their most important matchups were in 1990, when Bonds played for Pittsburgh and the two teams met in the playoffs. The Reds went on to win the World Series, with Rijo earning MVP honors.
A downpour finally stopped the game in the middle of the eighth. It was called after a half-hour wait.
Mets 2, Brewers 1
New York Pedro Astacio didn't allow a hit until Geoff Jenkins lined a single to left field with one out in the seventh inning, and New York beat Milwaukee.
Less than 24 hours after teammate Shawn Estes retired the first 18 Brewers and finished with a one-hitter, Astacio almost pitched the first no-hitter in Mets' history.
Astacio (4-1) allowed one run and three hits in eight innings. He walked one and struck out two. Armando Benitez pitched the ninth for his seventh save.
Cardinals 5, Expos 0
Montreal Reliever Mike Matthews combined with three St. Louis pitchers on a five-hitter. The Cardinals won their second straight to improve to 4-8 with one game remaining on a 13-game road trip.
Matthews (1-0) allowed one hit in 32*3 innings after relieving rookie Michael Crudale the 10th starter the Cardinals have used in 24 games to begin the third. Matthews walked four and struck out five. Luther Hackman relieved Matthews and got the last out of the sixth, before pitching the seventh and eighth. Gene Stechschulte pitched the ninth.
Rockies 8, Phillies 6
Denver Todd Helton hit a bases-loaded triple and Colorado improved to 2-0 under new manager Clint Hurdle. Colorado had lost five straight and was 6-16 before manager Buddy Bell was fired Friday.
Philadelphia has lost four straight and eight of nine.
Shawn Chacon (2-3) allowed two earned runs on five hits and five walks in 51*3 innings.
Astros 6, Braves 3
Atlanta Gregg Zaun, usually a terrible hitter against Atlanta, drove in four runs with a double and a triple to lead Houston over the Braves.
Zaun, 2-for-27 (.074) against the Braves coming in, broke a 2-all tie in the fifth with a two-out, three-run double off Kevin Millwood (2-3) and added an RBI triple in the ninth off Darren Holmes.
Dave Mlicki (3-2), who had been 0-2 in five starts against Atlanta since 1995, allowed three runs one earned and five hits in six innings.
Mlicki has won three straight starts overall, lowering his ERA from 7.20 to 2.20.
Octavio Dotel followed with two perfect innings, and Billy Wagner finished the five-hitter for his third save.
Marlins 6, Diamondbacks 3
Miami Brad Penny (3-1), once a top prospect in Arizona's farm system, beat his old team for the first time. He allowed three runs and nine hits in seven innings. Vladimir Nunez pitched a scoreless ninth for his third save in four chances.
Dodgers-Cubs rained out
Chicago Los Angeles and the Chicago Cubs were postponed by rain. The game will be made up today as part of a doubleheader.
Padres-Pirates rained out
Pittsburgh San Diego's game at Pittsburgh was postponed by rain and was rescheduled as part of a doubleheader today.
Copyright 2018 The Associated Press. All rights reserved. This material may not be published, broadcast, rewritten or redistributed. We strive to uphold our values for every story published.