Louisville, Ky. — Bond trainer H. James Bond is Derby-bound for the first time with Buddha.
Laffit Pincay Jr. returns for his 21st Kentucky Derby ride, aboard Medaglia d'Oro, matching Eddie Arcaro for the second most mounts in America's greatest race.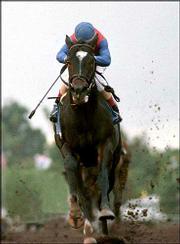 In between, there's a Derby delight for racing fans around the world in what promises to be one of the most wide-open fields in 128 runnings:
The Irish are coming, with Johannesburg and Castle Gandolfo.
Sheik Mohammed is back again, this time with Essence of Dubai.
Racing's Phipps family returns for the first time since 1989 with Saarland, owned by the daughter of Ogden Phipps, who died this month.
Trainer Bob Baffert, a two-timer winner, saddles War Emblem for Saudi Arabian Prince Ahmed Salman.
And four-time winning trainer D. Wayne Lukas just made it with a Kentucky-bred named Proud Citizen.
Harlan's Holiday, trying to become just the second Ohio-bred to wear the blanket of roses, is the likely favorite in what looks to be a full field of 20 3-year-olds. But the odds could be the highest ever for a favorite Churchill Downs linemaker Mike Battaglia is considering making the favorite 5-1.
"Harlan's Holiday is a little warrior, but once you get past him, they're all the same," said trainer Nick Zito, a two-time Derby winner who still has an outside chance of saddling a starter next Saturday. "If there's ever a year to take a shot, this is it."
You bet.
For those who don't like wagering on the biggest names in racing, consider some alternatives:
Blue Burner finished fifth in the Wood Memorial, yet his owner, New York Yankees boss George Steinbrenner, is sending the colt to the Derby.
Came Home, with six wins in seven starts, has been rejected by most handicappers, who swear the gutsy colt isn't bred to win at the Derby distance of 11*4 miles.
Ocean Sound, who broke his maiden last May, is riding a nine-race losing streak.
Perfect Drift, the Spiral Stakes winner, will be trying to win after a six-week layoff. The last horse to do that was Needles in 1956.
Private Emblem, the Arkansas Derby winner, will try to become the first New York-bred to win.
Buddha and Bobby Frankel-trained Medaglia d'Oro are the most unseasoned of the group. A victory by either would mark the first Derby win by a horse with just four previous starts since Exterminator in 1918. It'sallinthechase, on the other hand, would be making his 15th start.
"There's a lot more questions this year because there's not one you look at and say, 'He's got it all, he's got to be the favorite,"' Lukas said. "That's why you see everybody trying so hard and wanting to get in. Everybody thinks he has a shot."
Lukas' final Derby shot came through last Saturday, when Proud Citizen won the Lexington Stakes. Last year, Lukas' record streak of 20 consecutive Derby starts ended.
While his colt will be a long shot, it's unwise to count out the Hall of Famer. In 1999, Charismatic, also a Lexington winner, took the Derby at odds of 31-1; in '95, Thunder Gulch won at 25-1.
"I'm sure there's going to be a lot of handicapping going on as there always is," Lukas said. "But we're lucky in that race. And we've got a very fresh horse that has not gone to the well yet."
Lukas isn't alone. Quite a few late-developers are rounding into form, starting with Buddha and Medaglia d'Oro. Buddha has a three-race winning streak after finishing out of the money in his only race as a 2-year-old. He won the Wood Memorial on April 13 in his stakes debut.
Medaglia d'Oro made a giant leap from winning at six furlongs at Oaklawn Park on Feb. 9, to winning the San Felipe Stakes at 1 1-16 miles on March 17. In the Wood, the dark bay colt battled Buddha down the stretch before losing by a neck.
Both colts worked this week, and their trainers pronounced them fit. Buddha went six furlongs in 1:14 2-5 at Belmont, Medaglia d'Oro five furlongs in 1:01.40 at Churchill Downs.
Copyright 2018 The Associated Press. All rights reserved. This material may not be published, broadcast, rewritten or redistributed. We strive to uphold our values for every story published.