Superstition Mountain, Ariz. — Bring on the party. John Jacobs and Jim Thorpe, two men known to appreciate a good time, are the leaders heading into the final round of the Countrywide Tradition, the season's first major on the Senior PGA Tour.
Jacobs combined a sizzling putter with his trademark long drives to shoot a 6-under-par 66 on Saturday for a one-shot lead.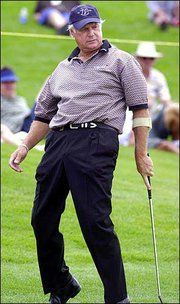 Thorpe, who began the day in a three-way tie for the lead, chipped in from the bunker about 30 feet for an eagle on the par-5, 553-yard 18th hole to complete an up-and-down day.
Jacobs was at 10-under 206 through 54 holes on the 7,228-yard Prospector course at Superstition Mountain Golf & Country Club.
Although they may have mellowed a bit with age, Jacobs and Thorpe are among the game's highest-living free spirits, and that should make for an entertaining final group today.
"Win, lose or draw, we're going to Vegas tomorrow," Thorpe said as he high-fived Jacobs after Saturday's round.
Thorpe shot a 70 on Saturday for a 9-under 207. Bob Gilder, tied with Thorpe and Bob Eastwood at 7 under entering the third round, birdied the 18th and was two back at 8-under 208.
Jacobs, who lives in nearby Scottsdale, began the day three shots behind the leaders. He had six birdies and no bogeys. He credited his lead, though, to saving par on the 10th, 11th and 12th holes.
"That's what kind of made my round," he said. "I parred all three holes and didn't hit a good shot."
Hale Irwin, the tour's leading money winner, climbed out of the pack with a 68 and was at 5-under 211, along with Fuzzy Zoeller, Tom Kite and Dick Mast.
Jacobs, 57, played much of his career in Asia and never won a tournament on the PGA Tour, but he has four victories in his seven years on the senior circuit, including this year's Royal Caribbean Classic.
He was known as much for his partying as his golf in his younger days.
"I behave myself a little better than I did when I was a kid," Jacobs said. "I'm having fun out there."
Stopping occasionally to joke with the crowd, Jacobs moved into contention with birdies on the fourth, fifth and eighth holes, then pulled away by stringing together birdies on the 12th, 13th and 14th.
"I like to be around people," he said. "I like racetrack people. I like fun people. I like people who will laugh at themselves. If a person can't laugh at themselves, I don't want to be around them."
Jacobs leads the tour in driving distance at 285 yards going into this week's tournament, but he had just 22 putts through his entire round Saturday.
"Man, I'm on fire," he said. "I've never made that many putts."
After playing even par golf through the first two rounds, Jack Nicklaus struggled to an 81 on Saturday. Because of an ailing back, Nicklaus has not played a full tournament since last July.
"I'm just worn out. I couldn't make anything happen," Nicklaus said. "I hit three greens in regulation today. Nothing was any good. It wasn't that my back hurt that much. I was just tired."
Copyright 2018 The Associated Press. All rights reserved. This material may not be published, broadcast, rewritten or redistributed. We strive to uphold our values for every story published.