Erfurt, Germany — Robert Steinhaeuser arrived Friday morning at Gutenberg High School in this medieval eastern German city with a bag containing a pump-action shotgun, a pistol and more than 500 rounds of ammunition.
He went to a bathroom where he donned a ski mask and took out three magazines each with 17 bullets but left most of the ammunition. Tall, thickset and dressed in black, he emerged looking like a ninja warrior, students said.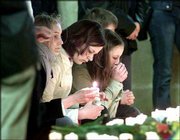 During the next 15 minutes, Steinhaeuser, 19, moved through the school, hunting teachers and shooting them on sight, according to students, police and state officials. He killed 16 people in Germany's bloodiest post-war massacre before shooting himself.
A member of two gun clubs who was legally entitled to carry weapons, Steinhaeuser was a superb shot, felling his victims with a single round. Wordlessly brushing past students, he then stood over his victims and pumped two or three more rounds into each to make sure they were dead.
"Leave me alone," students quoted an art teacher as saying as Steinhaeuser stood over her in the school courtyard where he had chased her and kicked her to the ground. "I never did anything to you."
Instead, h e shot her repeatedly, according to students who moments earlier had been hustled out of school by the teacher.
"He did not move slowly and carefully," said Erfurt police chief Rainer Gruber. "He was under time pressure. He did not stay in one place but traveled several floors of the building."
Germany is in state of collective distress and confusion after the Erfurt massacre, which was apparently triggered by Steinhaeuser's expulsion from the school for repeatedly forging doctors notes so he could skip class. Steinhaeuser failed his state exams last year, and the expulsion effectively meant he could not obtain a high school diploma.
"This was an act of revenge," said police spokesman Achim Kellner.
Steinhaeuser killed 11 teachers one-quarter of the schools' faculty two students, a deputy principal, a school secretary and one of the first police officers to respond to the scene. Police Saturday revised to 13 from 14 the number of adults who were killed after one seriously wounded teacher was mistakenly counted among the dead Friday.
Students described Steinhaeuser, who was pale and had a buzz-cut, as intelligent, difficult and egotistical. But no one had any intimation of his violent potential, police said.
After emerging from the bathroom, Steinhaeuser stormed into a classroom where students said he shot wildly, killing 14- and 15-year-old girls.
The rampage ended when Rainer Heise, 60, a history teacher, confronted Steinhaeuser and said "Robert, there is no point in going on but shoot me anyway," according to German media, who interviewed the teacher. The shooter replied, "For today, that's enough, Herr Heise."
The teacher pushed Steinhaeuser into a room and locked it, where he shot himself.
Copyright 2018 The Lawrence Journal-World. All rights reserved. This material may not be published, broadcast, rewritten or redistributed. We strive to uphold our values for every story published.