Some of the newest styles of furniture are copies of the most popular old styles, made from the 1700s to the 1900s. About 1970, some collectors began looking for the heavy oak furniture made in the early 1900s.
The Mission, or Arts and Crafts, movement started about 1895 in England. It was a philosophical movement that encouraged quality workmanship and design, and disdained poorly made factory pieces. Handcrafted, well-designed everyday household items were promoted.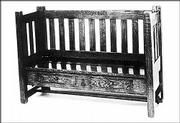 Some men in the United States adapted the English Mission ideas. They created colonies of workmen and produced original American Arts and Crafts designs.
Most of the early furniture was made by Gustav Stickley, by his brothers at several shops and by Elbert Hubbard at the Roycroft shops. Hubbard was a successful businessman who started a shop to print handmade books. He soon had a well-known monthly magazine and was a popular lecturer.
The Roycroft artists and craftsmen worked near Buffalo, N.Y. Soon the shops there were making furniture, metal work, leather, textiles, rugs and more. Roycroft furniture is clearly marked with a cross and orb or with the name Roycroft.
Roycroft is back in fashion, and modern copies are being made. Some of the new pieces are not made with the same care and handiwork of the originals.
I picked up a tarnished tea set at a flea market. After hours of rubbing, I cleaned it up and found the mark "Bristol Silver Plate by Poole, EPCA." What can be done to slow down the tarnishing process?
Bristol silver plate was made after 1950 by a division of Poole Silver Co. of Taunton, Mass. "EPCA" stands for electroplated copper alloy.
Clean the silver with a tarnish-preventing polish, which can be found at most grocery or jewelry stores. The set should stay clean for months.
I have a pair of wooden figures representing the cartoon characters Popeye and Wimpy. They're about 5 inches tall. Each one is marked on the back with a copyright symbol, the year 1944 and the initials K.F.S. Can you tell me anything about them?
K.F.S. stands for King Features Syndicate. King Features is one of the large syndication companies that sell comic strips and columns to newspapers across the country. The Popeye comic strip was among the syndicate's biggest hits.
Wooden figures like yours were also made representing other King Features cartoon characters, including Barney Google and Dagwood. Your wooden figures from the 1940s are not common. If they're in mint condition, each one would sell for $50 or more.
How was a hatpin used? How is it different from a stickpin?
A hatpin was used to hold a woman's large hat in place on top of the hairdos that were popular in the mid-19th century. A hatpin has a 4- to 12-inch-long shank with an elaborate, ornamental top. The 12-inch-long pin could also be used by a young lady as a defensive weapon. About 1910, a law was passed that required a guard on the point of the pin. Styles changed and hats became smaller, so a hatpin was no longer necessary.
A stickpin is much smaller than a hatpin. It is usually less than 3 inches long. The top of a stickpin was made to lie flat against a tie or lapel. The top of a hatpin is often rounded so it can be viewed from all sides.
If you are a new collector, be careful when you buy the pins. Many copies of old pins have been made since the 1970s.
---
The Kovels answer as many questions as possible through the column. By sending a letter with a question, you give full permission for its use in the column or any other Kovel forum. The volume of mail makes personal answers or appraisals impossible. Write to Kovels, Lawrence Journal-World, King Features Syndicate, 888 Seventh Ave., New York, NY 10019.
Copyright 2018 The Lawrence Journal-World. All rights reserved. This material may not be published, broadcast, rewritten or redistributed. We strive to uphold our values for every story published.