On the Kansas River — Seated in the rear of his canoe, Dave Murphy used his paddle to lift a softball-sized clump of thick, dirty foam from the Kansas River.
"This is what happens when we use our rivers and streams as a toilet," he said, doing little to hide his disgust.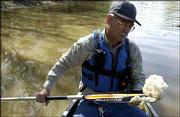 Chunks of icy-looking foam some as big as a bathtub floated past Murphy's craft. The foam was everywhere, giving the river's waters the frothy appearance of spilled beer.
Murphy, director of Friends of the Kaw/Kansas Riverkeeper, said he had seen river foam before, but never like this.
"This is not a good thing," he said. "It's a bad thing."
On a tour of a short stretch of the river early last week, Murphy pointed out where he thinks such pollution comes from and explained what it meant for the Kansas River, which is the main source of fresh water for Lawrence.
As Kansas Riverkeeper, Murphy's job is to patrol the waters between Junction City and Kansas City, looking for pollution. The program is sponsored by Friends of the Kaw and affiliated with the national Waterkeeper Alliance, which has 83 similar watchdogs nationally.
The alliance, which has won hundreds of lawsuits against polluters, recently named the Kansas River the fourth most-endangered river in the country. And the foam covering the river last week is an indicator of one of the main pollutants in the Kaw, Murphy said.
'Cause for concern'
In nature, river foam occurs when organic material and water collide in a fast-moving current. It's not unusual, and within a day or two it dissolves.
But when there's as much foam as seen last week, it means the water is overloaded with organic pollutants. Some of the pollutants are natural, leaves and grass, for example.
Others, such as sewage from leaky septic tanks or runoff from feedlots, are not.
"Foam is a naturally occurring phenomena," said Paul Liechti, assistant director at the Kansas Biological Survey in Lawrence. "But when there's a vast quantity like this, it means the stream system is overly nutrified, and that's cause for concern."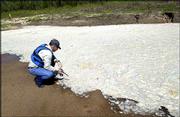 Such nutrients, he said, could come from any number of sources.
Murphy said the biggest source was probably manure from area feedlots.
Last weekend's heavy rains washed a dry winter's worth of manure into the ditches, streams and creeks that feed the Kaw, he said. And by last Monday, the river between Perry and Lecompton was covered in foam.
"This absolutely should not be allowed to happen," Murphy said. "No one has the right to contaminate this river this river belongs to everybody."
The Kansas Department of Health and Environment, he said, isn't doing enough to keep feedlot manure out of the Kaw.
"Studies have shown that one cow generates as much waste as 10 humans, so a feedlot with 100 cows and that's a pretty small operation generates about as much waste as town with a thousand people," he said. "Now if that town was dumping its raw sewage in the river, KDHE would throw a fit. But when agriculture does it, well, we're told that's different."
The regulations
State and federal law requires feedlots with 1,000 or more animals to have lagoon systems to collect runoff. Their operations are monitored by KDHE.
Feedlots with 300 to 999 animals are not required to have lagoons, but their operations are subject to KDHE approval.
Small feedlots those with fewer that 300 animals are checked only if someone files a complaint. Otherwise, there's little to stop someone from parking 200 cows next to a stream for the winter and letting the streams and rivers carry away tons of waste.
KDHE investigates all complaints, said Karl Mueldener, director of the department's Bureau of Water.
"We'll do an assessment to see if there's significant pollution potential," he said. "If there is, we'll work with the producer. That might mean having fewer animals or moving them to a different location or putting in controls. It all depends on the situation."
If no one complains, chances are KDHE won't investigate.
"But we get complaints, routinely," Mueldener said.
Earlier this month, Murphy filed complaints against six small feedlots that are visible from the highway. He spent much of Thursday in an airplane, looking for those that can't be seen from the road.
"I took my camera with me," he said.
KDHE estimates there are more than 650 small feedlots in 20 counties in northeast Kansas. About one-third are near the Kaw, Mueldener said. Of the state's 408 feedlots with more than 1,000 animals, 10 are in northeast Kansas; 213 are in the southwest corner of the state.
Humans, not cows
Mueldener cautioned against making a direct correlation between feedlots and foam on the river.
"If we took away all the feedlots, I suspect we'd still have foamy water after a big rain," he said. "It could be caused by any number of things."
Kansas Livestock Assn. spokesman Todd Domer bristled at Murphy's attempt to pin the foam on feedlots.
"There are a lot of potential sources out there, including humans," Domer said. "And there are a heck of a lot more humans on the Kaw between Topeka and Kansas City than there are cows."
Also, Domer said Murphy was selling short KDHE's oversight of feedlots.
"Kansas has some of the most stringent regulations in the country," Domer said. "We're seen as model for the rest of the nation when it comes to regulating confined feeding operations. Kansas' regulations are tougher than the feds.'"
For Murphy, that's not good enough.
"The fact that something is allowed doesn't make it any less reprehensible," he said.
The next time he finds mounds of foam on the Kaw, Murphy said he'll have it analyzed.
"I'm checking out what I have to do to get the right lab equipment right now," he said. "I'm not going away."
Copyright 2018 The Lawrence Journal-World. All rights reserved. This material may not be published, broadcast, rewritten or redistributed. We strive to uphold our values for every story published.