Ron Meyers enjoys the thrill of the hunt. And April means happy hunting to those who love the taste of the morel mushroom.
For the past few weeks, Meyers and others have scoured wooded areas and riverbanks hoping to find the elusive morel before it makes its annual disappearing act in early May.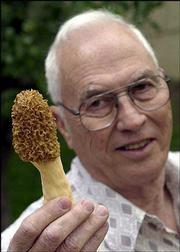 "It's just kind of a challenge to find them," Meyers said. "Morels are one of the hardest mushrooms to find."
Meyers' first morel-hunting experiences came while he was a boy during outings with his grandfather. Today, at age 68, the retired Air Force veteran is still hunting.
Though April and early May generally mark morel season, Meyers searches the rest of the year for any edible mushrooms he can find.
"The rain we've had has been a big help, and we should be finding more of them," Meyers said of morels. "For me, it's been a good year."
Meyers belongs to the Kaw Valley Mycological Society, a group of about 35 families who share mushroom-hunting experiences and information and go on outings. On the second Saturday of each month from April through October, they travel to a different area to search for morels and other mushrooms.
Richard Kay, 71, Lawrence, helped found the mycological society in 1986. He has written books on Kansas mushrooms and how to identify them.
Hunting and studying mushrooms is a hobby for Kay, and he credits his wife, Sherry, with piquing his interest.
"We used to just go walking around Lawrence looking for them," Kay said. "Then we started going out into the county. If I want to find morels, I have pretty good luck just walking along the Kansas River bank."
Morels often are found under or near dead or dying trees, Meyers said. Favorites seem to be elms, sycamores and cottonwoods.
A morel's brown, honeycombed skin makes it perhaps the easiest mushroom to identify. Some other mushrooms are poisonous and can even be fatal.
"If we don't know what it is, we don't eat it," Kay said.
Though morel hunters know where the popular hunting sites are, they usually have their own favorite private sites. They protect those sites with secrecy the same way a fisherman keeps mum about a favorite fishing hole, Meyers said.
When it's time to eat morels, the most popular method of preparation is to sauthem in butter or margarine, Meyers and Kay said.
Kay's favorite mushroom is the chanterelle.
"We also fix them in other dishes, such as an omelet or a casserole," he said of the mushrooms.
The mycological society has its own Internet Web page, www.sunflower.com/~pilott29. Beginners are welcome to join, Meyers and Kay said. Dues are $8 per year.
Copyright 2017 The Lawrence Journal-World. All rights reserved. This material may not be published, broadcast, rewritten or redistributed. We strive to uphold our values for every story published.