The challenge: Create and share your favorite banana recipe. That was all home cooks had to do to vie for "Top Banana" in a contest sponsored by the International Banana Assn.
More than 500 entrants took the challenge and sent in a variety of delectable recipes, proving that you certainly can't categorize the most versatile of fruits.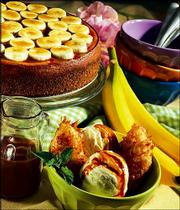 Cooks featured bananas in everything from savory salads to a sweet variation on bruschetta. In between, there were appetizers, sandwiches, entrees and, of course, lots of mouthwatering desserts.
The entries here show off the year-round appeal of bananas and their affinity for a world of cooking styles, spices and other ingredients.
Crispy Coconut Banana Sundaes won the grand prize a trip for two to Costa Rica and a VIP tour of a banana plantation. The recipe puts a creative, easy twist on classic Bananas Foster and transforms it into a Caribbean-style celebration of the fruit of the tropics.
So stock up and enjoy each of these recipes with friends and family they'll think you're the "top banana."
Crispy Coconut Banana Sundaes


Grand prize recipe:
3/4 cup caramel ice cream topping
1/4 cup fresh lime juice
1/2 teaspoon ground cinnamon
1 cup all-purpose flour
1 egg
1/2 cup lemon-lime soda, chilled
4 bananas, cut in half crosswise
2 cups flaked coconut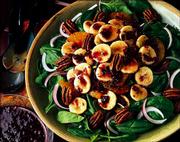 vegetable oil for frying
4 cups vanilla frozen yogurt or ice cream
Combine caramel topping, lime juice and cinnamon in small bowl, stirring until smooth. Set aside.
Stir together flour, egg and soda in medium bowl until blended. (Batter will be thick.) Use tongs to dip bananas in batter to coat. Shake off excess; roll in coconut.
Heat 1 inch of vegetable oil in heavy skillet or minifryer to 375 degrees. Place coated bananas in oil and fry until golden on both sides, turning with tongs as needed. Drain immediately on paper towels.
Place 2 banana halves, pointed ends up, in each of four shallow sundae dishes. Place 1 cup frozen yogurt in center of each dish; drizzle with sauce. Serve.
Makes 4 servings.
Per serving: 937 calories, 27 g fat (23 g sat.), 73 mg cholesterol, 426 mg sodium, 157 g carbohydrate, 14 g protein.
Caramel Banana Cheesecake


First place recipe:
1 cup graham cracker crumbs
1/2 cup finely chopped pecans, preferably toasted
1 1/3 cups sugar, divided use
1/3 cup butter or margarine, melted
32 ounces cream cheese, softened
1/2 cup caramel ice cream topping, divided use
1/2 teaspoon ground cinnamon
4 eggs, room temperature
1 cup mashed banana (about 2 ripe bananas)
2 bananas, thinly sliced
Preheat oven to 375 degrees. Spray 9- or 10-inch springform pan with vegetable cooking spray.
Combine graham cracker crumbs, pecans and 1/3 cup sugar in bowl. Mix in butter until mixture holds together. Press onto bottom and 1 inch up sides of springform pan.
Beat cream cheese in large mixing bowl until smooth. Gradually beat in remaining 1 cup sugar until fluffy. Add 1/4 cup caramel topping and cinnamon until well combined. Add eggs, one at a time, beating well after each addition. Add mashed banana until well blended. Pour filling into pan.
Bake 50 to 70 minutes or until center is almost set. Cool on wire rack; refrigerate.
Arrange banana slices atop cheesecake. Carefully drizzle and spread remaining 1/4 cup caramel topping over bananas. Chill until serving time.
Makes 12 servings.
Per serving: 576 calories, 38 g fat (21g sat.), 168 mg cholesterol, 376 mg sodium, 50 g carbohydrate, 10 g protein.
Banana And Spinach Salad


Second place recipe:
1 cup pecan halves
2 tablespoons coffee-flavored liqueur
2 teaspoons seasoned salt
1/2 cup dried cranberries
2 tablespoons cranberry juice cocktail
2/3 cup low-fat raspberry vinaigrette
3 bananas, cut into slices
1 cup orange sections
12 ounces baby spinach
1/2 red onion, thinly sliced
Line pie pan or shallow pan with foil. Stir together pecans, coffee liqueur and seasoned salt in pan. Bake at 300 degrees for 12 to 15 minutes, stirring twice, until toasted. Set aside. (If made ahead, store roasted pecans in sealed container.)
Combine cranberries and juice in microwavable container. Cover and microwave on HIGH 30 seconds. Let sit 5 minutes, then finely chop in food processor. Stir together cranberry mixture and raspberry vinaigrette.
Toss together vinaigrette mixture, banana slices and orange sections. Line 4 plates with spinach and onion; top with banana orange mixture. Sprinkle toasted pecans over salad.
Per serving: 386 calories, 20 g fat (2 g sat.), 0 mg cholesterol, 1364 mg sodium, 46 g carbohydrate, 6 g protein.
Makes 4 servings.
Spiced Caribbean Bread Pudding With Warm Caramel-Pecan Sauce


8 cups French or Italian bread, cut into 1-inch cubes and toasted
1/4 cup melted butter or margarine
5 eggs
1 cup pineapple ice cream topping
1 cup sugar
3 cups buttermilk
1 teaspoon ground cinnamon
3 medium bananas, cut into 1/2-inch slices
1 cup caramel ice cream topping
3/4 cup chopped pecans, toasted
Preheat oven to 350 degrees. Spray 13- by 9-inch baking pan with vegetable cooking spray.
Toss together bread cubes with butter in large bowl. Set aside.
Beat eggs. Stir in pineapple topping, sugar, buttermilk and cinnamon until blended. Spoon mixture over bread cubes, stirring gently. Let sit 10 minutes. Stir in bananas and spoon into prepared pan.
Bake 60 minutes or until top is brown and center slightly soft.
Stir together caramel sauce and pecans in small saucepan; heat until hot.
Serve bread pudding warm or at room temperature with sauce.
Per serving: 817 calories, 19 g fat (6 g sat.), 152 mg cholesterol, 826 mg sodium, 143 g carbohydrate, 18 g protein
Makes 8 servings.
Tropical Banana Bruschetta


1 loaf (12-inch) French bread, cut into 1/2-inch slices
1/4 cup butter or margarine, melted
4 tablespoons sugar, divided
1 tablespoon ground cinnamon
2 medium bananas, diced
1 large mango, diced
1 1/2 cups finely chopped fresh pineapple
1 cup finely chopped dates
3/4 cup macadamia nuts, finely chopped
Honey (optional)
Preheat oven to 375 degrees. Arrange bread slices on two baking sheets.
Bake 8 to 10 minutes or until golden brown. Brush toasted side with butter. Turn oven setting from bake to broil.
Stir together 3 tablespoons sugar and cinnamon. Sprinkle evenly over buttered toast. Broil slices about 6 inches from heat until tops bubble, about 20 to 30 seconds. Remove from broiler and cool slightly.
Stir together banana, mango, pineapple and dates in bowl with remaining tablespoon sugar. Sprinkle each bread slice with nuts and, if desired, drizzle with honey. Spoon about 1 tablespoon mango mixture on each slice. Transfer to serving platter.
Makes 24 servings.
Per serving: 165 calories, 6 g fat (2 g sat.), 5 mg cholesterol, 184 mg sodium, 26 g carbohydrate, 3 g protein.
Copyright 2018 The Lawrence Journal-World. All rights reserved. This material may not be published, broadcast, rewritten or redistributed. We strive to uphold our values for every story published.