New York — The NFL draft was definitely for big guys with one or two little surprises.
The question of where Oregon quarterback Joey Harrington would go was answered early Saturday when, minutes after he was told Detroit wouldn't take him, the Lions changed their mind and did with the third pick.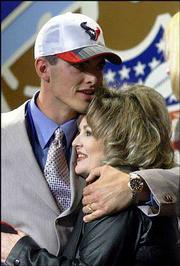 Otherwise, big men prevailed over speedy ones eight of the first 12 players chosen were offensive and defensive linemen. Indianapolis used its No. 11 pick by unexpectedly selecting defensive end Dwight Freeney of Syracuse, who was projected lower because he is only a bit over 6 feet.
The first wide receiver, meanwhile, didn't go until the 13th pick overall and the first running back not until the 16th.
Harrington was by far the biggest little surprise of a draft in which the first two choices were known well in advance. Quarterback David Carr of Fresno State was selected by the expansion Houston Texans and defensive end Julius Peppers went to Carolina.
Though elated, Harrington was still shocked when the Lions called his name.
Word was the Lions would auction the pick to get extra choices to fill their many needs and rely on second-year-man Mike McMahon at quarterback. And, just five minutes before they picked him, the Lions told Harrington they were talking to the agent for Texas cornerback Quentin Jammer.
"I was just about to sit down with my mom and dad and watch the Lions pick someone else, and I got a phone call. I was shocked. I was caught off guard, but I'm thrilled to be there," said Harrington, who seems to fit coach Marty Mornhinweg's West Coast offense.
"He's not unbelievable in any one area," Lions president Matt Millen said. "He's just really, really good in a lot of areas. And on top of that, he's got the intangibles. He's got all the things you're looking for in a quarterback."
Then came the whales.
Buffalo went for 370-pound offensive tackle Mike Williams of Texas. After San Diego took Jammer, Kansas City traded with Dallas to move from eighth to sixth and chose defensive tackle Ryan Sims of North Carolina, a 311-pounder.
There was a bit of drama with that pick. The Cowboys used all of their allotted 15 minutes and commissioner Paul Tagliabue declared they had passed and that Minnesota was on the clock.
The Vikings were scrawling Sims' name on a card when Tagliabue announced the Cowboys had dealt their pick to Kansas City, which had the eighth choice, just after the Vikings. The league said the Chiefs picked Sims just before Minnesota had a chance to take him.
Minnesota then took 345-pounder Bryant McKinnie of Miami, considered by many teams the best offensive lineman in the draft to fill the huge hole left at left tackle by the death in training camp last year of Korey Stringer. Then Dallas chose Oklahoma safety Roy Williams.
Jacksonville took Tennessee defensive tackle John Henderson of Tennessee and Cincinnati chose offensive tackle Levi Jones of Arizona State, rejecting trade offers to move down even though Jones probably would have been available later.
Even Jones was surprised he went that high, but the Bengals are known for their unconventional draft maneuvers and their record shows it.
"I knew it was going to be anywhere from 10th to possibly 27th, but I didn't think at all it would be 10th. I was real surprised. I thought they were going to trade down," he said.
Next, Freeney went to the Colts, about 10-to-15 picks higher than expected.
"You have to have a pass rush," Colts president Bill Polian said. "The guy had 30 sacks in two years so he must be doing something right."
Next, Wisconsin defensive tackle Wendell Bryant went to Arizona and wide receiver Donte' Stallworth of Tennessee went to New Orleans. The New York Giants then moved up one spot to take Miami tight end Jeremy Shockey
The Titans used their pick to select Tennessee defensive tackle Alfred Haynesworth, Cleveland took Boston College running back William Green and Oakland moved up twice to take Miami cornerback Philip Buchanon.
Atlanta chose Michigan State running back T.J. Duckett, Denver took wide receiver Ashley Lelie of Denver and Green Bay traded up for wide receiver Javon Walker of Florida State.
Then, New England traded up 10 places as Washington moved down for the second time and took tight end Daniel Graham of Colorado. The New York Jets chose defensive end Bryan Thomas of Alabama-Birmingham and Baltimore took safety Edward Reed of Miami. Philadelphia chose corner back Lito Sheppard of Florida and San Francisco took another Miami defensive back Mike Rumph.
Reed was the fourth Hurricane taken, giving the national champions eight first-rounders in two seasons, the most by any school since the AFL and NFL had their first common draft in 1967. The selection of Rumph made it nine in two years and tied Miami for the most taken in any first round with five, the same as Southern California in 1968.
After Rumph, Seattle chose a local player, tight end Jerramy Stevens of Washington.
Then, offensive tackle Marc Colombo of Boston College went to Chicago; offensive tackle Kendall Simmons of Auburn went to Pittsburgh; and linebacker Robert Thomas of UCLA went to St. Louis.
The first round finished with Steve Spurrier's first pick as the Washington Redskins' coach. Naturally, he took a quarterback, Patrick Ramsey of Tulane.
The first round was the longest ever 5 hours, 48 minutes. Eight defensive linemen and five offensive linemen were chosen. The three tight ends were the most in the first round since 1970.
The second round featured a number of players projected as possible first-rounders. and the selection by Pittsburgh of Antwaan Randle El, the Indiana quarterback who is projected as a wide receiver. He, in fact is a "slash," a position invented by the Steelers with Kordell Stewart and continued with Hines Ward.
Heisman Trophy winner Eric Crouch, who played quarterback at Nebraska, was chosen in the third round as a wide receiver by St. Louis four picks before the draft ended for the day.
The second round also included running backs DeShaun Foster of UCLA, who went to Carolina and Clinton Portis of Miami, chosen by running-back laden Denver; defensive end Kalimba Edwards of South Carolina to Detroit; guards Andre Gurode of Colorado, chosen by Dallas, and Toniu Fonoti of Nebraska, who went to San Diego; wide receivers Jabar Gaffney of Florida (Houston), Antonio Bryant of Pittsburgh (Dallas) and Josh Reed of LSU (Buffalo), defensive tackles Anthony Weaver of Notre Dame (Baltimore) and Larry Tripplett of Washington (Indianapolis).
Copyright 2018 The Associated Press. All rights reserved. This material may not be published, broadcast, rewritten or redistributed. We strive to uphold our values for every story published.