New York — Backstage, the Theater at Madison Square Garden.
They call it the green room, appropriate if you are an invited prospect who starts falling through the NFL draft, because that's the color you turn.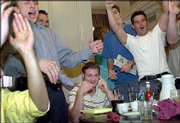 It is minutes before commissioner Paul Tagliabue officially calls a start to this year's meat market on Saturday.
Five anxious men David Carr, Julius Peppers, Mike Williams, Quentin Jammer and Bryant McKinnie sit with a maximum of six family members waiting for their turns to become millionaires in pro football.
The five family tables are scrunched into a curtained-off room, lit by stage lights and decorated with posters of former No. 1 picks. For so festive an occasion, it is silent. It's almost like the wait outside the delivery room. Moms, dads and brothers look nervous. Even motormouth Williams, a surefire media favorite, isn't talking.
First pick
Carr's wife, Melody, has brought miniature figures from Toy Story to entertain the couple's 2-year-old son, Austin, who attended all his dad's games at Fresno State.
Melody lets out a nervous laugh as she listens to the TV spout details of her husband's seven-year, $45-million deal and the $8-million signing bonus.
Now they are showing highlights of Carr. Austin points and says, "Da da."
The pick, a formality, seems to take forever.
You can hear the draftniks chant, "Make the pick. Make the pick."
Finally, the NFL obeys. Carr is announced. The other tables burst into polite applause. Carr is escorted out the back and puts on a Houston Texans cap. The family files out on stage to join him.
Second pick
The four remaining players settle back in their chairs. Williams' eyes are glued to the TV screen, his face frozen in a smile.
After a few minutes, a cell phone rings in the room and an NFL staffer hands it to Peppers. He listens and suddenly looks like he is auditioning for a toothpaste commercial. The Panthers tell him he is theirs, even while Johnson is wondering on TV whether the Panthers will take him.
Now it's McKinnie's cell phone that rings - not from an NFL team but from Miami teammate Ed Reed. McKinnie lets out a belly laugh and promises to call Reed back after he gets picked.
A few more minutes go by before ESPN sets the stage. Inside the green room, the camera and boom mike surround Peppers.
The pick is announced.
Third pick
Jammer could secretly be hoping that he is not the next pick. The Lions are up and his first choice is the Chargers. With three guys left, the room seems a lot emptier.
McKinnie leans back in his chair. Williams is still leaning to one side, eyes on the screen, unblinking.
The minutes go by. Still no phone calls. Jammer looks worried as he glances sideways at the screen.
When Joey Harrington is selected by the Lions, there isn't a lot of reaction.
But the room still has three occupants.
Fourth pick
Buffalo is up. Every mock draft in the land has them taking Williams. But the Bills have used up half the allotted time and the phone isn't ringing.
Williams picks up his cell phone and opens the cover, perhaps checking if he missed a message from upstate New York. He wipes his brow and covers his face with his huge hand.
It rings. Williams answers, nods his head and laughs. McKinnie, the other offensive tackle in the room, claps loudly.
Fifth pick
Jammer knows he's next. But still he waits.
The McKinnie table sits patiently. McKinnie keeps getting phone calls from Hurricane teammates. It keeps him occupied when, at times, he doesn't seem to want to be here.
Jammer gets his call. His agent, Mike Sullivan, gives a thumbs up.
The only person in the group not thrilled seems to be Jammer's 9-year-old brother Quadry. He wanted Quentin to be a Cowboy.
Sixth pick
One left. The room would seem deserted if not for the sheer size of the 6-8, 348-pound McKinnie.
This is his nightmare. He considered not accepting the NFL's invitation and watching it at home, like Harrington. But home is in Woodbury, N.J., a blue-collar town tucked in the Philadelphia suburbs, and there were 30 family members and friends who wanted to make the trip.
"Kenyatta Walker kept running through my mind," McKinnie says.
Walker was an invitee from Florida last year. The green room became the panic room before he was rescued by the Bucs, who traded up to 14.
As the Cowboys run down the clock to zero, McKinnie keeps taking calls from Miami teammates.
McKinnie knows the Cowboys aren't interested in a tackle. He has an anxious moment when it appears Dallas has used too much time; the Vikings are ready to jump in take DL Ryan Sims, who goes to Kansas City after a trade.
McKinnie's family makes little jokes to pass the time.
Seventh pick
The NFL guy has the Viking hats all ready for McKinnie and his family. His cell phone doesn't stop ringing but it's never the Vikings.
Finally, it is.
Copyright 2017 The Lawrence Journal-World. All rights reserved. This material may not be published, broadcast, rewritten or redistributed. We strive to uphold our values for every story published.