Washington — They didn't take celebrity photos 600 years ago, but the National Gallery of Art has acquired recently a rare ancestor of the species: the oldest known portrait made for wide distribution.
It's an undamaged engraving, about 6 inches by 9 inches and portrays St. Bernardine of Siena, a charismatic Italian Franciscan preacher who developed a huge following in the 1400s.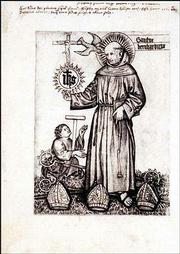 The gallery keeps the engraving among its rare prints, not on exhibit but available to anyone who telephones the gallery's Prints and Studies Room, (202) 842-6392.
"This engraving is an absolutely spectacular impression from the beginnings of European printmaking," said Peter Parshall, the gallery's curator of old master prints.
One of the earliest ways to reproduce a picture was to incise it in the form of grooves cut into a copper plate. The artist then spread ink over the plate, wiped it clean and pressed paper on it to attract the ink that stuck in the grooves.
Hundreds of copies can be printed in this laborious way. Parshall said there was no knowing how many were made of this particular St. Bernardine or how they were distributed. Experts judge it was made about 1470, in Germany or possibly Italy. At the time prints were often sold in bookstores, peddled in marketplaces, or bought by visitors to a monastery as a souvenir of their pilgrimage.
This engraving was apparently copied from a portrait now in Siena, Italy. The painter worked from a death mask, which is preserved.
"Portraits are always somewhat idealized," Parshall said in an interview, "but in this one there is a real attempt to portray the man. His features were not conventionally attractive, and the image was made when many people who had seen him were still alive."
St. Bernardine is shown holding a symbol of the triumph of Christianity over the gods of ancient Rome. He liked showing it at the end of his popular sermons, and it got him into temporary trouble. He was accused of encouraging idolatry, but Pope Pius II cleared him and gave him permission to preach anywhere.
In the picture, Bernardine points at three miters, the tall headdresses worn by bishops, which lie at his feet. They recall the three times he refused a bishopric, which would have limited him to a single diocese, so he could go on preaching through most of Italy.
National Gallery officials will not discuss prices they pay for acquisitions, which are financed by private contributions. Parshall said this one was extremely valuable because of its rarity.
Copyright 2018 The Associated Press. All rights reserved. This material may not be published, broadcast, rewritten or redistributed. We strive to uphold our values for every story published.