Between games of Tuesday's doubleheader against Olathe East at Holcom Park, Lawrence High softball coach Reenie Stogsdill was beside herself.
She had just watched her Lions get thumped, 9-0, by O-East, the defending Class 6A state champs.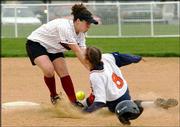 The loss sure peeved Stogsdill, but the effort LHS showed really ticked her off.
"After that first game we were as low as we've been," said Stogsdill, whose Lions had won four straight before falling to the Hawks. "The first game we played so bad, did so many silly things and we played scared.
"I challenged them after the first game to show me what kind of ball they wanted to play the rest of the year."
LHS (5-5) responded as the Lions played the Hawks to a scoreless tie through six innings before losing, 2-0.
Olathe East scored two runs in the top of the seventh and Hawks pitcher Lindsey Oliver retired LHS in order in the bottom half to seal the 2-0 victory.
"Really, I don't think I've ever been as proud of a team as I was tonight," Stogsdill said. "I really thought they played with a lot of guts and determination. Olathe East is a great team they're probably one of the best teams in the state and I think they stepped up to the challenge. I was really proud of the way they turned things around."
The Hawks (9-1) banged 10 hits in the first game against LHS pitchers Micaela Hill and Ashley Burnett.
In the second game, Burnett surrendered only four hits, all singles, through six innings. East never had a viable scoring opportunity until the seventh.
In the seventh, Casey Gorrell led off with a single to center. Katie Brown, who came in to run for Gorrell, advanced to second on freshman Teddi Ewing's bunt single.
Another sacrifice bunt put Brown on third and Ewing on second. Burnett intentionally walked Katie Keairness to load the bases.
O-East's Cori Nemec a single over first base to score Brown. Ewing scored on a sacrifice fly and Oliver threw eight straight strikes to end the bottom of the seventh.
"We totally went from extremes today," Burnett said. "We played as bad as we possibly can to the best we played all year."
"I would have rather gave her a much more deserving hit than that blooper. But like coach said, it could have went either way. And we put ourselves in a position to win."
Olathe East 9, Lawrence 0
Olathe East (8-1) 200 330 1 9 10 1
Lawrence (5-4) 000 000 0 0 2 5
W Lindsey Lang. L Micaela Hill. 2B LHS: Jenni Morrell.
Olathe East 2, Lawrence 0
Olathe East (9-1) 000 000 2 2 7 1
Lawrence (5-5) 000 000 0 0 2 1
W Oliver. L Ashley Burnett.
Copyright 2018 The Lawrence Journal-World. All rights reserved. This material may not be published, broadcast, rewritten or redistributed. We strive to uphold our values for every story published.