Free State High senior pitcher Eric Peterson received a sneak peek of what to expect while playing Division I baseball in the future.
Peterson, a Kansas University signee, was pounded for 14 hits, but the Firebirds held on for a hectic 14-12 victory over Belton (Mo.) High, which features a pair of Division I prospects in center fielder Randy Braun (Missouri) and pitcher/first baseman Kody Quick (Stanford).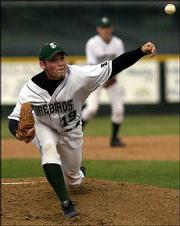 "They're 8-2 and have two big time players over there," FSHS coach Mike Hill said after his squad improved to 5-2 on Thursday afternoon at the FSHS field. "These are the type of teams you need to beat so we can feel better about ourselves."
Braun likely is a Missouri signee in name only. He is expected to be a high pick in the major league draft this spring. There were about 10 scouts on hand Thursday to watch Braun take batting practice before the game and put on a hitting clinic during the game.
Braun was 2-for-3 with two walks, two runs scored and four RBIs. The left-handed hitter yanked a two-run home run over the right-field fence as the Pirates pounded Peterson for five runs off seven hits in the top of the first inning.
"They've got a lot of bats," said Peterson, who needed a whopping 145 pitches to improve to 3-0 as the Firebirds earned their third win in a row. "They can swing it, man. It felt like they hit everything I threw up there in the first inning."
Fortunately for Peterson, Free State's sticks also were sizzling. The Firebirds answered with four runs on three hits in the bottom of the first, keyed by junior Matt Lane's two-run ground-rule double. Lane was 2-for-3 with two runs to go with his two RBIs and had two of Free State's eight doubles.
"Everybody's swinging it real good," Lane said, "and seeing the ball in BP (batting practice). I'm feeling real good at the plate."
He wasn't the only one. Free State had six players David Allen, Matt Berner, Lane, Kyle Unruh, Cassidy Thompson and David Arndt with two hits apiece. Thompson had two doubles to go with two RBIs.
The surging Firebirds will play host to Lincoln (Neb.) Southeast at 1 p.m. Saturday at the FSHS field.
"This is a huge win," Peterson said. "Getting two wins in Oklahoma was big, but this one sets the table. We always like to escape with these games."
Free State 14, Belton (Mo.) 12
Belton 510 030 3 12 15 1
Free State 404 303 x 14 13 6
WPEric Peterson (3-0). LPTrevor Hammack.
2BBelton: Ruiz, Quick, Gray; Free State: Matt Lane 2, Cassidy Thompson 2, Jeremiah Gress, David Arndt, Matt Berner, Kyle Unruh. 3BBelton: Gray, Barnes. HRBelton: Braun.
FSHS highlights: Lane 2-for-3, 2 runs, 2 RBIs; Unruh 2-for-3, run, 2 RBIs; Thompson 2-for-3, 2 RBIs; Arndt 2-for-3, 2 RBIs; Berner 2-for-3, run; David Allen 2-for-5, run, RBI.
Copyright 2018 The Lawrence Journal-World. All rights reserved. This material may not be published, broadcast, rewritten or redistributed. We strive to uphold our values for every story published.