Two wins in the first seven Winston Cup races this year his second and third of his career and first since his 2000 rookie season and what are Matt Kenseth's thoughts?
"I just feel like we have more work to do," he says.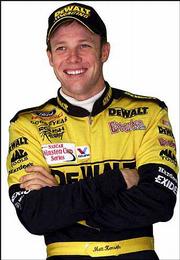 Is this a guy who's never satisfied? Not at all. But Kenseth knows the success he enjoys this season can easily disappear, much like it did during his sophomore season last year.
With that in mind, he will enjoy his early-season ride up the series points standings he sits in second following his Monday win at Texas, 70 points behind leader Sterling Marlin but he will not become overly confident.
"I don't think we can rest and say as a team that we've won two out of seven races so we're good enough and can leave everything alone," Kenseth, 30, said. "I still think we need to work on stuff and we need to take every item that's in our race cars and make them the best we can make them.
"We had a great race car (at Texas), but I felt like there was still room for improvement where we could have been even stronger. So that's a great feeling. When you can win a race and know that you still have room to make your cars better, that's a wonderful thing."
And it's a wonderful life Kenseth is living so far.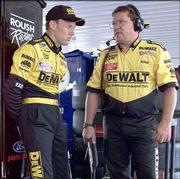 Following a successful career in NASCAR's Grand National series, he arrived in Winston Cup in 2000 with a bang, winning his first race at the prestigious Coca-Cola 600 at Charlotte and beating out Dale Earnhardt Jr. for rookie of the year honors.
The second half of his rookie season Kenseth's pace fell off, and last season his Roush Racing-owned team seemed beset with problems and bad luck. He remained in the top 15 of points, but never seemed to be a contender for race wins until late in the season.
It was that late-season turnaround that Kenseth credits for the position he and his team find themselves in today as one of the biggest surprises of the 2002 season.
"If you look at how we ran the last seven or eight races (of 2001), that's kind of how we're running right now," he said. "It took a lot of time last year to kind of sort through our cars and our bodies and all the stuff to try to figure out what we needed to be doing."
Kenseth said improvement has come in many areas. Besides simply having "better cars," he also credits NASCAR's new "one-engine" rule for his team's resurgence.
"I think it's evened up everybody a lot on power when it comes to qualifying," he said. "People have probably had to de-tune their motors somewhat other teams probably to last for the races whereas we haven't really done that too much.
"We're still running pretty much the same package we ran last year."
Robbie Reiser, Kenseth's crew chief, says a lot of the team's success comes from the good relationship he enjoys with Kenseth.
"I think that he's a very confident person and he's also very intelligent," Reiser said. "He understands the cars real well. He has a very good demeanor during the race and during the weekend with us going back and forth with the car.
"He's one of those guys that doesn't get too excited. He's constantly working on the (car) trying to get it to his liking and he doesn't get frustrated while he's trying to get to that point."
Already in good position to challenge for the series championship, Kenseth says he knows as well as anyone the rigors that still remain in a 36-race schedule.
"So many teams have maybe struggled or haven't shown their potential yet that you never know what can happen. But I do feel good about where we are right now and how we've been performing and our consistency," he said.
"If we can keep that up all year, then the points will take care of themselves. And I think we'll be right up there."
Copyright 2018 The Lawrence Journal-World. All rights reserved. This material may not be published, broadcast, rewritten or redistributed. We strive to uphold our values for every story published.