Chicago — Jon Lieber, pitching on seven days' rest, looked a lot like the guy who won 20 games last season for the Chicago Cubs.
Lieber allowed two hits over eight innings and the Cubs scored more than one run for the first time in four games in a 2-0 victory Tuesday over the New York Mets.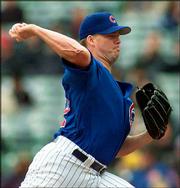 He had not pitched since April 1, opening day, because of scheduled off days and a rainout, yet Lieber allowed only one runner to reach second base.
"Same Lieber as always," Cubs catcher Joe Girardi said. "He worked fast and got his defense off the field. That's why we love playing for him."
Lieber, who walked two and struck out seven in throwing 106 pitches, didn't think his outing was flawless
"I felt like it took a little bit," Lieber said. "I didn't feel I had my command until around the third or fourth inning."
After the third, Lieber allowed only a sixth-inning walk to Roberto Alomar.
"We really couldn't get to him," Mets manager Bobby Valentine said. "We just couldn't get guys on."
Antonio Alfonseca pitched the ninth for his first save, even though Lieber (1-0) had five complete games in 2001, when he went 20-5 for the Cubs.
"They didn't hit a ball hard all day," Cubs manager Don Baylor said, "but when Lieber had 80 pitches in the sixth, I knew Alfonseca was going to close the game."
Corey Patterson and Augie Ojeda had RBIs for the Cubs, who left 15 men on base.
Phillies 7, Braves 4
Philadelphia Scott Rolen homered and drove in the go-ahead run with a double to lead Philadelphia past Atlanta. Mike Lieberthal had two hits and two RBIs, and the Phillies' offense finally got on track with a season high in runs and hits (11).
Cardinals 6, Brewers 5
St. Louis Eli Marrero extended his sizzling start with three hits, raising his average to .733, and scored the go-ahead run as St. Louis beat Milwaukee. Marrero, who entered the season as a .229 hitter and the No. 3 catcher, has been playing the outfield and is 11-for-15 with a home run and five RBIs. He hit a two-run double in the second, singled and scored in the fourth and singled and scored on Fernando Vina's sacrifice fly off Jose Cabrera (0-1) in the eighth.
Rockies 10, Astros 5
Denver Gary Bennett hit a three-run homer, John Thomson won his second straight start and Colorado snapped a four-game losing streak. Todd Zeile and Jose Ortiz added two-run homers for the Rockies, who entered as the worst-hitting team in the National League (.225).
Dodgers 3, Giants 0
San Francisco Hideo Nomo pitched four-hit ball into the eighth inning, holding Barry Bonds and the Giants in check, as Los Angeles snapped San Francisco's six-game winning streak. Shawn Green homered for the Dodgers, who have won four straight after dropping their first three games of the season to the Giants at Dodger Stadium. Nomo (1-1) struck out three and walked two in 723 innings. He is 6-0 against the Giants in San Francisco.
Padres 5, Diamondbacks 2
San Diego Ryan Klesko had a three-run homer for his first hit of the season and San Diego spoiled Todd Stottlemyre's first start in nearly 19 months.
Copyright 2018 The Associated Press. All rights reserved. This material may not be published, broadcast, rewritten or redistributed. We strive to uphold our values for every story published.