We don't need it just yet.
But since March, the city has been capable of pumping 5 million extra gallons of treated water per day to Lawrence customers from its Clinton Reservoir Water Treatment Plant, just north of Clinton Parkway on Wakarusa Drive.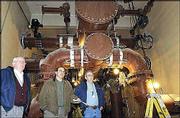 It's a forward-looking improvement that's been in long-range plans for some time. But demand for water on peak days the past few summers prompted city utilities officials to move ahead with the project a year ahead of schedule.
"One thing that triggered it is there have been some summers where we were having some problems meeting demand on peak days," said Roger Coffey, director of utilities. "Because of demand needs during some of the summers, it told us we ought to speed this up a bit."
What was originally conceived as one large project that would begin in 2003 and upgrade plant capacity by 10 million gallons per day to 20 million gallons per day was split into two smaller projects so water department officials could incorporate the necessary changes into the upgrade to deal with new Environmental Protection Agency water treatment regulations, said Chris Stewart, assistant director of utilities.
The second phase, which will add another 5 million gallons per day to the plant's capacity, is scheduled to begin in late 2004 or early 2005.
The project
The Kaw River Water Treatment Plant, on Third Street near Burcham Park and the Kansas River, draws its water from the river and six wells on the river banks. The plant is capable of treating 16.5 million gallons of water per day.Clinton Reservoir Water Treatment Plant, on Wakarusa Drive just west of Clinton Parkway, gets its raw water from Clinton Reservoir. Capacity has been upgraded to 20 million gallons per day.
The first phase began in June 2001 and was completed at the end of March two months ahead of schedule. Upgrades and construction took place both at the Clinton Plant and on the Clinton Lake dam, where the plant takes in the water it treats.
Major items in the city's contract with CAS Construction of Topeka included:
Expansion of the existing building to include four new filters. The new units are capable of handling a total of 10 million gallons per day. The building expansion included lower basement floor and walls for the filters; ground floor and block/brick walls; electrical; heating,ventilation and air conditioning; plumbing; process piping and instrumentation. The total square footage of the ground floor is 3,550 square feet.
Installation of three new 5-million-gallon-per-day pumps and 350 feet of 30-inch transfer piping.
Concrete repair on existing concrete basins.
Installation of two new 10-million-gallon-per-day and two new 5-million-gallon-per-day raw water pumps at the intake point on the Clinton Lake dam.
The majority of the heavy construction work went into the new filter rooms, Coffey said. The rooms contain four basins that extend 20 to 25 feet underground, allowing water at the top to settle down through several layers of natural materials that help rid it of impurities and then come to rest in the clear wells below.
From engineering, handled by Kansas City, Mo.-based Black and Veatch, to completed construction, the project cost a little more than $6 million, Stewart said.
It was funded through the Kansas Department of Health and Environment, which receives money from the EPA to award to cities or water districts making improvements tied to keeping up with drinking water regulations, Stewart said.
"This should be able to at least get us by for four or five years without the second expansion," Coffey said.
Increasing demand
The Clinton Plant began treating water in March 1980 with a capacity of 10 million gallons per day. Long before that, however, the Kaw River Water Treatment Plant was the sole provider of the city's treated drinking water.
That plant was completed in 1917 on Third Street near Burcham Park. Back then, the city was home to about 12,000 people. By 1958, when an addition to the plant was completed, the city's population had more than doubled to about 25,000 residents.
Coffey started working for the city in 1975.
"I recall populations in the 45,000 to 50,000 range with the university included," he said. "It's come a long way."
The 16.5-million-gallon-per-day-capacity Kaw plant did the trick until about 20 years ago, when the city' population rose close to 68,000 and the Clinton Plant opened for business.
Year 2000 Census data shows Lawrence continues to grow by leaps and bounds. With the population hovering near 100,000 and growing every day, increasing water consumption is a reality that must be planned for.
But this is likely the end of the line for expansion at the Clinton Plant. If Lawrence continues its trend of exponential growth, city officials say they'll have to look toward the Kaw to tap more water.
"Fifteen or 20 years from now, because we're kind of limited here by the amount of water we can get out of the reservoir as growth continues, that's logically the next improvement that would happen in the future," Stewart said.
Copyright 2018 The Lawrence Journal-World. All rights reserved. This material may not be published, broadcast, rewritten or redistributed. We strive to uphold our values for every story published.