More than $3 million in improvements to the Lawrence Municipal Airport are expected to make it easier for larger aircraft to land, but economic development leaders also hope they will help the community land good-paying aviation jobs.
Work was completed in February on $3.06 million worth of runway, taxiway and apron improvements at the airport, just off U.S. Highway 24-40 in North Lawrence. Construction is expected to begin this summer on another multimillion-dollar round of improvements that will lengthen by 700 feet the airport's main runway.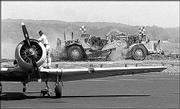 All that is good news to Lloyd Hetrick, whose business holds the city contract to operate the airport. Hetrick said the improvements would make it easier for larger planes, particularly business jets, to land at the airport.
Larger planes use more fuel, and with jet fuel going for about $2.40 a gallon, the potential for new revenue is significant.
Hetrick estimates most planes at the airport use from 300 to 500 gallons of fuel per flight. With the improvements, he expects a big increase in the number of planes that use from 1,000 to 1,500 gallons of fuel.
"I know there are a fair amount of aircraft that can't take on all the fuel they want to when they leave this airport because of the length of the runway," Hetrick said. "And I think there are a fair amount of planes who would rather land here but land at Kansas City or Forbes Field because of the runway situation."
Boost for city budget
The increased fuel sales should boost city coffers as well, because the city receives 5 cents for every gallon of fuel sold at the airport.
Other aviation and economic development officials hope those numbers represent just the start of potential payoffs to the community.
They say the biggest benefits could come from the improved airport's ability to attract new aviation businesses to the vacant ground surrounding the airport.
"We have a lot of positives out here at the airport," said Rick Bryant, chair of the city's aviation advisory board. "These improvements are just kind of some house-cleaning issues to make it even more attractive.
"Our next big push will be to capitalize off those improvements and take the existing land and use it to bring businesses in here that complement the aviation industry and create some good, technical, high-paying jobs."
Bill Sepic, president of the Lawrence Chamber of Commerce, agrees the airport may be one of the community's stronger economic development magnets in future years.
"We have tremendous potential with our airport," Sepic said. "If we can build off of the KU connection that would be a real exciting opportunity. The university's aerospace program is recognized nationally, and to have that here in combination with a good airport is a nice benefit that would set us apart."
More money needed
Bryant said existing businesses at the airport including a flight-testing operation and a manufacturer of World War II-replica fighter planes are spreading the word to others in the aviation industry about the new and improved Lawrence airport.
"We think we have a good chance to establish a niche for small- to medium-size companies," Bryant said. "We won't ever have a large Cessna plant or something like that out there, but we think we can find a few businesses that each could provide maybe as many as 50 to 100 jobs for people."
Realizing those plans, though, probably will require at least one more large investment of city funds. Both aviation and economic development leaders agree connecting the airport to the city's sewer system is necessary before much new development can occur.
Debbie Van Saun, assistant city manager, said the city is working with the Kansas Department of Health and Environment on how to provide sewer service to the area. But she said all options being considered would cost the city more than $1 million.
"It's still a long ways from our existing system and the cost per gallon will be pretty high," Van Saun said. "The commission will have a decision to make."
Airport supporters, though, said the money would be well spent.
"I feel like we have lost some business opportunities because we didn't have the sewer," Hetrick said. "But I know the city is talking about that and I hope they get it done.
"We want to make sure that when the next opportunity comes we're not behind the eight ball, because a business can't afford to wait three years while we deal with the sewer issue."
'I'm optimistic'
Bryant is confident the city will make new development possible.
"I think we'll get done what we need to," Bryant said. "I'm optimistic that in the next five to seven years we will be able to attract another two or three really nice businesses out there."
Hetrick thinks the airport's air traffic, which amounts to about 100 takeoffs and landings a day, will continue to increase.
He said he's noticed a steady increase in the number of people who fly in for KU basketball games, and he thinks private jet travel will increase as people continue to be concerned about possible terrorism on airliners.
"There is no doubt that we are seeing more of this fractional ownership of business jets," Hetrick said. "That is a big trend and it makes it more feasible for people to use private jets for their travel needs.
"And with the Sept. 11 deal, I think we'll see that do nothing but increase. We already are seeing people who don't want to mess with the four hours at the airport."
Copyright 2018 The Lawrence Journal-World. All rights reserved. This material may not be published, broadcast, rewritten or redistributed. We strive to uphold our values for every story published.