With more than 3,200 acres of park land, more than 50 miles of bicycle paths, three swimming pools, a golf course and other facilities, Lawrence already offers more parks and recreation activities than most cities its size.
But as the city continues to grow, city officials are planning for the future. The city has added about 280 acres of potential park land in the last two years through purchases and donations.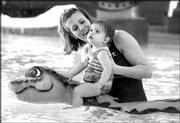 "It may be 20 years or 25 years before we develop that land, but it's an investment we're making in the community for quality-of-life issues," said Fred DeVictor, director of Lawrence Parks and Recreation.
Offerings have boomed since the city added a 1-cent sales tax for parks and recreation in 1994.
Swimming
The city's flagship facility the $9.3 million, 850,000-gallon Indoor Aquatics Center at 4706 Overland Drive, adjacent to Free State High School opened last summer.
It drew 1,000 to 1,500 people a day last summer and continued to draw 2,000 public swimmers a week this winter, plus another 1,500 competitive swimmers per week who train there.
The center features a 10-lane, 50-meter competition pool with a diving well and a separate family pool with slides, fountains and other play features for children.
"There is something for everybody here," said Jimmy Gibbs, the city's aquatics supervisor.
It also stays open long hours for better accessibility. Lap swimming is available from 5:30 a.m. to 8:45 p.m. Monday through Friday.
The center is the city's third swimming pool. The Outdoor Aquatic Center at 727 Ky. is open the Saturday before Memorial Day through Labor Day each year. It draws an average of 2,500 people per day.
The Carl Knox Natatorium at Lawrence High School offers lap swimming on weekday evenings and weekend afternoons.
The Teddy Roosevelt fountain and wading pool in South Park also is available during the summer.
Parks
Four-legged park users were the big winners in the past year.
The city last summer opened a 50-acre, off-leash dog park below Clinton Lake Dam at 1330 E. 901 Road.
Members of Lawrence Dogs and Owners Green Space approached the city in May 2000 to ask for an area where their dogs could run free. An ordinance in Lawrence requires dogs to be on a leash.
After a year of planning, the city opened the park.
"We're pretty responsive to the needs people bring to us," DeVictor said.
Other specialized areas in Lawrence parks include:
A 12,300-square-foot skate park at Centennial Park that has eight features, including a half-pipe, quarter pipe and rail for skateboarders.
An 18-hole disc golf course at Centennial Park.
Lighted outdoor tennis courts at Deerfield, Holcom, Lyon and Veterans parks, at Central South and West junior high schools and at the Lawrence Tennis Center at 21st and Virginia streets.
Bicycle trails
Lawrence has been designated a "bicycle-friendly" town by the League of American bicyclists.
Here are some of the trails in town:
8.4 miles of hard-surface paths along the western section of Kansas Highway 10.
29 miles of trails at Clinton Lake.
10 miles of off-road paths along the Kansas River levee.
9 miles of off-road trails near the levee trails that are rated by the National Off-Road Mountain Biking Assn.
1.25 miles of dedicated bicycle lanes on 15th Street from Wakarusa Drive to K-10.
50 miles of on-road, marked bicycle lanes throughout town.
The city also is looking to expand its trail expansion in the next year, with Burlington Northern-Santa Fe railroad abandoning a line between 21st and 11th streets and between Haskell and Learned avenues.
City officials are hoping to turn the abandoned line into a bicycle trail.
Golf course
Eagle Bend Golf Course, below the Clinton Lake Dam at 1250 E. 902 Road, is an 18-hole course on land leased by the city from the Army Corps of Engineers.
The first six holes on the course are open with no trees, with the rest heavily wooded. A full-service pro shop, snack bar, driving range, practice putting and chipping greens, club repair and instruction by PGA professionals are available.
Greens fees for 18 holes are $16 on weekdays and $18.50 on weekends.
Nature Center
The Prairie Park Nature Center, 2730 Harper St., features 72 acres of wooded areas, wetlands, prairie and an education building.
Education staff provide programs to school children and the public. Topics include pollution, navigation skills, animal behavior and identifying animal tracks.
The five-acre Mary's Lake provides opportunities for fishing. Trails were completed around the lake last fall.
Programs
If you're looking to get involved, there are a variety of group activities and classes available through Parks and Recreation.
In addition to basketball, softball and volleyball leagues, the city's offerings include classes in aerobics, strength training, martial arts and tennis.
And if sports aren't your thing, there are classes in dance and such arts and crafts as weaving, photography and metalsmithing.
The Parks and Recreation Department publishes its schedule three times a year. Schedules are available at Parks and Recreation facilities.
Scholarship applications for low-income residents are available at South Park Recreation Center or by calling 832-7930.
Copyright 2018 The Lawrence Journal-World. All rights reserved. This material may not be published, broadcast, rewritten or redistributed. We strive to uphold our values for every story published.