Amy Turner's e-mail said she had an interesting story to tell, and it turned out to be completely true.
She was writing about her husband, 31-year-old Brady Turner, who figured out what he wanted to do, then figured out a way to make it happen.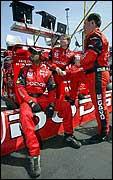 Here's where the story stands today: Brady Turner spent part of last week learning about racing tires during an Evernham Motorsports test at Talladega (Ala.) Superspeedway.
And Talladega, it turns out, is sort of where Turner's story begins. In October 1999, Ray Evernham announced his intentions to lead Dodge's return to Winston Cup racing in a news conference there.
Turner, watching that weekend's race from his home in Columbus, Ohio, saw an interview with Evernham.
"One comment he made opened my ears," Turner said. "He said that as a team owner he hoped he could provide the opportunity for some people to get into racing who normally wouldn't have the chance."
In a way, Turner felt Evernham was talking directly to him an African-American from the Midwest who always had a love for cars.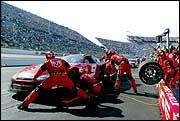 Turner tinkered with his car while in high school, then got a job in an auto salvage yard. It was hard and sometimes dirty work, but Turner liked what he was doing. After he and Amy were married and had a daughter, Amaya, though, he needed a better job and found it at a Honda research-and-development facility in Marysville, Ohio.
"A lot of people working there were NASCAR fans," Turner said. "Every Monday morning, the race would be the main topic of discussion. I started getting interested in it."
A friend at work got tickets for a race at Michigan International Speedway and invited Turner.
"I was hooked from then on," he said. "I watched it constantly, and the more I watched the more I thought the guys working on those cars had the life."
Turner's first shot at following his dream came with a team owned by former basketball player Julius Irving and former football player Joe Washington, but that didn't pan out. Undeterred, he kept looking for his opening.
When he saw Evernham on television that day in late 1999, the opening came.
Turner did his homework and tracked down a phone number for the shop where Evernham was just beginning to put his team together. Turner called and asked to speak to Evernham, who was at another race and would be back the following Monday.
"It was only a71/2- or eight-hour drive," Turner said.
He left Columbus late Sunday and drove to the Charlotte, N.C., area. He stopped at a welcome center and slept a couple of hours, then got up, splashed a little water on his face, put on a clean shirt and finished the drive to Evernham's shop. He was there at 7 a.m. So was Evernham.
"I was so impressed by him," Evernham said. "He took a big chance and showed he was willing to make the sacrifices and do what it takes to be a success."
As impressed as Evernham was, however, he couldn't give Turner a job for simply showing up. All Turner's trip got him was Evernham's number on a slip of paper Evernham hadn't even had time to get business cards made and an opportunity to show he was capable.
"We said we would try to get something together where I could come work for a couple of weeks," Turner said. "Early the next March, I had three weeks of vacation built up, and I took them all. I came down and worked at his shop for a couple of weeks."
When it came time for Turner to go back to Ohio this time, he had more than just a phone number. He had a job offer from Evernham. He spent the summer arranging the move for his family. He came down on weekends looking for a home and a good school for Amaya, who is now 9. By August, he was ready to start his new life.
In that life, Turner is a member of the team that fields the No. 9 Dodges for Bill Elliott on the NASCAR Winston Cup circuit. He works at the shop through the week, then flies in on race day to work on Elliott's pit crew.
"I basically started right at the bottom," Turner said. "I was running errands to pick up parts, cleaning up the shop. I worked my way up to cleaning parts and fabricating. On race days, I've taken care of the windshield tear-offs. I run gas, pull the front air hose and catch the left-front tire."
What Turner is doing, Evernham said, is paying his dues.
"He has done everything we've asked him to do," Evernham said. "He wants to learn everything because one day he wants to be a crew chief."
Turner won't say that out loud.
"I have a lot of wild and crazy ambitions to do a lot of different things," Turner admits. "I want to learn as much as I can about the sport, but I try not to get overly excited about getting a position too early, or about accomplishing anything without being prepared. I want to make this a career where I learn as I go, and once I get a spot I want to be able to do it."
Turner is one of a handful of African-Americans working full time in NASCAR's top series. While he hopes that will change, Turner tries his best to keep that part of his story in perspective.
"Since I have been out of high school, every job I've had I was the black guy in the shop," he said. "It's something I have always dealt with, so I learned how to deal with all of the attitudes at an early age. Race doesn't seem like an issue to me."
As Turner keeps working and learning, however, the "interesting story" Amy Turner talked about in her e-mail could become one that gets more attention.
Copyright 2018 The Lawrence Journal-World. All rights reserved. This material may not be published, broadcast, rewritten or redistributed. We strive to uphold our values for every story published.