Alan Bowes has been shopping at Community Mercantile Co-op for 20 years, coming in about three times per week.
He's pleased that the natural-foods grocery moved in May 2001 from its old location at 901 Miss. to a new home at 901 Iowa in the Hillcrest Shopping Center.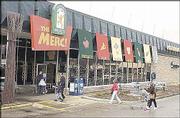 "It's two blocks from my house, where before it was 10 blocks. So I prefer this," said Bowes, who works in the nonprofit housing development field. "There's more space here and more services available."
Other loyal shoppers, it seems, share his good impression of the store's new digs.
"Some of the people who had been our customers the longest were a little nervous about the move. It was hard to envision our little store coming up here," said Jeanie Wells, general manager of the co-op, also known as the Merc. "But from the first week that we opened, the response has been tremendously positive."
The move from the Oread neighborhood to Ninth and Iowa streets wasn't easy to accomplish, but it has been worth it, according to Nancy O'Connor, the Merc's marketing director and nutrition educator.
"We're still settling in. It takes a long time to fit (an existing) store around you, especially when you inherit it. We're still figuring out how to make it work," she said. "But our community has responded with a clear message: 'We will support you.' Sales are strong, and lots of people are making an effort to give us business."
The 14,000 square feet of retail space that the Merc now occupies used to be the home of Alvin's IGA, which vacated the building in May 2000.
The move gave the Merc twice as much room to sell its organic vegetables, herbal remedies and other products.
"We have room for a meat department. We can bring in fresh flowers. We have Liberty Hall videos, the Free State Credit Union, a community room for teaching on-site classes and a full kitchen to implement our education program," O'Connor said. "And they're putting in an ATM in our building. It's just another component of making us more full service."
Sales beat projections
The new location offers a range of advantages to the Merc.
"The configuration of our store on Mississippi Street was always a big barrier to customers," O'Connor said. "You entered the store around the back, and we didn't look like a traditional grocery. The whole traffic flow was terrible, too."
In addition, the store is now at one of the city's busiest intersections, giving the Merc much higher visibility in town.
The independent grocery is boosted by having good business neighbors in the shopping center, such as Alvin's Wines & Spirits, Camera America, Munchers Bakery and Body Boutique.
"They make it possible for people to park here once and do more things. We strengthen each other," O'Connor said.
It's paying off for the Merc.
"Our numbers are really good. I budgeted pretty conservatively, and all the sales have clearly exceeded any of my budget goals," Wells said. "We're running a 35 to 40 percent increase in sales over our old store. That's really strong, and it's pretty much in every department."
The Merc had to put hundreds of thousands of dollars in improvements and equipment into converting the space to meet its needs.
"It was a good investment, in terms of what it has enabled us to do," Wells added.
Customers are enthusiastic about the relocation.
"It's great it's nice and spacious. You can actually move around the aisles," said customer Joseph Harrington, associate professor of English at Kansas University. "If it's working out financially, I think it's terrific."
Harrington lives in Kansas City, Mo., but shops at the Merc when he commutes to Lawrence. He's also a member of the co-op.
"They've got a great selection of produce, and it's a lot fresher than Wild Oats in Kansas City," he said.
The Merc's evolution over the years is a Cinderella story, according to O'Connor, who has worked there since 1992.
"The best part of our move, for me, is the sweetness of where we came from to where we are now. I've seen us go from the brink of closing, in the face of corporate competition, when Wild Oats was here," she said.
"Somehow with the help of this community and sometimes in spite of ourselves we did it. It's a story that I wish were written more often. We got a lot of messages from co-op experts who said, 'Don't do this (move), it's insane.' But doors kept opening, so we kept walking."
Copyright 2018 The Lawrence Journal-World. All rights reserved. This material may not be published, broadcast, rewritten or redistributed. We strive to uphold our values for every story published.