Visit website 1525 E Highway 24-40, Tonganoxie, KS 66086 Opens Tuesday at 7 a.m.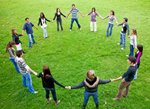 Being a local, community bank doesn't just mean we do business in the community. It means we're INVOLVED in the community.
We pride ourselves on community volunteerism, and make it a point to actively support the local causes and events both our CUSTOMERS and our EMPLOYEES support. And we use our promotional power as a local banking institution to promote those causes and events, as well.
A couple examples of this are that we go into local schools and teach children about the value of saving, and how to do it. We also are a trusted community financial wellness advisor: showing individuals and families how to save, invest and protect their financial resources.