Visit website 609 New Hampshire, Lawrence, KS 66044 Opens today at 7:30 a.m.
Services / High Schools of Lawrence $5.00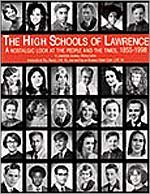 The 184-page paperback book is loaded with more than 400 photographs of students and faculty, Lawrence scenes from decades past and stories about the people involved in creating Lawrence's rich high school tradition.
Journal-World Book produced by Bill Snead (LHS '55). Written by Marsha Henry Goff (LHS '56). Features a historic overview by Steve Jansen.