Visit website 4931 W. 6th St, Ste 130, Lawrence, KS 66049 Opens today at 11 a.m.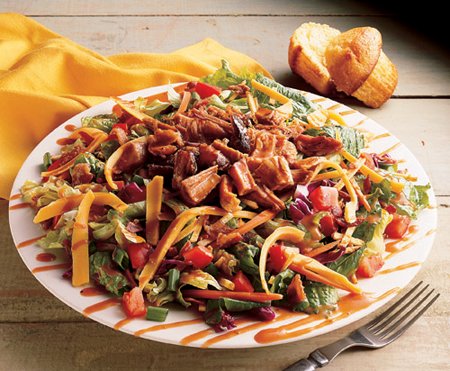 All entrée salads served with a warm, freshly-baked corn bread muffin brushed with a honey-butter glaze.
Dave's Sassy BBQ Salad Your choice of pulled BBQ chicken, Texas beef brisket or Georgia chopped pork on a bed of crisp greens, smoked bacon, Cheddar cheese, diced tomatoes and shoestring potatoes. Tossed with our house-made honey BBQ dressing.
Crispy Chicken Salad Garden greens topped with fried chicken tenders, crisp bacon, grated Cheddar cheese, tomatoes, shoestring potatoes and tossed with our house-made honey BBQ dressing.
Grilled Chicken Caesar Salad A chilled platter of crisp romaine lettuce tossed in our own Caesar dressing, topped with sliced grilled chicken breast.
Fresh Garden Salad or Side Caesar Salad Cup of Soup with Garden Salad or Side Caesar Salad Dave's Famous Chili Chicken Wild Rice Soup