Visit website P.O. Box 3214, Shawnee, KS 66216 Open by appointment
Attractions / Blue and Gray Pickers - 5:00 p.m. Saturday, June 4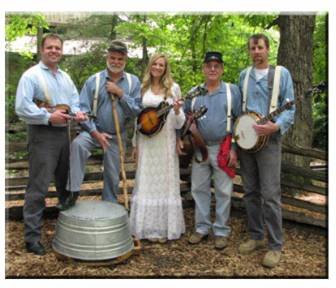 The Blue and Gray Pickers, a band dedicated to bluegrass music, projects their own excitement and humor into the audience, involving them in the experience of bluegrass music. Performing old favorites, as well as gospel and original material, the band has a style that's fresh, yet traditional.
Vocally, the band is strong and diverse. There is no one lead singer, as the job is shared by all members of the band. In doing so, the band presents an interesting cross section of each indiviual member's abilities. This has created the pleasing blend that the Blue and Gray Pickers are known for.
The Blue and Gray Pickers were formed in 1982. They started as a group of friends enjoying themselves pickin' bluegrass. Word got out, and their first performance was for a Civil War battle re-enactment in their hometown of Lone Jack, Mo. The band's name and attire came about from this first experience.
The Blue and Gray Pickers are credited with achieving various awards. They won SPBGMA Old Time String Band award three years running and were nominated for the Entertaining Band of the Year in 1997, 1998 and 1999.
More on Blue and Gray Pickers - 5:00 p.m. Saturday, June 4 .