Wedding
Morgan and Heider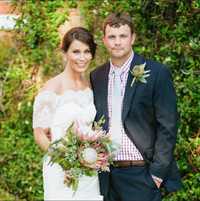 Hayley Elizabeth Morgan and Matthew Stephen Heider were married May 26, 2013, at the Filter Building
on White Rock Lake in Dallas, Texas. Beckie Bigler, aunt of the bride, officiated. A reception was held at the Filter Building following the ceremony.
The bride is the daughter of Robert and Beverly Morgan, Lawrence. The groom is the son of Mark and Chris Heider, Lawrence. Maid of honor was Staci Nash. Best man was Nick Adams. Bridesmaids were Jill Lenius, Sharla Stevanovic, Stephani Heider, and Sarah Heider. Groomsmen were Matt Maigaard, Sam Villeareal, Matthew Morgan, and Tyler Morgan.
The bride is a graduate of Free State High School and Iowa State University. She is a senior project designer
for Looney & Associates Hospitality Design Firm in Dallas, TX. The groom is a graduate of Free State High School and the University of Kansas. He is a teacher and football coach at Hillcrest High School in Dallas, TX.
The couple reside in Dallas.