Engagement
Crawford and Trayer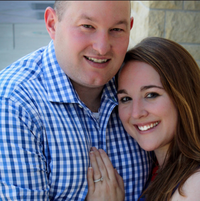 Sandra Crawford and the late Lawrence Crawford of West Des Moines, IA, announce the engagement of their daughter, Caroline Elizabeth Crawford, to Bryan Wesley Trayer, son of Kathy Trayer of McCune, KS.
Caroline graduated from Dowling Catholic High School in 2000. She graduated from Creighton University with a Bachelor of Arts in Psychology in 2004. Caroline received a Master of Social Welfare degree from the University of Kansas in 2006.
Bryan graduated from Parsons High School in 1998 from Parsons, KS. He graduated from Pittsburg State University in 2007. Bryan received a Master of Business Administration from Baker University in 2011.
Caroline is employed at KVC Behavioral Healthcare as an outpatient mental health therapist in Lawrence, KS. Bryan is employed as a store manager of Walgreens in Shawnee, KS.
A May 3rd 2014 wedding is planned at Corpus Christi Catholic Church in Lawrence, KS.