Anniversary
Freeman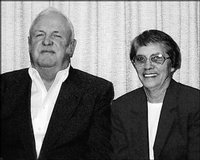 Loren and Marjorie Freeman, Lawrence, will celebrate their 50th wedding anniversary with a reception from 1 p.m. to 3 p.m. March 6 at the Union Pacific Depot, 402 N. Second St. Friends and family are invited.
Loren Freeman and Marjorie Baldwin were married March 4, 1955, in Parsons.
Loren served in the Army from 1955 to 1957, about 17 months in Germany. He worked for Manor Baking Co. from 1959 to 1965 and for Meyers Dairy from 1965 to 1970. Marjorie worked for Hallmark Cards in Parsons from 1953 to 1958. From 1969 to 1988, Loren and Marjorie owned and operated Freeman Used Furniture. In 1976, they began Freeman Auction Service which they operated until retiring in July 1998. They have resided in Lawrence since 1968.
Reception hosts will be their children, Sheree and Doug Nairn, Lawrence, and Russell and Marla Freeman, Tulsa, Okla.; and their five grandchildren.
The couple request no gifts.