Anniversary
Mulvihill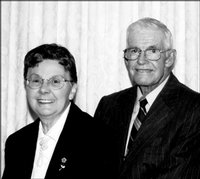 Leo and Jo Mulvihill, Perry, will celebrate their 50th wedding anniversary with a reception from 2 p.m. to 4 p.m. Nov. 27 in the church hall at St. Theresa's Catholic Church in Perry.
Hosts will be their children and spouses: JoAnn Mulvihill, Mesa, Ariz.; Jane Muvihill-Jones and Joel Jones, Kansas City, Mo.; and Julie Mulvihill and Jeff Smith, Perry. They have three grandchildren.
Leo C. Mulvihill and Josepha Lenherr were married Nov. 27, 1954, at Immaculate Conception Catholic Church in St. Marys. They have farmed near Perry in Jefferson County since then.
The couple request no gifts.