Completed postgame chat with Jesse Newell
September 7, 2013
This chat has already taken place. Read the transcript below.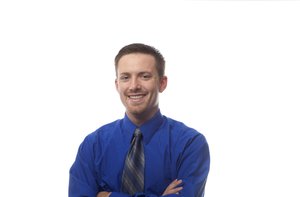 Shortly after the game, Jesse Newell hosted a short chat discussing the KU football team's 31-14 victory over South Dakota.
Jesse Newell:
OK, let's get this chat started ...
Knowing Weis as much as you do, what would his post game conversation be like with the team?
Jesse Newell:
Weis actually addressed this a bit in the postgame audio (found here if you want to listen to the whole thing: http://www2.kusports.com/podcasts/press_conferences_postgame_interviews/2013/sep/07/ku-coach-charlie-weis/).
Weis said it had been a long time since his players had been able to enjoy a win, so he told his players to enjoy it. He wanted them to spend the rest of the night with their families and joked he wasn't going to allow them to go to the bars.
After getting the standard, "When do you move on from this win?" question, Weis said the team deserved to enjoy it for a while.
He'll be up around 5 a.m. breaking down the team film and picking apart mistakes then, but I think 11 straight losses had him wanting his players to enjoy this feeling at least for a few hours.
Was something wrong with the field at Memorial today? Maybe it's just me, but footing looked like a real problem for both teams.
Jesse Newell:
I don't believe so. It definitely wasn't wet from precipitation, and having FieldTurf as opposed to grass makes you believe that conditions should be about the same each game.
Nick Krug has a great photo in his gallery on the site of Dexter Linton sliding on rubber, by the way: http://www2.kusports.com/photos/galleries/2013/sep/07/ku-v-south-dakota/
KU:
Jesse, I was disappointed that KU didn't use Pierson the way WV used Tavon Austin tonight. How much of that is trying to keep Rice from seeing our whole playbook and how much of it is that we don't really have bubble screens, inside screens, and jet sweeps in our playbook?
Jesse Newell:
Earlier in the week, Weis said he wasn't going to "save" much of his playbook for later weeks, as he knew the South Dakota game was important.
Then again, he also said that the playbook builds upon itself as the season goes along. KU men's basketball coach Bill Self does the same thing, if you were wondering. You start with the basics of the playbook then can tinker and add once you get the foundation down.
I think we saw some similarities on plays between Austin and Pierson tonight. Pierson averaged 9.4 yards per carry (5 for 47) so the big-play potential is still there, and I'd assume when future games are in doubt, Weis won't hesitate to use him more with handoffs.
KU:
Marquel Combs? Marquel Combs? Bueller? Anyone? Anyone??
Jesse Newell:
Weis didn't directly mention Combs after the game, but he did say he believed the team's ceiling was much higher because some of the players have a lot of room to grow this year. Weis mentioned WR Rodriguez Coleman specifically and said he believed, by the end of the year, he'd have a big impact.
I'm going to assume Combs belongs in that discussion as well, though his lack of playing time certainly was a surprise considering his accolades. Weis was blunt earlier in the week when he said Combs had been beaten out by other players for a starting spot, and it appears he has more work to do to contribute in KU's defensive line rotation.
Not a lot of short passes from Heaps tonight. He seemed to be going for broke. Play calling? Or was Heaps forcing it?
Jesse Newell:
I noticed the same thing, and it's something I'll probably track later this week to get more concrete data.
I know it's a copout, but I would guess maybe a little of both? I'm sure Weis wanted to see how Heaps would perform in a game situation on deep throws, and this is basically KU's only game to tinker before the tough schedule hit. Having said that, Heaps seemed to be focusing mainly on his deep reads instead of checkdowns. I remember one specifically in the first half when Pierson was wide open in the flat, and Heaps decided to try to force it into coverage over the middle instead. I believe Justin McCay's TD was the same way, with Heaps electing to put it into traffic.
Still, considering there were a handful of drops and throwaways, I think Heaps' effort would have to be considered an encouraging first step.
Did Combs play? If not, do you know why?
Jesse Newell:
Just looked at the stat sheet, and Combs did not play a snap. I'd be shocked at a red shirt, but I guess that's technically still in play.
How is Taylor Cox?
Jesse Newell:
Weis said after the game that the team wasn't sure of the severity of Cox's injury and that further testing needed to be done. Weis was hopeful it was just cramps, but he thought it was either that or a "tweaked" hamstring. Weis said he was confident that Cox did not have a pulled hamstring, as that injury would have been more severe and easier to diagnose.
How did the pass protection of Jake Heaps look?
Jesse Newell:
The pass protection was not as good as the run-blocking, that's for sure. Weis, though, said he only had one complaint after the game: When he told the offensive line that a blitz was coming and that they needed to be ready for it before a drive, on the next play, KU had a miscommunication and allowed a sack.
Again, we'll have more data later in the week, but the left side of KU's line seemed to be opening up a lot of holes in the run game.
I am working tonight and did not have the opportunity to see any of the game. I did however, keep up with the game thru various online outlets. Based on the dismal performance in the passing game against this level opponent, do you see KU winning any other games this season?
Jesse Newell:
Yeah, I touched on this earlier, but Heaps' stats (10-for-20, 110 yards, TD, no INTs) were a bit misleading. He started 0-for-5, and at least three of those were drops. Without the exact numbers in front of me, I'd guess six or seven of his incompletions were drops or throwaways.
What Heaps did show was the potential to squeeze the ball in tight spots and the accuracy to hit an outside receiver on a deep corner route. Afterwards, Weis lauded Heaps for one pass in particular, which was an accurate throw that dropped into Pierson's hands between two defenders about 25 yards down the field.
I wouldn't label Heaps' effort as outstanding, but I would say it was encouraging. I've been saying this a lot, but if KU's passing offense can go from "dreadful" to "kinda bad/average" this season, that could be a huge leap.
Your overall impressions? What was better than you expected? Worse than expected? About what you expected? Thanks.
Jesse Newell:
Probably slightly worse than expected. The defense played well at times but allowed too many long drives. Though there was some better pressure on the quarterback, defensive linemen seemed out of their lanes quite a bit, which allowed USD QB Vander Maten to get out of the pocket quite a bit.
Offensively, KU didn't play well in the first half, and it's not going to get easier. A big problem might be the Jayhawks' lack of big-play ability. Obviously Pierson has that, but who else can break a game-changing play for KU? It's hard for teams to have 10- or 12-play drives ... mistakes happen. Big plays obviously are important, and we'll see if any others besides Pierson emerge for KU.
Given the play from our receivers tonight, do you think Weis may go more run heavy in Big XII play?
Jesse Newell:
He's said a few times this year his goal is for a 50-50 split. Having said that ... you saw what happened in the third quarter. KU's offensive line started to overwhelm USD's line, so it only made sense to run it.
To be most effective, KU needs more balance than a year ago. Having Pierson out wide will help, while Josh Ford also had a nice game. I think Jimmay Mundine also is a better player than he showed in the opening game and should lead KU in receptions this year.
Jesse Newell:
OK, lightning round. Let's get in a few more ...
Jesse, I was only able to listen to most of the game on the radio. How was the 0-line doing with opening holes and pushing them off the line?
Jesse Newell:
Very well, especially late. If my math is correct, the Jayhawks rushed 27 times for 210 yards in the second half (7.8 yards per carry). Again, to my untrained eye, it appeared lots of runs were going left.
How about the crowd? Was there a good crowd? Did most of them stay the entire game? Couldn't tell much on TV.
Jesse Newell:
Great crowd. 41,920 was the official attendance, but the only empty spot in the stadium at kick was around the South Dakota fans. Student section was 100 percent full just after kick and about 85 percent full after halftime. Especially for a scorching hot day, that was a better turnout that I expected.
What was the thinking on declining the holding penalty in the 4th quarter?
Jesse Newell:
Weis said he knew USD was going for it on fourth and 4 at that stage in the game. He took the 15-yard penalty to try to make it a tougher fourth down if the Coyotes decided to go for it again.
For what it's worth, I think that's the right call. If you give up 25 on third and 19, it's a pretty major breakdown.
I asked last chat who you think the offensive player and defensive player of the game would be ... I have the same question now that the game is complete.
Jesse Newell:
Tough to name an offensive MVP. Probably Jake Heaps because of a lack of good candidates. James Sims red-zone fumble takes him out of the conversation. From my untrained eye, I thought Josh Ford and Trent Smiley blocked well, while Ford also had the nice catch and run.
Defensively, I'll give it to Keon Stowers for the interception and runback, though Victor Simmons and Dexter Linton both had very strong performances for Week 1.
Jesse Newell:
Thanks for all the questions, and be sure to check out all our coverage of the game in the coming hours ...