Lawrence school board candidate Bill Roth live chat
March 18, 2011
This chat has already taken place. Read the transcript below.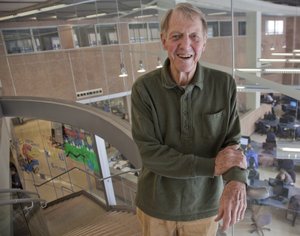 Lawrence school board candidate Bill Roth will chat live with LJWorld.com users Friday, March 18 at 11 a.m. Submit your question in advance below.
Moderator:
Hello, everyone.
We are preparing for the start of our online chat with Bill Roth, candidate for Lawrence school board.
There's still time to send in a question or two...
Moderator:
Hello to all.
We are joined by Bill Roth, one of nine candidates for Lawrence school board.
I'm Mark Fagan, and I'll be moderating the hour-long chat.
Thank you, Bill, for stopping by today.

Bill Roth:
Thank you Mark for inviting me. I always find your columns interesting, clear and to the point and giving me a chance to share my views.
Moderator:
Now we'll get to our first question — which, for a little background, includes an acronym (STEM) that stands for science, technology, math and science...
I have seen from two other candidates Shannon Kimball and Rick Ingram that they would like to see a STEM program in our district, what are your views regarding a STEM program in schools?
Bill Roth:
It is exciting that other candidate recognize and appreciate the effort that the Wakarusa Valley Stem Committee has accomplished. It wasn't easy. It was a real team effort that involved the parent committee, the kids, their parents, the teachers, principal, administration, KU Professors, Garmin, Kansas Department of Education and even the Lawrence Police Department. not to mention several grants that ere received. In my opinion it would be a real loss not to keep this initiative moving.
Under what circumstances would you accept school closure as the only option for balancing the budget? Do we have other options?
Bill Roth:
To me the issue is framed in the wrong way. It is a negative. 11 of our schools are over 50 years old. We should be looking at what we need to do to bring our schools into the 21 st century. With a plan for the future we can set a road map which everyone in our district will recognize as a real benefit for our kids. Until we understand what the real budget is we shouldn't take any action. At one minute I hear that we are $3 million short, the next minute I hear that we are only $700,000 short, but we have $500,000 unaccounted for which means that our contingency fund could easily cover that..
In Merrill's chat earlier this week, she said "I agree with you that Broken Arrow should be on the list. Woodlawn is an exception because of its location. Woodlawn is the only school located North of the river." She also stated regarding closure, "Wakarusa was selected because its school population is about 160 students and of those students most already live in town." This is just patently false, approximately 30% of students live within the city limits, not a majority. Mr. Roth, I wonder why Woodlawn should be an exception and not Wakarusa, being the last rural school in the district, covering an area larger than Lawrence and the only school south of the Wakarusa river and K-10? What are your thoughts?

Bill Roth:
Gee's if the criteria is being on the other side of the river, that should exempt WVES from being closed, it's on the other side of the Wakarusa River. The real facts are that the number of children attending WVES could be increased to over 230 by changing boundaries. The interesting fact is that to bus kids to Broken Arrow from WVES will increase bus travel time. By changing boundaries, kids can be taken to WVES with NO increase in bus travel time from that required to bus them to Langston Hughes and Broken Arrow where they currently go. We are, across the district, going to have to recognize that to utilize our school's capacities effectively, redrawing boundaries is going to have to be accepted by all us us.
The school board formed it's taskforce to provided recommendations to the school board, then put 2 school board members and the superintendent on the taskforce to guide the venture. Questions: (1) have you ever served on a taskforce designed to advise a body? (2) If so, were members of the body that taskforce was designed to advise guiding that taskforce? (3) Do you think this is an appropriate way to run a taskforce?
Bill Roth:
There were several concerns I had with the task force. Yes, I have served on more committees that I want to remember. To obtain an unbiassed opinion is it always best to have members who can be free from unbiased views and make objective assessments. You may not like what you get back, and you may not want to go along with the recommendations, but at least you find out what the view is of others. The idea is to look at all options, evaluate the options against criteria that the person directing the study has selected, plus others that the committee may develop. Once the report is complete, the committee chairperson(s) sign their report, attach the supporting date and include any minority dissents.
What do you think about bond issues and the way they have been spent recently?
Bill Roth:
At th present time, there are over 500 available spaces in our elementary school system. Until something definitive that arises, it is difficult to justify. One thing that goes unsaid is that when the current bonds are paid off, property taxes are reduced., In these rather trying times, it seems to me that a little tax relief would be appreciated. Just because there would be no increase, leaves out the obvious, there could be a decrease..
Assume you were a school board member. You are advised that there are currently $14M in contingency funds available. Do you keep that money where it's at, or do you redirect it to other purposes, i.e. not closing schools?
Bill Roth:
At this time the word is "What school are we going to close?" As I stated earlier, we really need a plan that lays out what our school district should look like in 2050. That seems like a long way away, but 10 of our current schools have not had any real attention paid to whether they are meeting 21st Century requirements for providing a really good learning environment for our kids, since the 1960's. That's 50 years ago... To keep WVES open for a year or two, doesn't even phase the contingency fund. WVES is really inexpensive from maintenance and utility costs as compared to all other schools in the district.
What are your thoughts on how budget transparency can be achieved?
Bill Roth:
At the risk of having Kathy Johnson give night school classes to bring everyone up to date, we should take a look at what other districts are doing that have successfully summarized their budgets into understandable and transparent online, open to the public reports. Some of the headings that the school system accounts use are pretty hard to translate, but the public needs to know what the truth is so that they can be supportive and ask knowledgeable and pertinent questions and help in setting priorities..
Moderator:
That's about all the time we have for today.
Thanks to Bill Roth for taking time today to answer questions online.

Bill Roth:
Thank you Mark and thank all of you who asked really focused questions. If you would like a little more unbiased look at mu background you check out LJWorld.com.
I would appreciate your vote and the chance to serve our community in the capacity of school board member, and so would my two kids..
Moderator:
We also thank all the readers who sent in questions, and who continue to follow our chats online.
Don't forget: We have more chats lined up for next week.
Randy Masten is next. He's scheduled to be online with us at 11 a.m. Monday.
After that are Ola Faucher, at 11 a.m. Tuesday, followed by Jim Clark, at 12:30 p.m. Tuesday. Tyler Palmer is set for 1 p.m. Wednesday.
For these and all other chats, don't hesitate to log in and submit questions early.
The general election is April 5.