Lawrence school board candidate Marlene Merrill live chat
March 15, 2011
This chat has already taken place. Read the transcript below.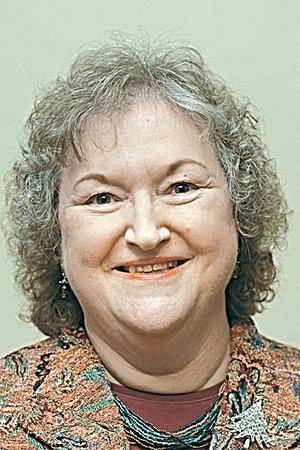 Lawrence school board candidate Marlene Merrill will chat live with LJWorld.com users Tuesday, March 15 at 11 a.m. Submit your question in advance below.
Moderator:
Hello, everyone. We are approaching time for our 11 a.m. online chat with Marlene Merrill, candidate for Lawrence school board. There's still time to get questions in ahead of time...
Moderator:
Hello, everyone. I'm Mark Fagan, schools reporter for LJWorld.com and the Journal-World, and I'll be moderating today's chat with Marlene Merrill, an incumbent member of the Lawrence school board who is running as one of nine candidates in the April 5 general election. Four seats are available.
Welcome, Marlene.
Marlene Merrill:
Thanks, Mark. I am glad to be here today. I am looking forward to talking with people on the Internet.
Moderator:
OK, let's get to the questions.
mcmc:
What do you see as the greatest challenges for a school board member in the next four years?
Marlene Merrill:
There are several challenges. I will begin with the hardest. With the budget the school board is faced with diminishing revenues and the board's challenge is to protect classroom instruction. Another challenge is using the recommendations from the Elementary Task Force. I believe that we need to continue to have community conversations with stakeholders from the schools recommended for consolidation.
Moderator:
Here's a question regarding the task force you referred to — the Lawrence Elementary School Facility Vision Task Force, which has recommended closing Wakarusa Valley School for next year and then consolidating some from a list of six other schools within the next three to five years.

The Facility Vision Task Force recommended the closing of one school and the possible consolidation of 6 schools into 3 or 4 should be considered. There are at least two other schools - Woodlawn and Broken Arrow - that by the Task Force's criteria should also be considered in this mix. Why aren't these schools also being considered for consolidation? Shouldn't the conversation be 8 schools into 5 or 6?
Marlene Merrill:
I agree with you that Broken Arrow should be on the list. Woodlawn is an exception because of its location. Woodlawn is the only school located North of the river.
Moderator:
Here's a follow-up on considering recommendations of the task force...
Hello Dr. Merrill. You were quoted in Sunday's paper saying that you thought the closure of 2 elementary schools might well be necessary this year. Can you please share your thoughts on why Cordley and Pinckney are the likely candidates in this scenario? Will the Board consider other schools for closure?
Marlene Merrill:
I think that two schools should be considered because of the magnitude of the cuts facing us this year.
We need to cut $3 Million and this is on top of nearly $12 Million we have already cut.
I think that the board needs to consider the facility needs and population of several schools. Wakarusa was selected because its school population is about 160 students and of those students most already live in town.

Moderator:
Another question about elementary schools — the focus of the task force, and the focus of much recent attention at the board level. A little advance background for folks following the chat: The district has 15 elementary schools (16, if you include the Lawrence Virtual School, which has students from Lawrence, Douglas County and throughout the state)...
What is the right number of elementary schools in Lawrence?
Marlene Merrill:
The "right" number of elementary schools is the number based upon meeting the needs of our children and based upon efficient use of the district's limited resources.
As it stands now, we have unused capacity in the current number of elementary schools. We also have a huge backlog of facility repairs.
Moderator:
Whether schools are closed or not, how will boundaries be changed, if at all? How would you approach making boundary changes to adjust the capacity levels at each school, which certainly will be shifting next year with the movement of sixth grades into middle schools and the potential reduction and/or elimination of portables?...

Moderator:
We're receiving a number of questions regarding the task force. For anyone interested in seeing the background information being considered by the board — and the some of the data and research compiled along the way — you may visit the task force's website, http://www.usd497.org/ElementaryTaskForce/S07A7D1DF
Marlene Merrill:
Right now, the board does not have a philosophy regarding boundary decisions. We have used socioeconomic and ethnic considerations. I think that we need to discuss feeder school concept or at the very least consider eliminating splinter areas and consider neighborhoods that are adjacent. We also need to think about the streets that children will need to cross because safety is also a factor in boundary decisions
Are you willing to explore forming a task force of community members, teachers and parents to look at the budget challenges this next year? It seems the current task force had a bit of a loaded/biased task from the get-go. Obviously budget issues are going to be an ongoing concern and there are solutions other than closing neighborhood schools and devastating property values.
Marlene Merrill:
I am willing to consider the idea of a group of community members, parents and teachers to advise the school board but by law the school board needs to make the budget decisions.
A recent article noted that the Eudora schools are going to add minutes to their day and shorten the number of days they will be open, saving a significant amount of money. It seems a larger school district like USD 497 could do something similar and save even more. What creative ways are you and the current school board discussing to save significant amounts of money, other than closing schools?
Moderator:
Here's a link to a recent item at LJWorld.com, and in the Journal-World, that mentioned the Eudora change... http://www2.ljworld.com/news/2011/mar/07/review-due/
What can Lawrence public schools do to compete with the salaries paid to teachers in Johnson County?
Moderator:
My apologies, folks. I've posted two questions in a row. Marlene has agreed to answer both in her next answer(s)...
Marlene Merrill:
Adding minutes to the day and shortening the school year is an idea to consider. I would worry about the quality of the learning that might result from longer days. Instruction when both the teachers and students are tired does not typically produce quality learning.
Now for the second question.
For years Johnson County schools had the benefit of sales tax revenue. However, a better reason is the difference in the number and type of businesses in Johnson County. There "wealth" in property terms is much greater than the "wealth" in Douglas County.
I think that we compete for teachers to come to Lawrence based upon our quality of life, the nearness of University of Kansas, and the students whom they will teach.
Moderator:
Here's another question — one that had been asked during an earlier chat — regarding teacher salaries:
consumer1:
How do you feel about making teacher accountable for pay raises? Teacher are getting raises when noone else does. Why should they get raises without accountability. Please don't quote state testing scores. They mean nothing.
Marlene Merrill:
I agree test scores do not help. Teachers welcome accountability but want an evaluation system that is fair. Lawrence currently has study committee with teachers and administration to develop a new teacher evaluation system.
Moderator:
As we approach the end of our chat, here's a question from my colleague Andy Hyland, who covers higher education and writes "Heard on the Hill"...

If you rubbed one of those nice-looking magic lamps, and a magic genie granted you three wishes — but said they had to be used on the Lawrence School District (he's a particular sort of genie), what would you wish for?
Marlene Merrill:
I would wish for several millions of dollars so that we could increase teachers salaries and restore the learning coach positions that we had to cut last year. I would wish that the achievement gaps between students would disappear because all would be learning and achieving at their potential. For my third wish, I would like our schools to have the technological resources so that learning in each classroom would be collaborative and incorporate a global perspective.
Moderator:
That's about all the time we have for today. Thanks to Marlene Merrill for visiting us here in The News Center to share her thoughts with everyone online...

Marlene Merrill:
Thank you.
The past four years on the school board has flown and I hope to continue the work I have started. We have challenges but I believe I have the skills and experience needed to solve problems. I will provide common sense leadership. Children are our future and that is why I am asking for the opportunity to serve on the school board another four years.
I would urge everyone online today to vote on April 5.
Moderator:
We also thanks all the readers who sent in questions, and who continue to follow this and other chats online.
We'll be doing more candidate chats here this week and beyond.
Hugh Carterl, one of five candidates for Lawrence City Commission, is scheduled to be chatting here at 1 p.m. today.
For school board, the next scheduled candidate chat is with Keith Diaz Moore, an associate professor and associate dean of architecture, design and planing at Kansas University, at 11 a.m. Thursday.
For these and all other chats, don't hesitate to log in and submit questions early.
And don;t forget: The general election is April 5.