Lawrence City Commission candidate Hugh Carter live chat
March 15, 2011
This chat has already taken place. Read the transcript below.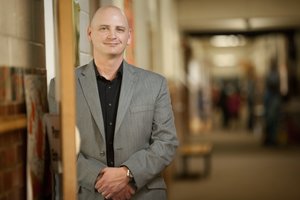 Lawrence City Commission candidate Hugh Carter will hold a live chat with LJWorld.com users Tuesday, March 15 at 1 p.m. You can submit your question in advance below.
Moderator:
Hello. I'm Chad Lawhorn, city hall reporter for the Journal-World. I'll be the moderator of today's chat with City Commission candidate Hugh Carter. Thanks for being here, Hugh. We have several questions submitted but are still accepting more from our online audience.
Hugh Carter:
Thank you for having me, Chad. And thanks to those of you online who are reading and participating this afternoon. I look forward to hearing your thoughts and questions.
Many of us are unsure of why the city
Is focused on privatizing the trash service.
We have been given no reasons,
And while the system may not be perfect
Is seems to be working well.
I will be the first to admit an independent
Company will operate more efficiently
Than some city run operations,
But I cannot see any savings to the
Taxpayer. Your thoughts>>??

Hugh Carter:
Trash collection is one of the core services of our City that touches nearly every resident. I agree that we have been doing a good job with it as well. I attended a study session about six weeks ago and my understanding is that this department has been running at a deficit and costs are increasing. The commission is looking at all options at this point to keep costs to residents down.
I have said that I am not in favor of privatizing this service, due to concerns about pricing and quality control as well as losing local jobs in the long run. Once we privatize, I don't see us going back.
I would like to look at private companies and other municipalities for best practices. And, as with any issue, I will hold my final decision until I have a lot more information. Would it make sense to privatize commercial recycling only? It's something that sounds more reasonable to me if it makes sense for Lawrence.
As a city commissioner how will you help resolve the homeless shelter problem?
Hugh Carter:
I have a bit to learn about what options we have at our disposal to help the shelter in it's relocation efforts. However, I do think the City may need to play a larger role in helping find a reasonable site if this cannot be resolved soon.
I would be in favor of extending the SUP for a period of less that one year so that we maintain the sense of urgency needed in finding a location. If the SUP came up for review every three months, we could better monitor progress.
The homeless shelter will be a far better service to the community once it is relocated. Currently, they do not have the space and resources needed to have good outcomes. The new shelter will be focused on getting people to work and out of homelessness.
What's your position on the living wage?
Hugh Carter:
Wages are always one consideration when looking at tax abatements and incentives for businesses. I am in favor of having a living wage, but want to revisit it periodically to ensure that it an appropriate wage.
Hugh Carter:
Wages are always one consideration when looking at tax abatements and incentives for businesses. I am in favor of having a living wage, but want to revisit it periodically to ensure that it an appropriate wage.
dss:
What do you think of the proposed changes in the library project, including an extra level in the parking lot and a bus station?
Hugh Carter:
The citizens of Lawrence voted and approved $18 million for the library renovation/expansion. Done right, it will be a great asset and I believe the finished product will be another arrow in our quiver when it comes to attracting new employers and visitors to the area.
The most important thing is that this project is done right, so I would be open to hearing and learning more about prospective changes to see if, in fact, they would help ensure this investment pays off for our taxpayers. I would be hesitant to add dollars to the budget, but I haven't heard enough specifics to close the door on the possibility.
dss:
How do we attract new businesses/jobs into the community?
Hugh Carter:
When it comes to increasing jobs and income, 70-80% of new jobs are created by existing businesses. I would recommend that the City begin to open the dialogue with our local businesses to see how we can better assist them in growing their business. I would propose a quarterly Roundtable with approximately 10 CEO's or business owners to meet with City staff and a City Commission representative. The meeting location and it's participants from the business community would rotate quarterly basis. Feedback from these meetings is then reviewed and action plans put into place with updates to the business community. They are the experts in growing their business, Let's start by listening to them.
As for attracting new employers, I believe we have made progress in recent years at changing the tone at City Hall. However, there is still a perception out there that we are not welcoming to new business. Whether that is a fair assessment of the situation or not, others perception is their reality and they won't move here until we take steps to change that perception. I believe that we could pre-plan and pre-approve some infill projects, including the Farmland site, and shop those to developers. That would be another pro-active approach to economic development that might speak louder than words.
I would also like to see the City partner a bit more with the chamber on the actual site visits of companies. I'd like to add some dynamic speakers to the group that represent some of the finest things in Lawrence. Susan Tate, for instance, could spend about 10 minutes talking about the arts and creative culture in Lawrence to ensure that we differentiate ourselves from competitors. There are many other people and other topics that could be discussed, but just wanted to give an example.
Many people believe that achieving a consensus is a good way to lead. Other's believe when they get elected they are elected with a mandate to accomplish certain things, regardless of consensus...
What are your thoughts on small vocal groups guiding the process and the thought that consensus must be reached with them.
Hugh Carter:
As a planning commissioner, I did hear from many special interests, i.e chamber, neighborhood associations, developers, etc. I believe in listening to divergent views. In fact, I want as much input as possible before making a decision. Once I'm comfortable that I have enough information, I will make a decision based on what I believe is best for all of Lawrence. That seldom means true consensus. But, I believe good leaders need to be ready to act in a decisive manner for the whole of the community.
I am not an issues candidate. I have no axe to grind and no constituency to represent. If elected, I will work to hear from all stakeholders before making a decision, knowing that all stakeholders cannot be pleased with every decision.
How about revisiting the Lawrence fireworks ban since it seems it is never enforced. Any consideration in doing away with the ban?
Hugh Carter:
I would not be in favor of lifting the fireworks ban. Enforcement is directly tied to the resources available to enforce this ban and I understand that we are running short-staffed in the police department. Perhaps a fully staffed police department would be better able to enforce this ban.
Who designed your yard signs?
Hugh Carter:
Kern Marketing Group. Lawrence, KS
Mark Kern, owner
Moderator:
This question is from online commenter Merrill. The question as submitted was a bit long, so I've shorten it some. Basically, Merrill would like to know whether you think the city's retail and housing markets are overbuilt. If you don't think they are, he wonders what evidence you are using to reach that conclusion.
Hugh Carter:
As a planning commissioner, this question came up often. I am not comfortable about having government step in to make that decision, The economy has been tough, but it is starting to recover. What may appear to be overbuilt now may be better utilized in a few years. I believe we need to let the market dictate how this plays out to an extent. However, I would like to look at some incentives to generate the type of development we would like to see. I'd like to see more affordable housing and more senior-friendly patio home neighborhoods with walking trails and nearby amenities.
Two part question:
What would you do to improve voter turnout in Lawrence for local elections?
Would you support holding local elections at the same time as national elections in November?

Hugh Carter:
I'm doing what I can to get voters engaged, and I'd love to know how we can be more successful at it!
I don't believe changing election dates is our call, though. That has been set by the State of Kansas.
Moderator:
Well, it has been an hour, so we're going to wrap this chat up. Thanks to everyone who submitted questions. And thanks, Hugh, for your time today. Any closing comments?
Hugh Carter:
Thank you, Chad. And thank you again to all participants and to those who will take the time to read this later.
I grew up in Lawrence and attended Lawrence public schools until I graduated in 1984. I have over 30 family members throughout this great community and I share your desire for a high quality of life.
Economic times have been tough, but I am very excited about the future of Lawrence, I believe that, with City leaders focused on job and income growth, Lawrence can emerge from this recession faster than most and stronger than ever.
I would deeply appreciate your vote on April 5th.
All Good Things,
Hugh Carter