Lawrence school board candidate Rick Ingram live chat
March 14, 2011
This chat has already taken place. Read the transcript below.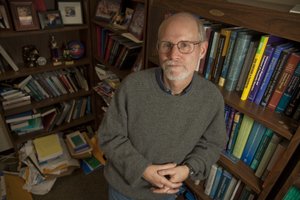 Lawrence school board candidate Rick Ingram will chat live with LJWorld.com users Monday, March 14 at 11 a.m. Submit your questions in advance below.
Moderator:
Hello. We're about to begin our live candidate chat with Rick Ingram, candidate for the Lawrence school board. Rick is here, and we'll be starting in just a few minutes...
Moderator:
Hello everyone. I'm Mark Fagan, and I cover schools for LJWorld.com and the Journal-World. We're joined today for an online chat with Rick Ingram, one of nine people campaigning for four available seats on the Lawrence school board. The general election is April 5.
We'll be taking questions throughout the chat, so be sure to ask what's on your mind...
Thanks for coming in today, Rick.
Rick Ingram:
Thanks, it is a real pleasure to be here,
Moderator:
Here's our question.
Ami:
Rick,
While we've seen you fighting over not closing small schools in Lawrence, some of the schools in Lawrence are at capacity. How are you going to handle it?
Rick Ingram:
It depends on which schools you are talking about. The district projects that we will have available capacity in the elementary schools, and so over-crowding next year should not be a problem. We need to assess capacity issues at the middle schools and in the high schools, particularly with the move of 6th and 9th graders. There has been a great deal of discussion about bond issues, and I would support a bond that will remedy the deficiencies in all schools. That should include ensuring that we have adequate space for all students.
Moderator:
A bit of a follow-up. There's obviously been a lot of talk about closing schools — tonight, board members, during their regular meeting, will be discussing the recommendations of the Lawrence Elementary School Facility Vision Task Force, which recommends closing Wakarusa Valley School next year and then consolidating others within three to five years.
There's a public hearing — a formal public hearing — set for March 28 to consider the Wakarusa question. The consolidation issue could get started by the existing board, but undoubtedly would be carried out — or not — by the new board, which would have either three or four new members.
Consolidation, as envisioned, would be part of a plan that would include a bond issue to renovate, upgrade, expand or otherwise build elementary schools. You noted the prospects of a bond issue.
With all that said, what are your thoughts on the consolidation issue? Is the task force's direction a good one or a bad one?

Rick Ingram:
The elementary school task force has recommend issuing a bond for consolidation. For a number of reasons I would not include this in a bond. For one, this recommendation was not measured against the criteria established by the task force. To cite but one example, the task force concluded that the optimal range of schools size is between 300 and 500 students, yet one of the consolidated schools would have a capacity for 550 students and the other would have a capacity for 600 students. If this latter school is pared with a middle school, which many people believe is the plan, we will have created a zone in a neighborhood that could see over 1200 students come and go every Monday through Friday. Moreover, consolidation/closure would negatively impact other schools; both Sunflower and Schwegler would see a substantial increase in students. In addition, the district's projections show that the recommended plan would directly affect over 1000 children. Perhaps even more importantly however, I have read the research cited by the task force and I do not believe it supports the conclusion that schools with up to 500 student schools are appropriate. I think we need to make decisions that are informed by research, and it does not appear that this decision has been. There may be consolidation scenarios down the road that are workable, but I believe that when people find out what is in the plan on the table, I question whether voters will support it.
What is the most important guiding principle that you will use to evaluate where to make cuts in the budget?
Rick Ingram:
One of operating principles that I would bring to the board would be to emphasize transparency in everything we do. First and foremost I would focus on transparency in the budget, which means not only making it public but analyzing it in such a way that it is clear to everyone how, why, and where our funds are being spent. Thus, before we talk about what we would cut, we need to have a common understanding of the budget. I also think that we need to be more creative in thinking about how we can generate revenue, and I also think we need to find ways to partner with the city and county to share resources. That said, my guiding principle is to protect instructional and teaching resources in any budget cuts we make.
Ami:
Do you have any plans to handle diffrently gifted kids in town?
Rick Ingram:
In talking to parents, my sense is that resources for gifted children are not implemented as effectively as they might be. This is an area that I want to examine. One of my beliefs is that good ideas come from all over, and I think we can look at how other districts implement gifted programs. If we think they do a good job, we should explore "borrowing" these ideas and finding ways to employ them in Lawrence. A discussion of these ideas and how they might be employed would need to include teachers, parents, and the community.
Moderator:
You mention "borrowing" from other districts. Here's a question that offers another idea...
The Manhattan school district publishes their budget online, and it is easy to understand. Why can't the Lawrence school district do that too?

Rick Ingram:
The Lawrence school district can easily do what Manhattan does. This is in line with my idea of looking at how other districts do things and making use of good ideas any place that we find them. As I noted before, transparency is one of my guiding principles; everything the board and district does needs to be transparent, and the budget needs to be the place we start. However, I would go beyond just publishing it on-line; I would like to see an understandable budget published in the newspaper.
Moderator:
Earlier, you'd mentioned concerns and capacity and consolidation. A questioner would like to know more...
In follow up, if you don't think schools with up to 500 students are "appropriate" for our district, do you propose that we decrease the size of all of our schools? To what size? How do you propose to pay for the extra teachers, administrative staff, and operating expense that would require?
Rick Ingram:
I do not support deceasing the size of current elementary schools. My comments are directed at asking the taxpayers to fund building new schools that can house well over 500 students. My views about elementary school size are informed by the research the task force cited. The citations are available, and I encourage everyone to read the actual research. What that research shows is higher academic achievement in smaller schools; schools that are similar in size to many that we have now.
Moderator:
Well, that's about all the time we have for today. Our thanks to Rick Ingram for coming in to The News Center — braving the rapidly melting snow — to answer our readers' questions...
Rick Ingram:
Thanks again for the opportunity to be here. Please check out www.ingramforschoolboard.com, and go Jayhawks!
Moderator:
Thanks, also, to readers who sent in questions or otherwise have been following along online.
Remember, we'll continue to have more chats with candidates in the coming days.
Mike Machell, one of five candidates for Lawrence City Commission, is scheduled to be chatting here at 12:30 p.m. today.
For school board, the next scheduled candidate chat is with Marlene Merrill, an incumbent board member, at 11 a.m. Tuesday.
As for these and all other chats, feel free to log in and submit your questions early.
And, as always, be ready to vote. The general election is April 5.