Lawrence City Commissioner Mike Dever live chat
March 10, 2011
This chat has already taken place. Read the transcript below.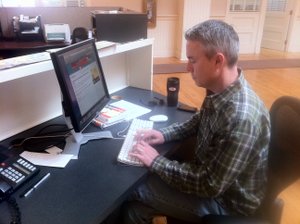 Lawrence City Commissioner Mike Dever will chat live on LJWorld.com Thursday, March 10 at 10:30 a.m. Submit a question in advance below.
Moderator:
Hi. I'm Chad Lawhorn, the City Hall reporter for the Journal-World and today's moderator. Our chat today is with City Commissioner Mike Dever. Thanks for joining us. We have several questions, but will still accept more. Let's get started.
Mike Dever:
Good Morning and thanks for having me online today.
dss:
What do you think of the proposed changes in the library project, including an extra level in the parking lot and a bus station?
Mike Dever:
Thanks for the question. I am hesitant to comment on the proposed changes to the library, since I am not certain that any changes to the plan will be allowed.
I can tell you that I am in favor of the most efficient expenditure of the funds proposed for the library and want to make sure the original intent of the plan put together by the library board and supporters is implemented.
I also think that any changes to the plan that was provided to the voters when it was voted on need to be carefully evaluated and the public should be involved prior to any substantive changes being approved or implemented.
How about revisiting the Lawrence fireworks ban since it seems it is never enforced. Any consideration in doing away with the ban?
Mike Dever:
Well we have not really talked too much about the fireworks ban since being on the commission. I am in favor of revisiting any rules on the books to make sure they are necessary and pertinent to the issues of the day. I think the intent of the ban was to provide a safer city and reduce the likelihood of tragic accidents around the holiday. If the ban is not enforced, or unevenly enforced, I think it sends mixed messages and does not really serve the intent of the rule.
In your 2009 State of the City address, you stated that the one area where Lawrence had fallen behind was in caring for homeless people. You said, "We need to work with those that have the expertise and funding to find a permanent home for a larger and properly configured homeless shelter. We must put aside our differences and allow the community to create a system where we can be assured that those in need can find clean, safe and consistent shelter from the elements. At the same time we must create a system where we can help the homeless move into mainstream society and become productive members of our community."
Nearly 2 years later, the Lawrence Community Center does not have a permanent home and our challenges seem to be growing. If re-elected, what will you do honor he commitments you have made and support those in need of assistance?
Mike Dever:
First and foremost, I am committed to seeking a long term solution to the growing and very important issue of homelessness in Lawrence. I believe that without leadership at the commission level, the issue will continue to be unresolved and without a long term plan. We have taken steps to empower the leaders of the LCS to find a long term location for a larger and properly configured homeless shelter. We have moved quickly when requested to provide the city review and oversight of plans that have been put forth by the LCS and it's supporters. I think these are steps in the right direction, but not enough. If I am elected I will continue to pursue these goals and assist in any way possible to help properly resolve the issue and provide leadership in the process.
What is your position on the completion of the SLT?
Mike Dever:
I am in favor of moving forward with the federally approved and thoroughly evaluated 32B alignment. There will be pitfalls and environmental impacts related to any proposed alignment, but I believe the community and the environment receive the greatest good from the 32B alignment and the associated mitigation efforts.
Hi Mike. What do you see as the biggest issues we have right now? I'm concerned with how we seem to work hard to keep new business out of this city. Any idea's?
Mike Dever:
Hello travelinggeek, and thanks for the rather large question.
I think the future of our community revolves around our ability to plan and implement a strategy for growing our tax base incrementally. We do not need to compromise our community vision to accomplish this, because we have maintained a short term vision on fiscal responsibility.
We do however need to start seeing some results from the economic development projects we have been implementing during the recession. We need to continue our effort, be welcoming and open to all types of potential business investments and have the leadership in place that will focus on the long range plan put in place to make the community a better place to live work and study.
The homeless shelter would like to increase their occupancy from 57 to 82. Do you feel this is a good idea and would you consider the concerns of the adjacent neighborhood and downtown businesses?
Mike Dever:
We will be discussing this issue in an upcoming meeting, and receiving public comment regarding the pros and cons of the SUP extension prior to the expiration of my current term. Because I am a sitting commissioner I do not think it is appropriate to render an opinion on a pending issue before all public comment is provided, and applicant presentations are made. That being sad, It seems like the current short term occupancy limits that have been put in place during the cold weather appear to be working. It is likely that if the occupancy limits are not extended full term, those who will not be served, will likely stay in town and sleep outdoors. As a community do we want to have people sleeping in the streets, even though we know we can properly house those people in an indoor, properly supervised location? Also, this will be a short term solution since the shelter and it's supporters are in the process of relocating from the current site.
I am very concerned about the neighbors and the businesses, as they have had to contend with some of the overflow and behavior issues that are associated with the shelter. That is why I think we must resolve this issue, find a properly sized and located facility and implement a long term professional solution to this community challenge.
Moderator:
Here's a question I've rewritten from one of our commenters: There are people who are on fixed incomes who believe city taxes and fees have become problematic. How would you attempt to address the concerns of those people who must rely on a fixed income?
Mike Dever:
I think I partially answered this question earlier by saying that we need to have a long range plan for expanding our tax base. There is no quick solution, only to say that the commission I have been a part of has not raised the real estate mil levy, has tried to do more with shrinking tax revenues and has sought the approval of the electorate for any tax increase. We saw four years ago that we needed to be careful about raising the cost of living. I am committed to trying to make Lawrence more affordable, by continuing to market the community to businesses and enterprises that are growing, continuing to spread the tax burden across the entire spectrum, and being fiscally responsible.
Moderator:
Well, it has been an hour, and believe there might be a game that is getting ready to start. So, now is a good time to call it quits for this chat. Thanks to all who submitted a question and thanks Mike for your time today. Any final thoughts?
Mike Dever:
I want to thank the LJW for sponsoring these chats and continuing to provide coverage of the issues and the election. I want to thank the citizens of Lawrence for giving me the opportunity to serve the community over the last four years. Finally, I would appreciate your vote and the chance to finish some of the projects that I have been a part of as commissioner, and lead the community into better financial times.