Lawrence City Commission candidate Sven Alstrom live chat
March 7, 2011
This chat has already taken place. Read the transcript below.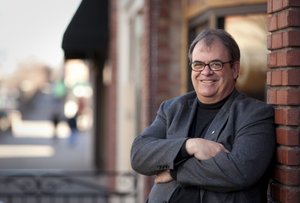 Lawrence City Commission candidate Sven Alstrom will chat live with LJWorld.com users Monday, March 7 at 1 p.m. You can submit your question in advance below.
Moderator:
Hello. I'm Chad Lawhorn, City Hall reporter for the Journal-World. This is our first in a series of online chats with candidates for the Lawrence City Commission. Sven Alstrom is today's chat participant. We have several questions that have been submitted by online readers, but we're still accepting more.
Thanks for joining us today, Sven. Let's get started.
Sven Alstrom:
Good Afternoon Chad, This is Sven Alstrom and I am running for City Commissioner in the current election with a voting date of April 5th, 2011.
Are you for or against Tax Increment Financing (TIF)?
Sven Alstrom:
TIF funds are very controversial, not only as they may apply to Lawrence. I feel that they may have merit in locations for example like the Kansas City Power & Light District where investment was drawn into the area to support the SPRINT CENTER with large scale redevelopment.
However, in the scale of Lawrence, not a metropolitan area - I am against TIF
Districts and in fact ANY tax district which places an additional 1% sales tax upon the consumer/ in our case often a tourist and is a disincentive for developing competitive retail.
As a city commissioner how will you help resolve the homeless shelter problem?
Sven Alstrom:
The theme of my campaign is "Making A Difference". I hope that the other commissioners and I would be able to join together with the local business community and non-profits and find a solution to the current situation. We need a Community Shelter with an accessible and convenient location. The current economic situation does not have a predictable end in sight - so this is a serious problem. Homeless children are of particular concern and may point to a split system, one being a general shelter with job training and another location for mothers (usually) with their children.
We ALL need to work on this together and it must happen relatively soon. We are all in Douglas County "co-responsible" for the current situation.
Do you own any property in Lawrence? Why is your home listed under your mother's name?
Sven Alstrom:
You are a frequent poster and mudslinger on the LJW forum.
It is not required that a candidate for public office own property. Those times ended in the colonial era of our country. The home that I live in is held in a trust account with my mother, the wife of a former Title Company owner - simply to avoid and make a transfer without Probate Court involvement easier upon my inheritance. This is VERY frequently done.
your constant harassment on this on the forum has been often repeated and is inappropriate. that this continues today in this post says something about the LJW as well as yourself.
The home has a mortgage with a local lender and the tax payments are included in the mortgage. As i have said before 'she does not literally own the home' nor do I until the mortgage is paid.
Your question is really of a harassment nature and I asked Chad to remove it but have now answered.
dss:
What do you think of the proposed changes in the library project, including an extra level in the parking lot and a bus station?
Sven Alstrom:
I attended a recent meeting with the Old West Lawrence Neighborhood Association and I agree with many of their concerns regarding additions to the project.
I very much supported the original bond issue but feel that it is unfair to the electorate to significantly change the project without a separate voter approval.
Therefore, I do not support changing this to a library/transit hub project without another election. I also do not support another level of parking and greater financial expenditure without voter approval.
I would like to ask the same question of all candidates--It seems that many companies require some sort of tax abatement in order to locate in an area. How do you calculate whether such an abatement has an overall benefit to the community or is too costly?
Sven Alstrom:
This is an excellent question - I have some notes on this elswhere but here goes.... there are several critieria which previous City Commissions have used to evaluate the cost/benefit of tax abatements. These include the number of jobs brought to the community, I believe that it must be over 30 but do not have the documents in front of me. Also, there is a living wage requirement that i do support. Finally there is I believe a minimum financial investment of I think $ 7 million.
I support tax abatements when appropriate and when we evaluate the cost - benefit comparisons mentioned. An additional factor that I would also consider is of course whether these proposed abatements would affect other competing local business in an adverse manner.
This is part of what I meant by economic gardening. We have to first look at what business we have currently here. Which ones could expand etc. When we look at what we have 'planted in our garden' we should then look at what new crops or other business we would like to add to our garden plot here in Lawrence & Douglas County. We have a great place. We have great people.
Tax abatements and incentives should be offered not out of expediency but out of a desire to attract investment that is to our longterm advantage and that provides economically sustainable employment and of course long term revenue.

While googling the various candidates, I found there were literally thousands of identical spam posts on countless irrelevant, non-local websites promoting Mr. Alstrom's campaign. The promotional text was taken directly from his website.
I'm talking sites about t-shirts, massages, Bulgarian ski properties, a "gateway to the paranormal world", even numerous sites in foreign languages. Some of these sites had more than 2 dozen of these identical spam posts on just a couple of pages.
On many sites I found that, by holding my cursor over the email account of each alleged poster, it revealed a link back to Mr. Alstrom's campaign website.
In addition, from the search results, I also found that the same couple of dozen+ gmail accounts used to spam sites with Mr. Alstrom's campaign message also promoted adult websites. Yikes!
So I'd like to ask what...if anything...Mr. Alstrom knows about this spam campaign regarding his candidacy and what involvement he has/had with it. Or, if he had none, what actions has he/will he take to deal with whoever is responsible.
After all, spamming countless forums in his name and advertising adult websites doesn't look good for him as a candidate, particularly since it's already been reported that he has been banned from theJ-W forum.
Thank you,
Kendall Simmons
Sven Alstrom:
I really don't know about this. I found a similar weird reference when I used google on my own name. I have no idea.
Can you outline some of your ideas to make Lawrence more sustainable as a community during a time of shrinking budgets and less plentiful cheap energy?
Sven Alstrom:
I think in this question - sustainable would first mean economically sustainable. Therefore we must of course keep our City budget in line with revenue projections. The nearby Kansas City metro area is still experiencing many residential foreclosures and the regional economy is still not as healthy as we feel it should be.
At a local level I do support a better City of Lawrence & KU bus system. hopefully we can perhaps get hold of some hybrid vehicles and expand the routes across Lawrence.
I would like to see us have a definite policy on supporting green and renewable energy such as photovoltaic roofs in town, greenroofs in town, and develop solar access easements so that property owners are not shadowed and removed from solar access by future development.
Other cities have required solar layout of residential subdivisions with these solar access easements embedded in the approval process. I gave the Commissioners a copy of one of these solar access proposals when i first moved here at a public meeting back in 2003. Boulder, Colorado and San Diego have had requirements on solar subdivision planning since the 1970's.
dss:
How do we attract new businesses/jobs into the community?
Sven Alstrom:
As I have repeated often - Lawrence is frequently referred to as the "Oasis in Kansas". My campaign manager is John Wysocki of Lawrence Artwalk and of our local arts council. The Lawrence Arts Center and many of our local organizations are unique to Kansas.
Our location between the State government in Topeka and the metropolitan area immediately east should give us great access to Kansas and to Kansas City both.
KU is of course the jewel in our crown - but the other one is quality of life and with that DOWNTOWN LAWRENCE. We have many great assets including our great parks developed over decades by the City Parks & Rec. Dept. They have done a great job - and our upcoming new library remodel will also help.
We are the "Oasis of the Arts" in Kansas and I firmly believe that not only in
visual art but also music, theater, and literature.
We do need to develop more affordable housing for families. I agree with KU's Kirk McClure on much of his review of overbuilt retail & office and housing. However, I feel that close in affordable housing and close in commercial infill could still garner new business and new residential areas in Lawrence.
Transportation costs appear to be headed up as we are in the midst of peak oil.
We all need to concentrate on how to bring new business to Lawrence while also helping each other to grow our existing business connnectivity if you will.
are there any projects scheduled or in the near future for the City of Lawrence that you will have a conflict of interest with?
Sven Alstrom:
Not that I know of. Again I strongly support the Library project.
What are your thoughts on the idea of "community schools" vs. "neighborhood schools" and what do you think the impact will be on the older sections of town if schools are closed/consolidated in the next few years?
Sven Alstrom:
I recently attended an East Lawrence Neighborhood Meeting at the New York School. Also I recently attended the Old West Lawrence Neighborhood Assn
meeting which changed the meeting agenda impromptu to talk about Pinckney.
Again, in the face of peak oil and increased transportation costs I highly question the advisability of elementary school consolidation as a general policy. I do not support elementary school consolidation at this time.
Lawrence is famous for its neighborhoods and this is true of those East of Iowa as well as West of Iowa.
Walkability is a trademark of Lawrence and we should be MORE pedestrian friendly not less. Children should be able to remain amongst their neighbors where they can better interface in their after school hours with 'school-time' friends. Neighborhood schools foster a much better environment of social interaction and of making safer neighborhoods.
Moderator:
Well, it has been an hour. Thanks for your time, Sven. And thanks for all the questions, commenters. Are there any closing comments you would like to make, Sven?
Sven Alstrom:
Thanks Chad and LJW as well. I would like to announce that I have a new Treasurer for my campaign - Mike Rundle. He has become involved and is a great asset to our effort. I am very proud to say that my first three donors were in fact small architectural project clients all from Lawrence. Many of my supporters and contributors are among the very best people in Lawrence and I am proud to represent them. I want to be a commissioner for all of Lawrence and in my questionnaire answers have indicated that I do support when we can afford it a new recreation center for west lawrence and although somewhat controversial I do support eventual branch library locations as well. We are now firmly in the digital age of an information based society. This should give us a key to where to look for answers to our economic concerns which are very primary at this time. I am also a proud graduate of KU and a proud product of public education in my case Washington High School in Wyandotte County.
Northeast Kansas and Lawrence have really vast potential. Let's make it happen by 'Making A Difference' - I ask you to join me in making positive and healthy growth happen for our the community.