Chat live with Stephene Moore, Democratic candidate for the 3rd Congressional District
October 25, 2010
This chat has already taken place. Read the transcript below.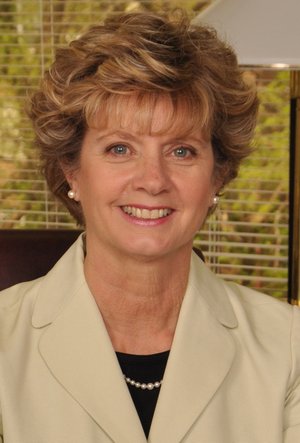 U.S. House of Representatives hopeful Stephene Moore, Democratic candidate in the 3rd Congressional District, will chat live with LJWorld.com users on Monday, Oct. 25 from 12:30 p.m. to 1:30 p.m.
Moderator:
Hi everyone! I'd like to welcome Stephene Moore, Democratic candidate in the 3rd Congressional District to our live chat on LJWorld.com. Thank you for joining us today!
Moderator:
A quick reminder before we get started — you can submit questions anytime below where it says "Submit a question for Stephene Moore."
Let's get going with the first question.
Stephene Moore:
Thank you very much for having me. I'm happy to be here.
Moderator:
To start off, I'd like you to explain what sets you apart from your opponents, Kevin Yoder and Jasmin Talbert.
Stephene Moore:
I am not a career politician, I have life experience. I've lived in this community for over forty years. I helped start a small business, raised a family, and been a nurse for over 25 years in our community.
I am the only moderate in this race, and will work with Democrats and Republicans to get the job done for the people of Kansas. I've said it before, but I truly believe that it doesn't matter if an idea is a Democratic or Republican idea, if it's a good idea for Kansas I will support it.
If your husband has decided now is the time to get out of politics, why have you decided now is the time to jump in?
Stephene Moore:
When Dennis decided not to run for reelection, I supported his decision. We have a large family with 7 children and 9 grandchildren between us. Dennis has an aging mother in Wichita, who he would like to visit more frequently. He and I will spend as much time together as always.
As time went on, I heard discussions about what type of candidate would best fit our district. People talked about nominating a woman, a moderate, and someone with a background in health care. I have always had an interest in serving our community, and when this door opened, I decided to step through it. I know that I am the best fit for our district, and will represent the people of our community well in Congress.
Moderator:
You often mention your career as a nurse and how important healthcare is to you. Which parts of Obama's healthcare plan do you support? Which parts do you not support?
Stephene Moore:
As a nurse, I have seen all too often that our health care system is broken. The health care reform bill was far from perfect, but doing nothing was not an option. The law needs appropriate oversight, accountability, and implementation. I will use my experience working in health care for over 25 years to reduce costs for all families and businesses. I will work tirelessly to ensure that we implement electronic medical records and focus on prevention, instead of giving power back to predatory insurance companies.
The law makes progress on allowing children with pre-existing conditions such as asthma to be covered, giving tax incentives to small businesses, closing the donut hole for seniors, and allowing young adults up to the age of 26 to be covered under their parent's health care plan. I disagree with the language dealing with small businesses and 1099 forms. We need to support our small businesses, and that section places an unnecessary burden on small businesses.
In Congress right now, there are only 3 nurses. And fewer than two dozen physicians. The implementation of this law is crucial, and with my background in health care, I am uniquely qualified to aid in this effort.
With unemployment at this level. Would you support another stimulus package?
Stephene Moore:
The time for stimulus has passed. I will not support a second stimulus plan. While I did not like the stimulus program, leading economists said that we were on the brink of another great depression had we failed to act. The stimulus provided tax relief for 95% of Americans and according to the Congressional Budget Office it saved or added 3.3 million jobs.
Job creation will be my number one priority in Congress. We must support our small businesses and ensure they have the resources they need to expand. As we know especially well in the 3rd district, long-term economic strength depends on having an educated workforce. Education for small business growth and attracting larger businesses to the area is crucial to our overall economic development.
This is one area where my opponent, Kevin Yoder, and I disagree. Last spring, Kevin Yoder authored a budget in Topeka which would have slashed education funding by $172 million, while forcing massive property tax hikes across the state. Education must be a priority in our state for the future of our children and our economic strength.
Government alone cannot solve the unemployment crisis in our country. We need to encourage private sector job growth to have a sustainable, robust economy.
Have you or will you borrow from your husband's campaign war chest? If so, how much? Are you required to pay it back?
Stephene Moore:
No. Legally we cannot borrow any funds from his campaign.
Since you brought up tax relief. . .how would you vote on the current tax cuts that were enacted under President Bush? Would you vote to keep them in place, or repeal them, or a mixture of the two?
Stephene Moore:
Given the fragile state of our economy, we cannot raise taxes on any American. I would support proposals similar to those laid out by Peter Orszag and Mark Zandi, two highly regarded economists from both sides of the political aisle. I support a permanent extension of the tax cuts for 98% percent of Americans, that is anyone making less than $250,000 a year. I believe a temporary extension for the wealthiest 2% of Americans will help stabilize our economy and encourage our tenuous economic growth. We cannot, however, afford a permanent extension for people making over $250,000 which would add to our debt by $700 billion over the next 10 years.
Kevin Yoder claims to be a fiscal conservative, but every policy he lays out saddles our children and grandchildren with more debt, we can't afford his Topeka politics.
One thing that is important to point out is that Kevin Yoder is the only candidate in this race who has ever voted for tax increases. In Topeka, he voted for a $266 million income and sales tax increase. In addition, his proposed budget this spring would have caused massive property tax increases, according to his fellow Republican state legislators.
For voters who did not support your husband but aren't sold on the other options in this race, can you identify specific policy positions in which you disagree with your husband?
Stephene Moore:
As any couple knows, you do not always agree with your partner. I would say that two important policy differences would be on the TARP bank bailout and earmarks.
I would not have voted for the bailouts, which were hastily put together without enough oversight and accountability. I would have insisted that no taxpayer funds were used irresponsibly, or on things such as CEO bonuses or employer vacations.
I will work to eliminate earmarks. If there are worthy projects that need funding, they should be brought out into the light of day, openly discussed, and decided through the normal appropriations process.
Moderator:
Unfortunately, our time with Stephene is up! I'd like to thank her for participating in today's live chat, and thank our users for submitting so many great questions.
Stephene Moore:
Thank you. I appreciate you taking the time to do this, and all the thoughtful questions. Remember to vote! Advance voting is open now, and I ask for your vote. Stephene