Chat live with Kansas Attorney General Steve Six
October 20, 2010
This chat has already taken place. Read the transcript below.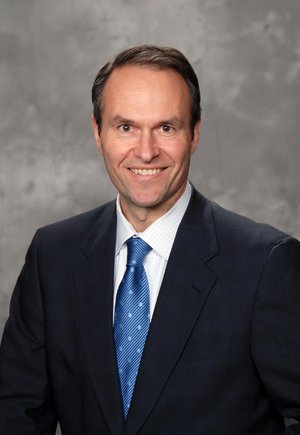 Kansas Attorney General Steve Six is running for re-election against Republican Derek Schmidt. Join us for a live chat with Six on Wednesday, Oct. 20 from 10:30 to 11:30 a.m. You can submit a question in advance below.
Moderator:
I'd like to welcome Kansas Attorney General Steve Six to our live chat today! We're now taking questions, so feel free to submit one below.
Steve Six:
Good morning, I look forward to the discussion.
If elected, what would be your top three priorities as Kansas attorney general?
Steve Six:
Focusing on public safety and working to protect Kansans from the devastaing cuts to the public safety budgets, protecting Kansas seniors from scams and cracking down on Medicaid fraud --these have been and continue to be what this office is focused on.
Your opponent likes to rail about the federal healthcare plan and signing on to contest it. Is the job of A.G. more to fight crime in Kansas or protect us from percieved wrongs by the federal government?
Steve Six:
Fighting crime and protecing Kansas kids from sexual predators and working on finacial fraud and government waste right here at home have been amoujng our top priorities.
Steve Six:
I see there is no spell check on this chat
Moderator:
Can you explain in detail some of the fundamental differences between you and your opponents, Republican Derek Schmidt and Libertarian Dennis Hawver?
Steve Six:
I have worked hard over the last three years to remove politics from the office and focus on the right priorities for Kansas. We have suffered through a career politician in the office before and we cannot afford to go back. I have prosecuted two murder cases as AG, argued before the US Supreme Court, handled jury trials as a lawyer, oversaw criminal trials and sentenced defendants to prison as a judge and my opponent has done none of those things. My opponent might be a good fit for the legislature but not attorney general.
There has been a lot of back-and-forth in the AG's race on the payday loan issue: who took money from whom, and whether Sen. Schmidt voted to raise interest rates to 400%. Can you clear up what exactly is going on there?
Steve Six:
Struggling Kansas families including military families are forced to pay almost 400% interest on these loans as a direct result of Senator Schmidt's vote. Federal and State laws place direct oversight of this industry with the State Banking Commissioner and the federal government. The AG's office has worked to educate Kansans about the fees, interest rate and costs the legislature approved with these loans.
Do you believe its important for an Attorney General to personally prosecute cases?
Steve Six:
Working on the front line with law enforcement and crime victims and their families has been very valuable in learning how my office can better serve these folks. As a result of the murder case I prosecuted in Osborne County I discovered the legislature had overburdened the KBI with new DNA testing requirements from arrestees--I went to work on the problem, got additional funding from Governor Parkinson and we have reduced the DNA backlog by 70%. Additionally I have worked to increase support for victims and their families.
Moderator:
As a follow-up to Phillbert's question — We recently reported that Republicans were challenging your ad on payday loans, and pointed out that you accepted $11,500 from the payday and car title companies since 2008 (according to Kansas Governmental Ethics Commission records). Is this accurate?
Here is the story for those wishing to read the report: http://www2.ljworld.com/news/2010/oct/15/gop-challenges-kansas-attorney-general-steve-sixs-/
Steve Six:
I have broad support from businesses across Kansas and we accurately report all contributions to my campaign. Those reports are public. The fact remains Kansans facing the most difficult financial struggles are paying 400% interest because my opponent voted to allow it. In contrast, my office set an all time record in consumer protection recoveries this year and has returned more money and savings to Kansans in my three years as AG than the previous 13 years of the office combined.
An independent group is running ads criticizing your opponent for not have prosecuted violent crimes. How many cases had you prosecuted before being appointed attorney general?
Steve Six:
As a private attorney I handled cases in state and federal court for 10 years, I then served as a district court judge overseeing preliminary hearings, felony criminal trials and sentencing defendants to prison. After I became AG, I continued my work in the courtroom and prosecuted a First Degree Murder case in Osborne County and a Capital Murder and Rape trial in Butler County--the decision about who is qualified should be based on all the candidates experience.
Moderator:
Unfortunately, our time with Attorney General Six has to be cut short a few minutes, as he has to run to another meeting. I'd like to thank him for joining us today, and I'd especially like to thank our users for submitting some thought-provoking questions for Attorney General Six to answer.
Moderator:
I wish we could have gotten to them all, but one hour wouldn't allow for all the submitted questions we had!
Steve Six:
For those following the chat, I appreciate your interest in learning about the issues in this race. Have a great day.