Lawrence Public Library board members discuss expansion proposal
October 13, 2010
This chat has already taken place. Read the transcript below.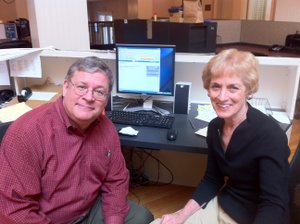 On Nov. 2, 2010, Lawrence voters will decide the fate of an $18 million proposal to expand Lawrence Public Library, 707 Vt. From 12 to 1 p.m. on Wednesday, Oct. 13 Mike Machell, Lawrence Public Library board member, and Alice Ann Johnston, co-chair of the "Vote YES for the Library" steering committee, were available via live chat to answer your questions about the proposal.
Moderator:
Welcome to our live chat with Mike Machell, Lawrence Public Library board member, and Alice Ann Johnston, co-chair of the "Vote YES for the Library" steering committee! We're ready to start taking questions, so feel free to submit at any time.
Library Board:
We are happy to be available to you to answer your questions about the library expansion project.
I would like to understand the $18MM estimated price for the project. Can we get a breakdown of the cost of the various project elements? i.e. cost to construct for renovation, parking, addition, architectural costs, furnishings, etc.
Thank you!
Library Board:
The $18 million includes $13.7 million for the cost of renovating the existing structure and $4.3 million for the parking garage. Please be aware that the Library Foundation is also being asked to raise an additional $1 million mainly for furnishings and other enhancements. Although there is a more specific breakdown of costs, note also that the final architectural plans won't be developed until the referendum passes.
You said that his proposal is modest in comparison to the last proposal - how do they compare?
Library Board:
There were a number of proposals made in 2006 that totaled about $30 million - $20 million for the library and $10 million for parking. Most of these contemplated locations other than the current site. The current proposal is $18 million total.
Moderator:
Many LJW commenters have said that as Lawrence expands west they feel a satellite branch on the far end of town would be a better use of funding. Are additional locations part of your short-term or long-term vision for the library?
Library Board:
It is part of our long-term vision for the library. Right now we could not handle the logistics of operating remote sites in the current facility. We need the improvements contemplated in the referendum to make our back-office functions more efficient. At this point, we feel it is best to invest in a fully functional downtown library that meets all of our current needs and determine how to address satellites at a future time. Moreover, the feedback from our outreach efforts in the community prior to bringing this to the city commission indicated that there was significant support for a downtown library.
Mari:

I remember some discussion a few years ago concerning the relatively small number of books and new purchases at the LPL as compared to libraries in cities of a similar size.
What will the expansion mean for the collection itself?
Library Board:
We can't be specific at this time about the exact number of books to be added, but we are adding 20,000 square feet and some of that will be dedicated to additional space for the collection.
If the proposal passes, won't the operating costs of the library increase due to larger areas to heat, cool, light, and clean? How do you plan to fund this increased cost?
Library Board:
Yes, however we anticipate that upgrades in the HVAC will provide us with efficiencies that we are not currently receiving. These upgrades will result in savings in the operating costs of the building. The HVAC on the existing building is from the original construction in 1972. We are planning to apply for LEED certification once the architectural design is completed. Administrative costs will be determined after the library is completed, but we estimate that will require an additional 0.5 mil cost to operate a larger facility. The city commission will add that amount to the library's mil levy.
Moderator:
Many users want to know if — in addition to the added computers — you will make room for other electronics like iPads, Kindles and iPods?
Library Board:
We certainly need to keep up with changes in new technology as we continue to assess the services we provide to the community. Recall that 20-25 years ago, we didn't offer much in the way of music and now CDs and DVDs are quite common and popular items checked out of the library. We didn't have computers either. Our challenge is to continue to provide these services so that everyone in the community has equal access to information.
First, let me acknowledge that I am part owner of the Riverfront mall property, adjacent property and an officer with the World Company. Regardless of any personal benefit, I believe there are alternatives to the $18 million library expansion plan that is being presented for a public vote.
I believe the following scenario deserves consideration. These numbers were sent on June 18th to library board members and city commission members. I never heard one word back.
$1.7 million: Buy Abe and Jakes. 20,000 square feet, large public entertaining, reading, meeting, and coffee shop space on the river, on city land.
$4.5 million: Buy the west half of the Riverfront Plaza. Three levels, 70,000 square feet, 230 cat-5 Ethernet wired computer stations, 500 parking stalls, all on city land.
$5 million: Renovate the 40,000 square feet on floors one and two at $125/square foot.
For $11 million, Lawrence could have a beautiful 90,000-square-foot library, on the river, with a 500-stall existing parking structure, all on city-owned land and enhancing the city's relationship to the river. And the community library still would be downtown.
All work could be done with no interruption to current library operations. The city then could sell the existing library space to help finance the project. Who knows? Possibly a downtown grocery might materialize.
I've been told an excuse for not considering this is that the Plaza is not class A property. Why would the city government need class A property in these times? I've heard some people don't think the facility can structurally support the weight of stacks of books. This is untrue; we have provided engineering studies that show it can.
This space also offers the possibility for future expansion. For about $7 million (at $200 a square foot), a 35,000-square-foot glassed indoor space could be created on the Plaza roof overlooking the river.
This idea and other alternatives deserve to be publicly discussed.
question
why was this not publicly discussed , what was the process to eliminate alternative ideas

Library Board:
The feedback we received from our public outreach was significantly supportive of keeping the library at the existing site. As for your question about the process to eliminate alternative ideas, there was a study session that included the library, city commissioners, architects and others that looked at various design options prior to submitting a final proposal to the city commission.
As you can tell by my username, I am a frequent visitor to and supporter of the Lawrence Public Library, but like many people, I'm a little curious about the timing. Considering the current economic conditions, is right now the best time for such a project? Thanks!
Library Board:
We think it is. Use of the library is up significantly - about 10-12% per year. Circulation also continues to increase. We average 50,000 patrons a month. During the recession, Lawrence citizens looked to the library to meet their informational and entertainment needs and the library was able to help them. We have also seen that the cost of construction and interest rates make this a very good time to invest in the city's infrastructure. It will never be more cost effective to do this than now.
Where are the funds for the 'yes for the library.org' coming from? Are there any taxpayer dollars going to fund the campaign or are these all private donations?
Library Board:
"Vote YES for the Library" is funded through private donations. It is a grass-roots organization with a steering committee of 92 members.
Moderator:
We had many questions about the proposed parking garage. Can you explain the logistics of the parking garage — specifically size, location and who will be allowed to park in the garage? Many users are specifically concerned about overflow parking from the pool during the summer.
Library Board:
The proposed parking garage would be built in the same location as the current parking lot. It would increase the number of spaces from 125 to about 250. There would be entrances off both Kentucky and Vermont streets. As proposed, the parking structure is intended to address parking needs for the pool, library, senior center and other downtown businesses. So anyone would be able to park there just as they do in the parking lot the library currently uses.
What were the three most frequently mentioned criticisms of the proposal found during public input?
How did you change the proposal based on this input? What is your response to these criticisms (be specific please).
Library Board:
1. Is now the right time? I believe we addressed that issue in an earlier posting. We didn't change the proposal, but we definitely considered this concern when determining the overall cost of the project. We didn't believe that a $30 million project was feasible at this time - as was proposed in 2006.
2. Why not satellites? I believe that we responded to this concern as well in an earlier post. Our approach in the short-term was to consider options for providing service (such as a drive-up service window) to patrons who did not have time to park and come in to the building. Long-term we believe that satellites are still a possibility once we have the functionality to handle it in the future.
3. Parking garage. There were some who expressed concern that $4.3 million of the total project would be spent to enhance parking. We felt that this was necessary because there are parking issues with respect to the pool and other downtown needs. We felt that we needed to do this for the project to work.
Assuming that the proposal passes the vote what is the estimated completion date for the project?
Library Board:
We believe 9-12 months for completing the architectural work and 9-12 months for construction. We anticipate completion sometime in latter part of 2012. Obviously these are broad numbers right now, so could change once the architectural planning work begins.
What studies were done (and by whom) to determine what library facilities Lawrence needs now? How long would the expanded library be expected to satisfy the city's needs?
Library Board:
A feasibility study was conducted by Gould Evans to determine what we could do and what the likely cost would be. The requested tax increase is planned for 20 years, so our planning for an expanded library is targeted to some time beyond that time frame. Our planning has considered needs for the next 25-30 years. Obviously, future growth of Lawrence may change those numbers.
Moderator:
We have about 15 minutes left in our live chat with Lawrence Public Library board member Mike Machell and Alice Ann Johnston, co-chair of the "Vote YES for the Library" steering committee. There is still time for a few last-minute questions. You can submit them below. (Great questions so far!)
I mostly use the upper level of the library for books, music, etc, but I hear many people throw around the argument that its only "homeless people" who use the computers and therefore we don't need more. Is this true? Who uses the library computers? What do they use them for?
Library Board:
Everyone uses the library computers. We had 10,000 users in the month of July alone. People are using the computers to do research, look for jobs, work on homework, and for social networking. A study commissioned by the University of Washington Information School and the Bill and Melinda Gates foundation estimated that 1/3 of Americans - about 77 million people - use the library for their computer needs. We believe very strongly that the mission of the public library is to ensure that everyone in the community has access to vital information they need to improve their lives.
dsimons' question has me wondering, what happens if the current proposal fails? Would the board go back to less expensive alternative proposals?
Library Board:
We aren't expecting it to fail. If it did, we would continue to provide the best service to the community we can in the existing facility. However, we do not think that the current library facility can continue to meet those needs. We would definitely need to consider future proposals, but I don't know that I can say right now what those would be.
One of the reasons for the expansion of the computer labs is to ensure we maintain the library's ability to secure grants from the Northeast Kansas Library System. How many grants have we secured in the past 5 years from them and what was the dollar amount?
Library Board:
That's a good question. There are really a couple of reasons we want to meet accreditation standards that NEKLS sets for libraries. One is that the standards represent "best library practice" for a community our size. So if we are not meeting these standards, then we are under-serving our community. We obviously don't want to do that. The grant funding amount at risk is approximately $50-75k, which may not sound like a lot of money, but we need to preserve every funding source we have.
trew:
If the plan passes and a new garage is built, will all of it be metered parking or will some if it be free 2hr parking like the existing parking garage.
Library Board:
That's a decision that the city ultimately will need make. However, our understanding is that it would continue to be metered parking just as it is today.
I find the local library limited on its available resources. I frequently have to do an interlibrary loan to obtain the materials/resources I need. Are there plans to improve the library's available resources?
Library Board:
We will be seeking to expand in a number of areas. The children's area will double in size, we will triple the number of public computers, and double the meeting room space. Obviously, some space will be used to enhance the collection, particularly for popular items that generate long wait times for our patrons. Inter-library loan is available now; it would depend on the types of items you are using to know for certain whether those would be more available to you in an expanded library.
Moderator:
Unfortunately, we are out of time! I'd like to thank Lawrence Public Library board member Mike Machell and Alice Ann Johnston, co-chair of the "Vote YES for the Library" steering committee for joining us for the chat today and for answering our users' questions.
The transcript will be available online immediately following the close of the live chat. Thank you everyone for your participation!
Library Board:
Obviously this topic has generated a lot of interest and we appreciate everyone's questions and input. We hope that everyone will get out to vote on November 2nd!