Superintendent Rick Doll to chat about first year in Lawrence
June 3, 2010
This chat has already taken place. Read the transcript below.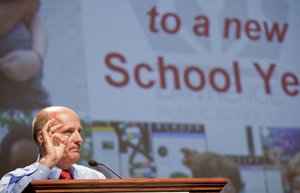 State budget cuts led to an eventful first year in the Lawrence school district for Superintendent Rick Doll. Big changes are also in store for the district as it transitions to four-year high schools and sixth- to eighth-grade middle schools in 2011-2012. As the school year has come to a close, Doll will take questions from LJWorld.com readers during a chat 11 a.m. June 3.
Moderator:
Good morning. We welcome Lawrence schools superintendent Rick Doll and school spokeswoman Julie Boyle to our chat.
Moderator:
Let's get straight to your questions...
Glo:
Are you thinking of raising the Local Option Budget (LOB) to cover additional expenses in the capital outlay fund, or any other expenses?
Rick Doll:
By law we cannot raise the LOB because we are at the state maximum.
What is your philosophy about grade acceleration?
Rick Doll:
I would rather meet the needs of individual students at their grade level but would not rule out the acceleration of individual students. I believe we should redesign our educational system so that if a student is reading at a higher level, we challenge them at their grade level. Accelerating students can have some negative impact on social development.
What is your view about retention?
Rick Doll:
Research on retention is fairly clear. Retaining students greatly increases their chances of dropping out of school later in their educational career. Retention seldom solves academic problems. By moving to a system where we meet the needs of individual students, regardless of their grade level, we lessen the need to retain. We need to blur the grade level distinctions and meet the needs of students wherever they are on the achievement continuum.
read:
You came to Lawrence one year ago and many and sundry groups have become quite upset with what has been done by administrators and the Board under your leadership. I am not just referring to budget cuts but to the atmosphere of your first year. The prospect of elementary school closings caused a tremendous outcry and the formation of "Save Our schools". The reconfiguration has exasperated people who feel it was pushed through too quickly and is not well thought out. Many are infuriated that German, a very successful academic program with community and international ties for Lawrence, has lost its foundation in the district by cutting 9th grade German. Anger is very high that while many teachers are losing their jobs and buildings need repairs, extramural activities and two sports facilities with all the bells and whistles are being funded above projected costs. People in the community see "hidden agendas" being carried out quickly and behind doors.

What makes you feel you have an understanding of and appreciate the tenor of our community's values? How are you trying to protect these values as they are reflected in our schools?

Moderator:
Wonderer asks: "Do you think the district can or should try to increase the number of USD 497 graduates who attend top colleges? If so, how?"
Rick Doll:
My first priority is the academic achievement of our students. Cutting almost $5 million from the budget placed great stress on the school system and the community. Closing schools was one option that the board considered. Only the East Heights facility was closed but the board has commissioned a task force to study the entire elementary facility and programming issue. This task force will operate under the open meetings law.
The board set a goal to study the reconfiguration issue in August of 2009. After a year -long study, including several community forums, they made the decision to create four- year high schools and middle schools.
Ninth -grade German was cut by building administrators as a direct result of the budget cuts. We have created a one-year alternative to deliver German I through the virtual school which will open up enrollment to any 9-12 student in the school district.
Sports facilities were paid from bond, lease and capital outlay funds. These funds cannot be used for general operations such as teacher salaries and instructional programs.
Board goals are published and widely publicized in the community. The goals of the district are set by a very diverse board that is elected by the Lawrence community. The values of the community are represented by these board members.
Moderator:
Wonderer asks: "Do you think the district can or should try to increase the number of USD 497 graduates who attend top colleges? If so, how?"
Rick Doll:
I think the school district should maximize the opportunity for our graduates to pursue post-secondary education at all levels, including top colleges. Lawrence has a rich tradition of preparing students for college and we should continue that tradition. We can increase the number of students attending top colleges by improving our academic programs and by providing even better guidance to parents and students as they apply to the colleges of their choice.
Moderator:
PFC says: "There is good deal of skepticism in the community that the (new community) task force is there to give cover to decisions that have already been made. What assurances can you give that ... decisions have not already been made, that the task force is going into this with an open mind, and will genuinely consider all of the relevant data before making any recommendations?"
Rick Doll:
The task force represents the Lawrence community. Even though, by policy, I appointed the task force, I used the school board as a sounding board to make sure that the entire community was represented. I have reserved a couple of spots to fill any obvious omissions. The task force will make its recommendation to the school board. The school board is a very diverse group of citizens with varying opinions on this topic. The board is interested in building community consensus on how we continue to deliver the best education for our elementary students in light of budget restrictions.
Moderator:
Made_in_China asks: "What was the biggest surprise you got after you got to town and began work in Lawrence?"
Rick Doll:
I was surprised by the level of community involvement in the schools. This was a very positive surprise. I continue to be impressed with the commitment of the community to high quality education. I have also been pleasantly surprised by the amount of media coverage of the schools. People in Lawrence are really interested and really care.
The Lawrence School district has become sort of infamous for their practice of hiring and firing teachers based on enrollments. This lack of job security coupled with the lower/ lowest salary schedule in the area has led to a disturbing trend. Recently, the district has lost several highly qualified and well loved teachers to other districts. These factors as well as the districts resistance to team teaching, new methods of instruction, a lack of new classroom technology, and a lousy base salary are also discouraging new graduates from even considering Lawrence as a place to teach. What plans or goals do you have to improve retention among our valuable educators and attract new, qualified teachers to our city? How long are you going to rely on the "convenience" aspect of teaching in town when districts as close as 20 miles away are offering better pay, conditions, and benefits? How are you going to ensure that our children have qualified and effective teachers?
Rick Doll:
A well trained, highly motivated teacher is the most important component for increasing student achievement. Attracting and keeping quality teachers should be our highest priority. Since we are levying the maximum mill rate allowed by the law the solution to paying our teachers more cannot be solved by increasing revenue. We must look for ways to become more efficient. We also have plans to implement a better screening procedure to assist principals in selecting the very best teachers from the pool of candidates. I would disagree with your statement that the district resists innovative teaching techniques or that our classrooms are not equipped with appropriate technology. We continue to work with our teachers to improve their teaching skills. A joint committee of the school board and teachers' association is currently revising the teaching evaluation instrument. The new instrument will emphasize those teaching practices that increase student achievement. Salary is an important consideration for teachers when they consider job opportunities. I am very aware that we need to be more competitive in this area.
LPS has the highest number of administration personnel in the state. The ration is near 600:1, whereas most are over 1,000 to 2,000:1 (administration:student). Why do you require so much support staff? Each of the upper administrators salaries could have provided two or three teachers. Wouldn't students be better served with teachers in the classroom rather than administrators in the ESDC?
Rick Doll:
Research clearly shows, and my experience reinforces, the need for strong instructional leaders at the building and district level. I am not sure where you got your numbers but the research we compiled during the budget cutting process shows that the Lawrence Public Schools are well within the average range for the number of administrators for the size of the district. I am not sure where this 'urban legend' started but I have the specific data available upon your request.. With that said, the district has cut almost $1 million from the district office administrative budget over the past two years. Cuts were made to all administrative levels including an associate superintendent position. Strong districts require strong leadership.
Moderator:
And that looks like all the time we'll have for Supt. Doll today. Do you have any closing thoughts on this past school year or the one that's just around the corner?
Rick Doll:
It has been a challenging yet rewarding year. We are looking forward to the opportunities of reconfiguration, increasing student achievement while closing achievement gaps and the report from the elementary task force. I welcome continued community involvement as we improve our school district. These periodic chats are just one way that I commit to keeping the community informed on these very important issues. Thanks to the Journal World for this opportunity.
Moderator:
Thanks again to everyone who submitted questions and to the superintendent for taking time out of his day to answer these questions.