Gubernatorial candidate Tom Holland chats about upcoming election
July 30, 2010
This chat has already taken place. Read the transcript below.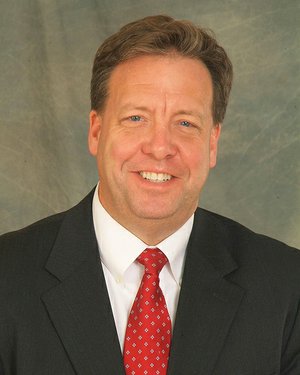 State Sen. Tom Holland of Baldwin City is running as the Democratic candidate for governor along with his running mate, state Sen. Kelly Kultala of Kansas City. He will take your questions on the upcoming election.
Moderator:
Hello and welcome to this Election 2010 chat with Democratic gubernatorial candidate Tom Holland. Tom, thanks for joining us today.
Tom Holland:
I'm happy to be here today!
Moderator:
We have a few questions already, but we're still taking more. If you have a question you'd like to ask as the chat is going along, please go ahead and submit it.
Moderator:
With that, we'll dive into questions.
Most people I talk to do not want Brownback as our next Governor, but at the same time seem to think he can't lose. How can you change that impression?
Tom Holland:
SurveyUSA poll results consistently show Sam Brownback with a less than 50% job approval rating. He's vulnerable and we will beat him.
During Sam Brownback's 16 years in Washington there's been nothing but more debt, gridlock and partisanship. We won't solve today's challenges by bringing Washington's failed policies and politicians back to Kansas.

Senate Bill 306 in the last legislative session changed several things about the state's concealed carry law. It used to be that if you had two DUI convictions in a five-year period, that made you you ineligible for a permit. It used to be if you had been convicted of carrying while under the influence in another state in the last five years, that made you ineligible for a permit. It used to be that license holders were required to submit to a test if a law enforcement officer suspected the licensee of carrying under the influence. All those provisions have been removed from the new concealed carry law. What do you think of those changes?
Tom Holland:
As Governor, I will encourage the legislature to review these changes to ensure there are no unintented consequences.
I support Kansans' Second Amendment rights. I co-sponsored Proposition One on the ballot this Fall which solidifies Kansans' individual right to keep and bear arms.
I appreciate your opposition to the Holcomb coal plant. Why did Governor Parkinson give into the energy lobby?
Tom Holland:
Thank you for your question, but I think it would be better directed to the Governor's office.
Meanwhile, if I'm elected governor I will work to meet our goal of 20 percent renewable energy by 2020. This will involve continuing our work with the Southwest Power Pool to expand our transmission capacity, so we can sell clean Kansas energy to customers throughout the Midwest.
I'll also work to attract more energy-related manufacturing to Kansas. Hundreds of clean energy jobs have already been created in Hutchinson and Newton, and this prosperity deserves to be spread to every corner of our Great State.
We must also make Net Metering (the ability for people to put up their own wind turbines or solar panels, and sell excess power back to their utility) easier for Kansans. We've already made it legal, now we must make it feasible.

You have chosen to portray Sen. Brownback as a Washington insider rather than an extreme conservative. As a Democratic voter, I wonder why the break from a playbook that has worked in Kansas in the past, i.e., moderate Republicans and Democrats are better for Kansas than religious-right conservatives?
Tom Holland:
Bipartisanship is a central theme of our campaign. We know that a Governor can't be successful if he turns his back on moderate Republicans and Democrats.
That's why I've reached across the aisle and worked with Republican leadership in the State Senate to protect our schools, protect the vulnerable, and protect our public safety programs.
Meanwhile, Sam Brownback has turned his back on moderate Kansans by picking a mirror-image conservative politician as his running mate.
The only moderate, pragmatic choice for Governor on Election Day is the Holland/Kultala ticket.
I am one of your constituents as a Senator you have voted consistently against placing reasonable limits on abortion (the killing of the unborn), in fact, you have even voted in opposition to expanding the Women's Right to Know bill that enhances informed consent requirements. Such requirements allow young girls to know the facts before they make the terrible mistake of killing their babies. Studies have shown that viewing a sonogram by a pregnant mother reduces the chance of her making the abortion decision. Why won't you support reasonable limits on abortion (the killing of the unborn)?
Tom Holland:
Thank you for your question. For too long politicians have used this issue to divide voters. It is time to put the divisive politicization of this issue behind us and focus on the common goal of preventing unplanned pregnancies.
What are your thoughts on the current unemployment crisis in Kansas and do you feel Kansans should be able to claim more than 86 weeks of benefits?
Tom Holland:
Kansas is facing the worst economic situation since the Great Depression. As Kansas families struggle to put food on the table, I hope Congress recognizes the need to provide assistance until jobs become available.
That's why creating jobs will be the number one priority of the Holland/Kultala administration.
Creating jobs requires more than career politicians delivering hollow talking points about "growth". The next Governor will need to set aside partisan blinders and put real effort into training our workforce and strengthening those industries that are primed for growth such as renewable energy and the biosciences. We must also be graduating more nurses, doctors, dentists and health care workers at our colleges and universities.
What part of President Obama's leadership do you admire?
Tom Holland:
I admire any leader who will work with Republicans, Democrats and Independents to find solutions to today's challenges. That's the sort of bipartisan leadership Kansans can expect from the Holland/Kultala administration.
Lawrence has been noted for their domestic partnership registry, but in the past Representative Lance Kinzer has introduced a bill to ban the registry. Are you in favor of domestic partnership registries in the state? What about gay marriage?
Tom Holland:
I am satisfied with current law.
Moderator:
What would you say will be your top 3 priorities if you were elected to office?
Tom Holland:
The top three priorities of the Holland / Kultala administration will be:
1) Creating quality jobs by investing in education, energy, biosciences and our workforce.
2) Maintaining critical services including public safety and health care for our most vulnerable Kansans.
3) Working in a bipartisan fashion to make our government more efficient, responsive and transparent.

Moderator:
Do you have a vision for how you would change or enhance higher education in our state?
Tom Holland:
Our state has not shown enough support to our institutions of higher learning and technical training – this must change. As we work our way out of this recession we must invest more in our higher education system so that the next generation of skilled workers, business leaders and innovators are here in Kansas. By doing so, our state can distinguish itself from our Midwest neighbors by having the best trained workforce, the best economic climate and the best communities to attract new families and new companies to Kansas.
Moderator:
That's all the questions we have and it also looks like all the time we have. Tom, would you like to make any closing comments?
Tom Holland:
Thank you again for this opportunity to talk with your readers today.
There are serious economic problems facing Kansas that must be solved. I'm running because I know how to create jobs and rebuild the economy. I'm a businessman, not a career politician. I'll work on behalf of all Kansans, regardless of ideology, income, or geography.
Sam Brownback made a promise years ago that he would change Washington. But after being in Washington for so long, Washington changed him. Brownback voted for record spending, record debt and bailouts for Wall Street special interests. We can't have that kind of politician at the helm in Kansas.
That's why I'm offering voters a moderate, pragmatic choice on Election Day. Together, we can win this election and get the Kansas economy back on track.
You can learn more about our campaign by visiting www.tomhollandforkansas.com or by finding us on Facebook at facebook.com/tomholland, or on twitter by following @TomHollandKS
Thanks again and have a great weekend!
Moderator:
Remember, advanced voting for the primary is going on right now at the Douglas County Courthouse. Primary election is Aug 3. Thanks to everyone who submitted questions and thanks to Tom Holland for taking the questions.